Coinbase Addresses Future Revenue Concerns With Plans to Become Crypto's Amazon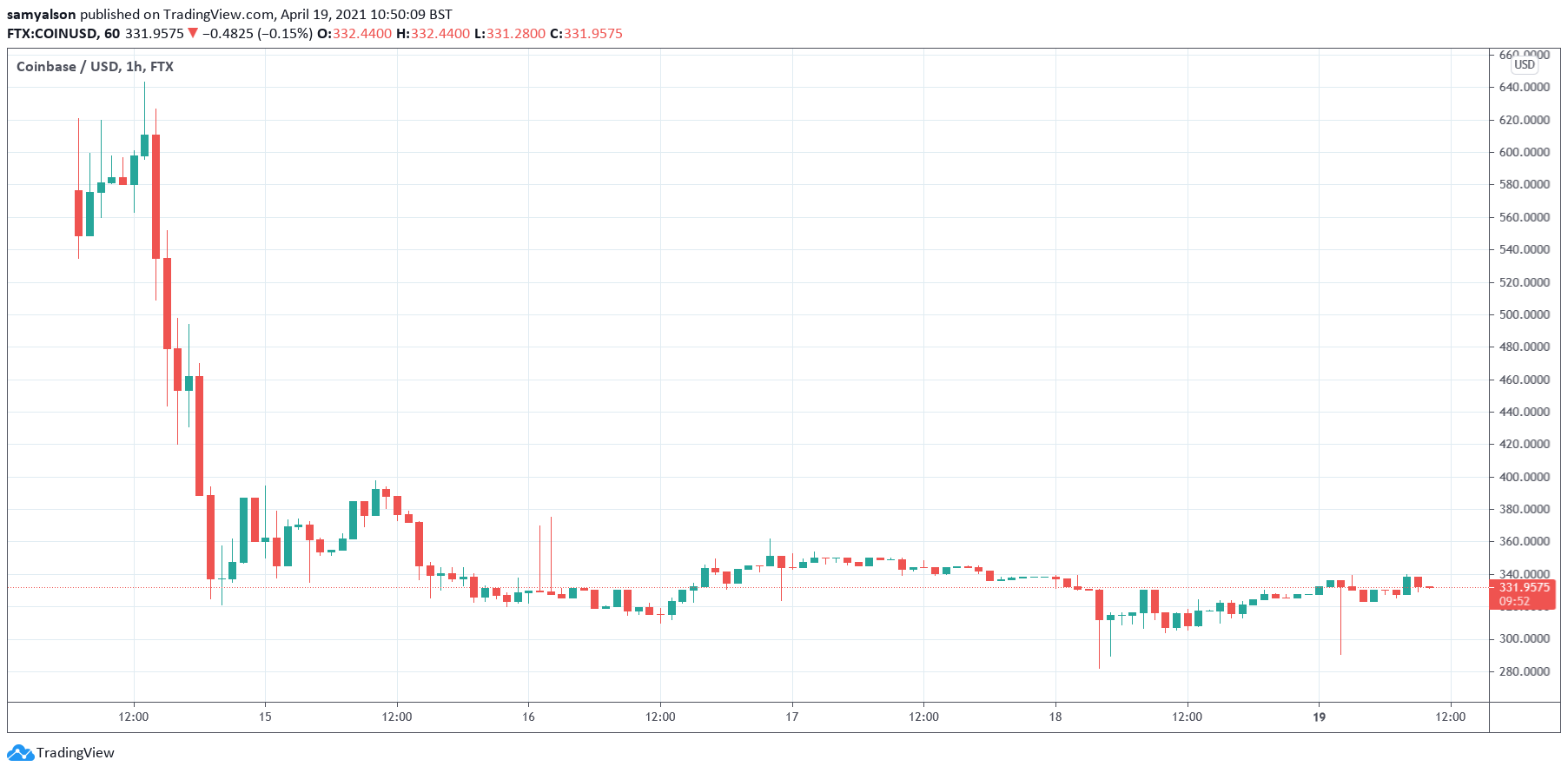 A well-received Nasdaq debut from Coinbase last week opens what many hope to be crypto's cross into the mainstream. Nonetheless, controversy has surrounded its IPO, including valuing the firm on a fully diluted basis. Using this methodology, a higher number of shares is included in the company valuation, essentially overvaluing the company by some $20bn.
But perhaps the biggest controversy lies in Coinbase's ability to maintain and extend its profitability going into the future. With concerns that high spreads and trading fees will see a race to the bottom as the competition heats up, some analysts have warned against investing in $
Source: COINUSD on TradingView.com
Analysts Sound Alarm on Coinbase Future Profitability
In the run-up to last week's IPO, Coinbase released its Q1 2021 figures, revealing an impressive set of numbers. Highlights include $1.8bn revenue and the doubling of its monthly active user base to 6mn.
Its biggest money-spinner is trading fees, which came in at $1.1bn and accounted for 86% of its total revenue last year. This equates to 0.57% of every transaction.
"In 2020, Coinbase collected about 0.57% of every transaction in fees, which totaled $1.1 billion in trading revenue on $193 billion in trading volume. These trading fees made up 86% of revenue in 2020."
But competition from the likes of Kraken, Gemini, Bitstamp, and Binance, will see trading fees fall away in a race to the bottom. Some analysts have pointed out, based on Q1 2021's figures, this is already in motion.
"If we assume a similar breakdown of Coinbase's reported $1.8 billion in total revenue in the first quarter of this year, trading fees would equal around $1.5 billion on $335 billion in trading volume, or about 0.46% of every transaction."
To address this, Coinbase CEO Brian Armstrong said he expects 50% of the company's revenue to come from non-trading sources over the next five to ten years. But is this a reasonable expectation?
The Amazon of Crypto
Speaking to Laura Shin, Gil Luria, the Director of Research at D.A. Davidson, said the goal is to generate more revenue in custody and managed staking. But he conceded that this wouldn't happen overnight.
In terms of achieving the switch to 50% of revenue from non-trading sources, Luria was confident that Coinbase could pull this off. He likened this situation to what Amazon has managed to pull off since its IPO.
In 1997, Amazon was an online bookseller. Not only did it diversify into selling anything and everything, but the firm also helped other people sell, moved into entertainment with Prime, and set up a cloud business.
"Jeff Bezos may have imagined it but we sure didn't. We just knew Amazon was way ahead of the pack. They had tremendous leadership and they were so customer-centric, which was the absolute key to their success. And I see a lot of parallels with Coinbase."
By understanding the crypto game and being open to working with regulators, Luria thinks Coinbase is in a good position to bring to market more products to replicate what Amazon did.