Ethereum breaks out vs. Bitcoin: Why one trader says ETH/BTC looks 'absolutely insane'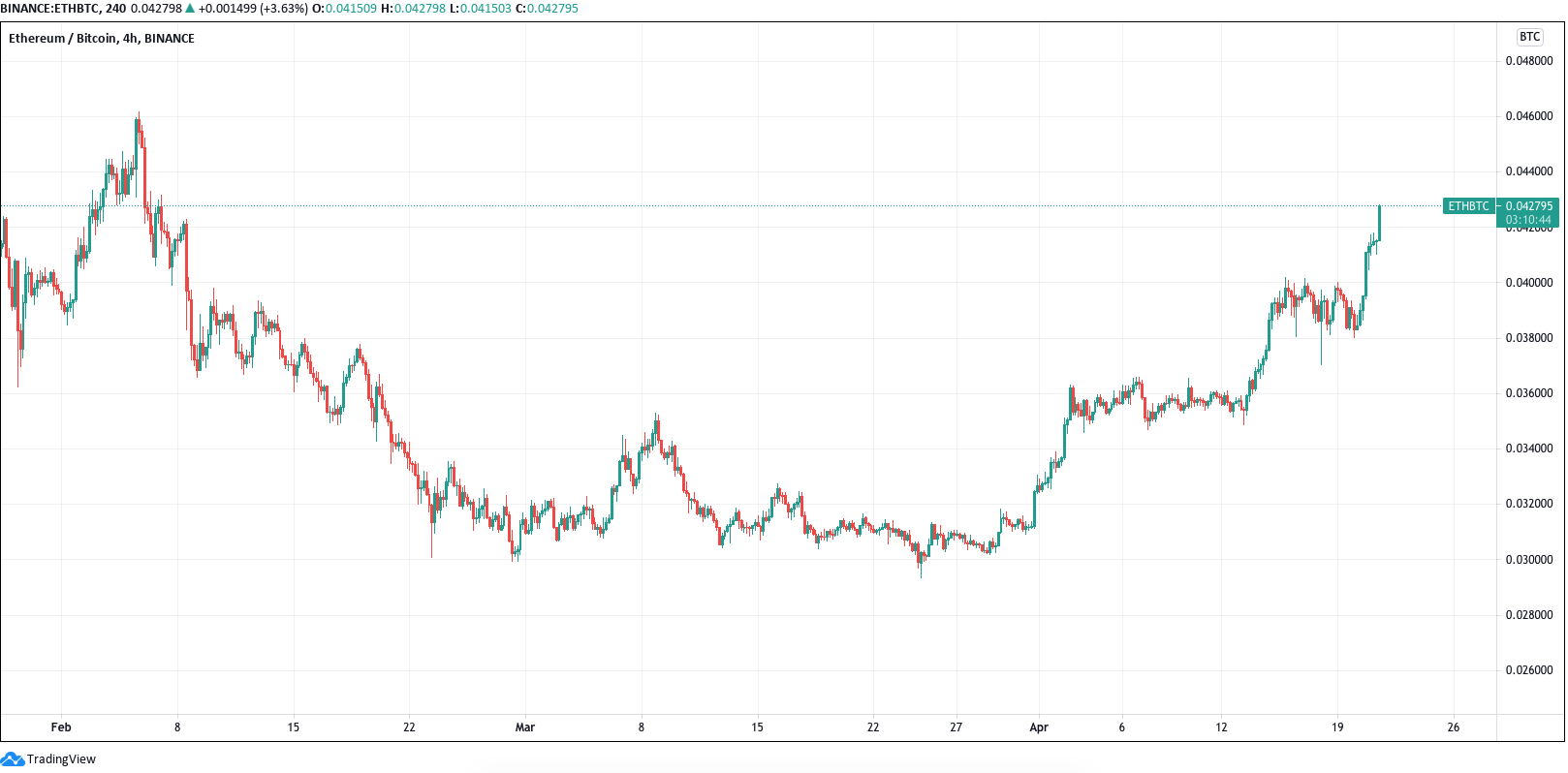 Ether (ETH) price is seeing green in its Bitcoin (BTC) pair on April 21, reaching the highest levels since early February. Given the technical breakout of ETH/BTC, traders are beginning to expect a strong rally in the foreseeable future.
During the first two weeks of April, ETH was outperformed by Binance Coin (BNB), the native token of Binance Smart Chain.
The high transaction fees on Ethereum coupled with the high user activity on Binance Smart Chain led BNB to gain momentum against Ether.
However, in the past few days, ETH price has started to rally against both Bitcoin and BNB, the first and third largest cryptocurrencies in the global market, respectively.
Why is ETH rallying against Bitcoin?
In the past 24 hours, led by Ether, the altcoin market gained against Bitcoin, causing the Bitcoin Dominance Index to fall to 50.7% on CoinMarketCap, the lowest level since summer 2018.
One main reason why the altcoin market is rallying is because altcoins generally saw sharper drops than BTC following the Coinbase listing.
Hence, when Bitcoin began to consolidate and stabilize, altcoins started to see a relief rally, led by Ethereum and BNB's momentum.
After the futures market recovered, following over $10 billion worth of liquidations on a single day, the appetite for risk-on assets within crypto also likely rose.
This drove the demand for Ethereum, BNB, Dogecoin (DOGE), and many other cryptocurrencies with relatively high volume and valuation.
In the near term, traders say that the breakout of the ETH/BTC pair could lead to a broader parabolic rally, particularly for altcoins.
A pseudonymous trader known as "Crypto Capo" expressed optimism towards ETH's breakout against BTC. He said:
"$ETH/BTC is going to redefine the concept of parabolic."
Similarly, a cryptocurrency derivatives trader NekoZ said that ETH is showing strong momentum, which would likely spill over to altcoins.
The trader noted:
"Love the reaction we are having so far. Should carry nicely into the week and build momentum around alts."
Another respected cryptocurrency derivatives trader known as "Bluntz" said that ETH/BTC looks "insane" after a massive capitulation event.
A capitulation event refers to a scenario when an asset's price bottoms out after a sharp drop.
Bluntz emphasized that ETH is demonstrating a double bottom chart, which in technical analysis often points toward a short-term trend reversal.
He wrote:
"ETH double bottom on 4h, and ETH/BTC looks absolutely insane again. Wow that was the greatest capitulation event I can remember for a long time. Even i capitulated most of my lev trades."
On-chain data is also bullish
According to the data from CryptoQuant, the amount of ETH being staked in the Ethereum 2.0 deposit contract is rising.
This decreases the circulating supply of ETH on exchanges, which should put upward pressure on the price of ETH.
The increase in fees, which is verifiable through on-chain data, also indicates that activity continues to rise on Ethereum despite the already high fees.
Aftab Hossain, an Ethereum and investor, said:
"Ethereum / DeFi has focused heavily on infrastructure, which BSC was able to copy and centralize to make it faster with an incentive to focus on integrated UX i think cheaper L2 tx's will enable for greater scaling and will allow for critical smart contract wallet innovation."
Binance Smart Chain and other layer ones have been performing strongly against Ethereum, but the release of Eth2 and layer two solutions could make Ethereum more compelling for casual users in the months to come.