Key Bitcoin price metric flashes its first bullish signal in 4 months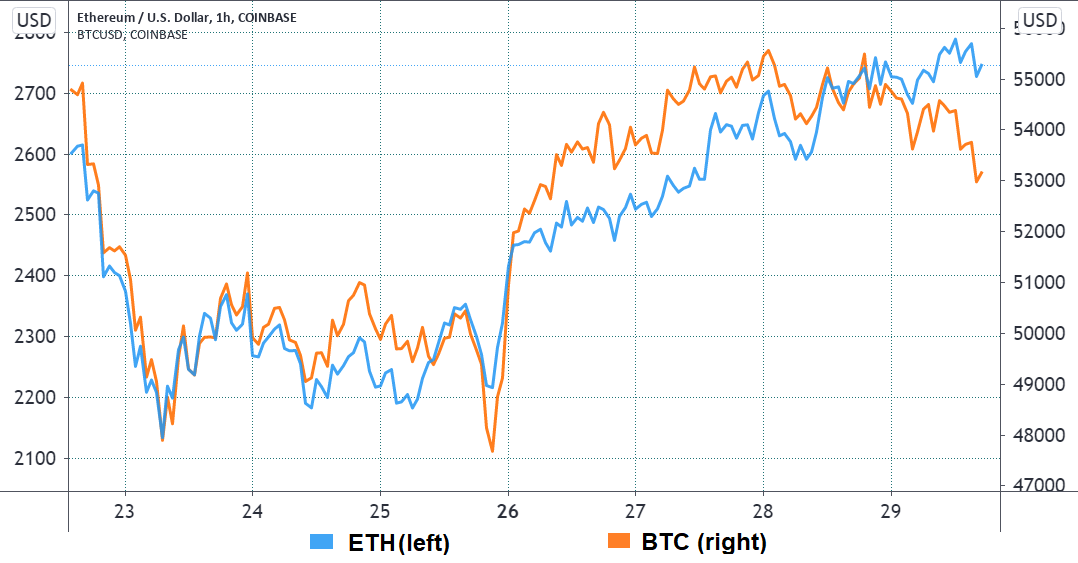 Bitcoin (BTC) has been struggling to sustain above the $53,000 support for the past three days, while Ether (ETH) soared to a new all-time high at $2,800. In the current scenario, some traders would rather wait for Friday's CME futures expiry before entering long BTC positions, as historically, its price tends to correct ahead of the event.
On the other hand, Ether's price has been positively impacted by the European Investment Bank launching a "digital bond" sale using the Ethereum network. The EIB is issuing a two-year 100-million-euro ($120.8 million) digital bond, with the deal to be led by Goldman Sachs, Santander, and Societe Generale.
Furthermore, in the past week, JP Morgan published a research note stating that Ether should continue to outperform Bitcoin due to liquidity improvements and increased activity on the network.
According to fixed-income analyst Joshua Younger:
"Bitcoin is more of a crypto commodity than currency and competes with gold as a store of value, whereas Ether is the backbone of the crypto-native economy and therefore functions more as a medium of exchange. To the extent owning a share of this potential activity is more valuable."
When analyzing the ratio between users' net long-to-short ratio at OKEx, surprising data emerges. The indicator is calculated using clients' consolidated positions, including perpetual and futures contracts. The proportion of Ether longs versus the shorts reached the lowest level in 2021, becoming significantly lower than Bitcoin's.
Ether longs vastly dominated throughout 2021, peaking at 130% larger than shorts, while Bitcoin traders have been usually more modest. However, the April 29 market trend reversal comes as the ratio for BTC longs stands 45% higher than shorts.
Meanwhile, Ether traders are only 6% net long, signaling a lack of confidence in the recent rally.
One should not interpret the stance of OKEx traders' positioning in Ether as bearish, considering that the long-to-short ratio is relatively flat. However, April's monthly trend leaves no doubt that Bitcoin traders are becoming more optimistic.
Traders should not dismiss Friday's BTC and Ether options expiry. The $3.9 billion Bitcoin expiry presents a danger to bulls if the price happens to move below $50,000, considering the neutral-to-bearish put options would then have a $700 million advantage.
Currently, bulls dominate Ether's more modest $930 million options expiry, and the $115 million difference in call options open interest seems guaranteed even if Ether's price drops to $2,600.
However, both cryptocurrencies could experience volatility after Friday's 8:00 AM UTC options expiry and the following CME futures and options expiry at 3:00 PM UTC.
The views and opinions expressed here are solely those of the author and do not necessarily reflect the views of Cointelegraph. Every investment and trading move involves risk. You should conduct your own research when making a decision.