CoinSwap Opens Up New DeFi Opportunities with Their Certik Approved DEX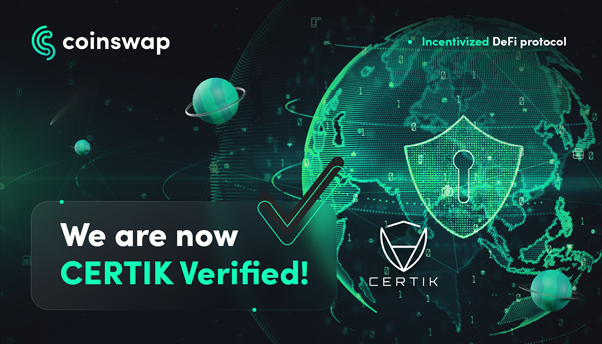 CoinSwap Space provides a suite of products and services for decentralized finance, allowing users myriad ways to make returns on their crypto.
CoinSwap, an exciting new DEX for the Binance Smart Chain, has announced its launch to take place on April 30th at 5 pm CET. This is a launch with a difference. There are no presales, no allocations, and no team tokens. The only way to acquire the native CSS tokens is to start yield farming them from the moment of the launch, which is now only hours away.
Coinswap Space is a decentralized exchange that provides users with many different opportunities to gain rewards. CSS is an automatic market maker (AMM) allowing digital assets to be traded without an order book. Users can see returns on their crypto by providing liquidity to the market, taking advantage of CoinSwap's many yield farming pools, or simply by staking their crypto at CSS stake. Smart routing is utilized by CSS, giving clients the best swapping rates, slippage, and price impact available.
There are two tokens that exist within the CSS ecosystem. Contributing to the CSS liquidity pools will grant users CSS-LP tokens. CSS-LP tokens can then in turn be staked in any of CoinSwap's various yield farming pools.
Significantly, Coinswap Space has just been audited by Certik, the leading security-focused ranking platform that analyzes and monitors blockchain protocols and DeFi projects. Certik uses rigorous Formal Verification technology to provide hacker-resistant smart contract and blockchain audits. The successful passing of this audit by CoinSwap Space gives reassurance to any potential investors. The rewards offered by using CoinSwap Space can be farmed without the risk of exposure to hacking.
Committed to a Fair Launch
There has been a bit of controversy surrounding launches in the crypto world of late. The existence of pre-sales means that many day-one investors can feel manipulated if the price of the token spikes and then crashes early in the launch. The CoinSwap team believes that transparency and fairness are two of the most fundamental qualities of DeFi.
For these reasons, CoinSwap Space will have a completely fair launch. There are no team tokens and no pre-sale. Every investor will have an equal chance of benefiting from the rewards on offer with CSS. The only way to acquire CSS tokens is to earn them through providing liquidity and yield farming.
The founders will, for the time being, remain anonymous. However, all of them plan to make themselves public within the next month. It's worth noting though that even being a founder of CoinSwap won't grant you any extra privileges for the launch. Founders will have to acquire their CSS tokens by yield farming just like everyone else, making this the fairest possible launch.
400,000 $CSS will be pre-minted to provide liquidity to the pools and the $CSS takeoff price will be $0.25. This means that the total value of provided liquidity will be $205,000 at launch. The rewards for farming will be at their highest for the first 10 days from the launch meaning that investors should get in early to maximize their profits.
CoinSwap Launch Details
Pre-minted for launch: 400,000 $CSS
Price at launch: $0.25
Initial Liquidity:
200,000 $CSS — $50,000 in $BNB ($CSS/$BNB)
200,000 $CSS — $50,000 $BUSD ($CSS/$BUSD)
$BNB/$BUSD (worth $15,000)
$USDT/$BUSD (worth $15,000)
$ETH/$BNB (worth $15,000)
$BTC/$BNB (worth $15,000)
$CAKE/$BNB (worth $15,000)
$ADA/$BNB (worth $15,000)
$DOT/$BNB (worth $15,000)‌
Total value of initial liquidity : $205,000
CSS Farm
Emission rate CSS per block
First 10 days from launch: 0.6
After first 10 days: 0.45
After 12 months: 0.41
After 24 months: 0.37
After 36 months: 0.33
After 48 months: 0.29
Reduction of 0.04 per block every 12 months
About CoinSwap Space
CoinSwap Space is a decentralized exchange that provides users with a suite of services to help them maximize their returns in the DeFi space. Built on the Binance Smart Chain, CoinSwap Space utilizes smart routing to give users the best return on their investment possible.