Crypto Market Cap Lost $500B in a Day as Bitcoin Slid to a 2-Month Low (Market Watch)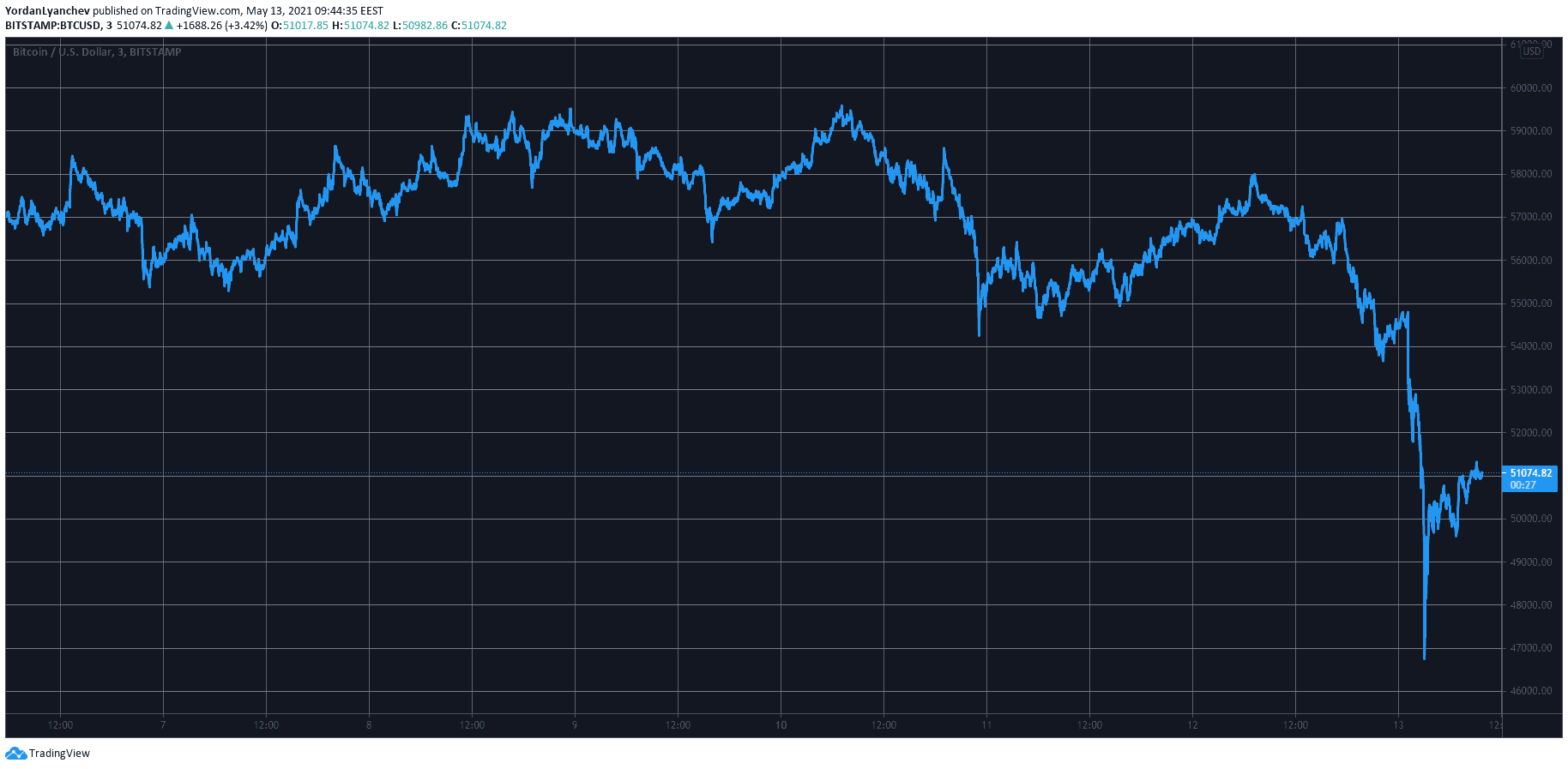 The announcement from Elon Musk and Tesla resulted in massive price slumps in the crypto market as bitcoin lost more than $12,000 of value in a day to a low beneath $46,000.
All altcoins followed suit, with Ethereum dipping to $3,600, and the market cap had lost roughly $500 billion at one point.
Bitcoin's Massive Nosedive
Although bitcoin has failed to overcome $60,000 for weeks, the cryptocurrency was actually performing rather well lately. Just yesterday, BTC had reached a high of $58,000.
However, it all changed after Tesla and Elon Musk said they will cease receiving bitcoin payments for their products and services. Somewhat immediately, the asset price slumped by $3,000, but that was just the start of it.
In the following hours, the primary cryptocurrency kept falling to a low beneath $46,000. In other words, BTC nosedived by more than $12,000 in a day and plummeted to its lowest price level since late February.
According to Bybt, the liquidations in the past 24 hours alone are worth almost $4 billion. Somewhat expectedly, over 90% of them came from long positions.
Despite recovering some ground and currently sitting above $51,000, bitcoin's market cap dived well below the coveted $1 trillion line. Furthermore, BTC's market dominance also keeps sliding and is down to 41%.
Red Among The Alts
As it typically happens when there's enhanced volatility with BTC, the altcoins also follow along. Ethereum, the top gainer among the larger-cap altcoins, had just painted yet another all-time high of nearly $4,400.
The adverse developments, though, took ETH by storm, and it plummeted to a low of $3,550 in a matter of hours. The second-largest crypto has bounced off since then and currently stands around $4,000.
Binance Coin was nearing its ATH at $685 yesterday but dumped by more than $100. BNB has also reclaimed some ground and currently sits above $620.
Musk's favorite meme coin was at $0.55, but it dropped to $0.35. Nevertheless, DOGE has also reacted somewhat positively and is close to $0.45 now.
On a 24-hour scale, Ripple (-8%), Cardano (-3.5%), Bitcoin Cash (-15%), Litecoin (-15%), Uniswap (-6%), Chainlink (-8%), and Stellar (-10%) are also deep in red from the larger-cap alts.
Interestingly, Polkadot has actually gained nearly 5% since yesterday and trades above $40.
SHIBA INU has lost the most since yesterday after Vitalik Buterin sold a significant portion of his stash. The self-proclaimed Dogecoin-killer is down by 30% to below $0.00002.
Revain (-26%), EOS (-17%), Bitcoin Gold (-17%), Yearn.Finance (-17%), Telcoin (-15%), Ethereum Classic (-15%), Qtum (-14%), and Filecoin (-14%) are just a few more double-digit losers.
During the most substantial price dips, the crypto market cap had declined by roughly $500 billion in a day and was close to dropping below $2 trillion.