DoraHacks Acquires $8M Capital From Binance Labs For Blockchain Upgrade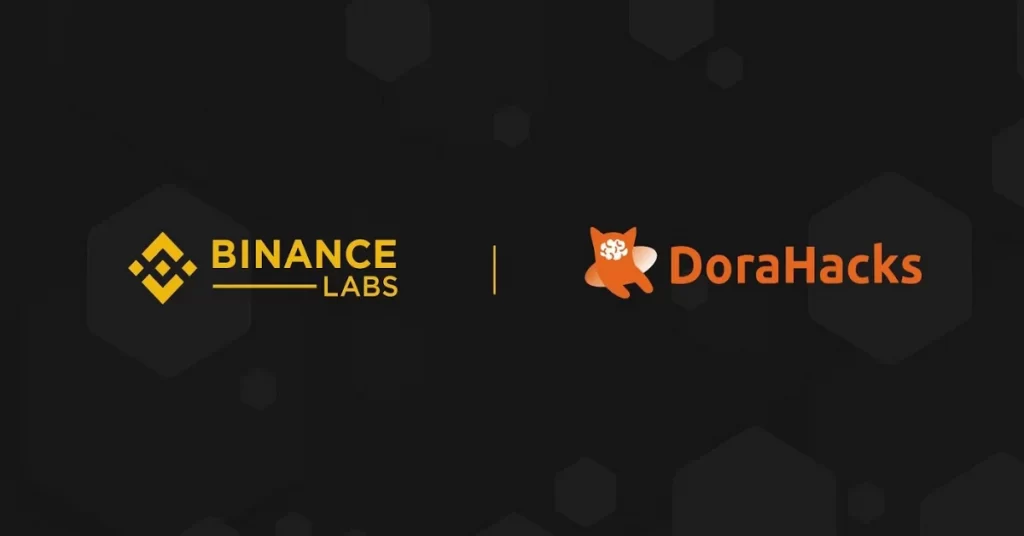 The post DoraHacks Acquires $8M Capital From Binance Labs For Blockchain Upgrade appeared first on Coinpedia – Fintech & Cryptocurreny News Media| Crypto Guide
DoraHacks and Binance Labs will be co-organizing Season 3 of Binance Labs Incubation Program (Embargoed for 09:00 AM UTC time 19.11)
Singapore, November 19, 2021– DoraHacks, a decentralized and international developer community, and open-source incentive platform, has acquired $8 million in capital via a strategic investment from Binance Labs, the VC division and innovation incubator owned by Binance.
What is Dorahacks
DoraHacks is a globally-accessible hackathon organizer and one of the most skilled and active Web 3.0 developer communities.
It offers Web3 native on-chain toolkits in order to assist software architects with securing capital for their business ideas.
This year, over 1,000 initiatives in the DoraHacks community have acquired more than $12 million worth of grants and donations from various supporters across the globe.
Bill Chin, Head of Binance Labs Fund, stated: "Backing early-stage startups and developers have always been a strategy for Binance Labs.
DoraHacks is one of the largest multi-chain developer communities with great Web3 projects emerging.
Binance Labs will further build crypto communities with DoraHacks as part of the investment and establish a more open-source and diversified blockchain world.
As one of the initiatives, Binance Labs and DoraHacks are co-organizing Season 3 of Binance Labs Incubation Program."
In order to support their vision for the steady growth of the Web3 developer community, DoraHacks and Binance Labs intend to work cooperatively on these key areas:
Grants, funding, and incubation resources in order to support mostly early-stage Web3 ventures Joint research & development (R&D) on decentralized governance technologies and DAO infrastructure
The partnership for developent
Business partnership between BSC (Binance Smart Chain) and DoraHacks on BSC Grants, Hackathons and integration of various Dora DAO infrastructures
Dora's main goal is to establish a permanent international hacker movement. The Dora ecosystem consists of the decentralized open-source developer community
DoraHacks, the open-source developer incentive platform HackerLink.io
Decentralized Hackathon community Hackathon DAO
"DAO-as-a-Service" infrastructure DoraFactory,
dGov middlewares including Grant Factory, DoraID, privacy voting infrastructure, the Moloch as well as multisig pallets.
Application developers are able to create and financially support decentralized governance dApps for various open-source communities and decentralized autonomous organizations (DAOs) on top of the infrastructure offered by DoraHacks and Dora Factory.
Currently, more than 20 established Web3 ecosystems – such as BSC, Polygon, Filecoin, Solana, among others – are utilizing Dora's infrastructure to enable the quadratic governance of their respective developer communities.
DoraHacks has around 100,000 monthly active users (MAUs) from 152 different countries across the globe.
Eric Zhang, Founder of DoraHacks, remarked: "Since 2018, DoraHacks has partnered with Binance on 15 global hackathons and grant rounds.
Through DoraHacks' developer events and grant toolkits, Binance has distributed over $2 million in funding to more than 100 teams.
This new round of strategic investment will help us accelerate the innovation of developer incentive mechanisms, deliver more effective products to support hackathon organizers and Web3 open source applications, and promote Dora Factory's infrastructure and ecosystem development.
We're happy to see Binance sharing our vision to support Web3 developers worldwide and help developers innovate freely to change the world."
Nicole Zhang, Investment Director of Binance Labs Fund, added: "Binance Labs has always been a strong advocate for open-source culture. DoraHacks has developed sophisticated infrastructures to support decentralized voting, funding, and participation for early-stage open-source blockchain projects. We believe DoraHacks' large blockchain developer community will provide endless support to Binance Labs investment portfolio as well as our greater ecosystem."
About DoraHacks
DoraHacks is an international hackathon event organizer and the most active Web3 developer communities in the world.
It offers Web3 native on-chain toolkits to assist computer programmers with securing capital for their ventures.
The Platform core or primary features include Quadratic Funding Grant, Bounty, Hackathon, BUIDL NFT, and Continuous Funding.
This year alone, more than 1,000 initiatives in the DoraHacks community acquired over $12 million in grants and donations from supporters throughout the world. 
Dora Factory is the DAO-as-a-Service infrastructure in the Dora ecosystem. It includes core governance DApps and Middleware such as Grant Factory, Privacy Voting Infrastructure, as well as DoraID for DAOs and open-source communities.
For additional information and resources:
Website: https://dorahacks.com
Twitter: https://twitter.com/DoraHacks
Medium: https://hidorahacks.medium.com/
About Binance Labs
Binance Labs aims to identify, invest, and empower innovative blockchain entrepreneurs, startups, and communities, by financially supporting industry initiatives that assist with expanding the broader blockchain industry.
Binance Labs is focused on backing high-potential development teams that promise to make a positive impact on the fast-evolving crypto sector.