Bears Dominate Filecoin Price But Traders Should Short At This Level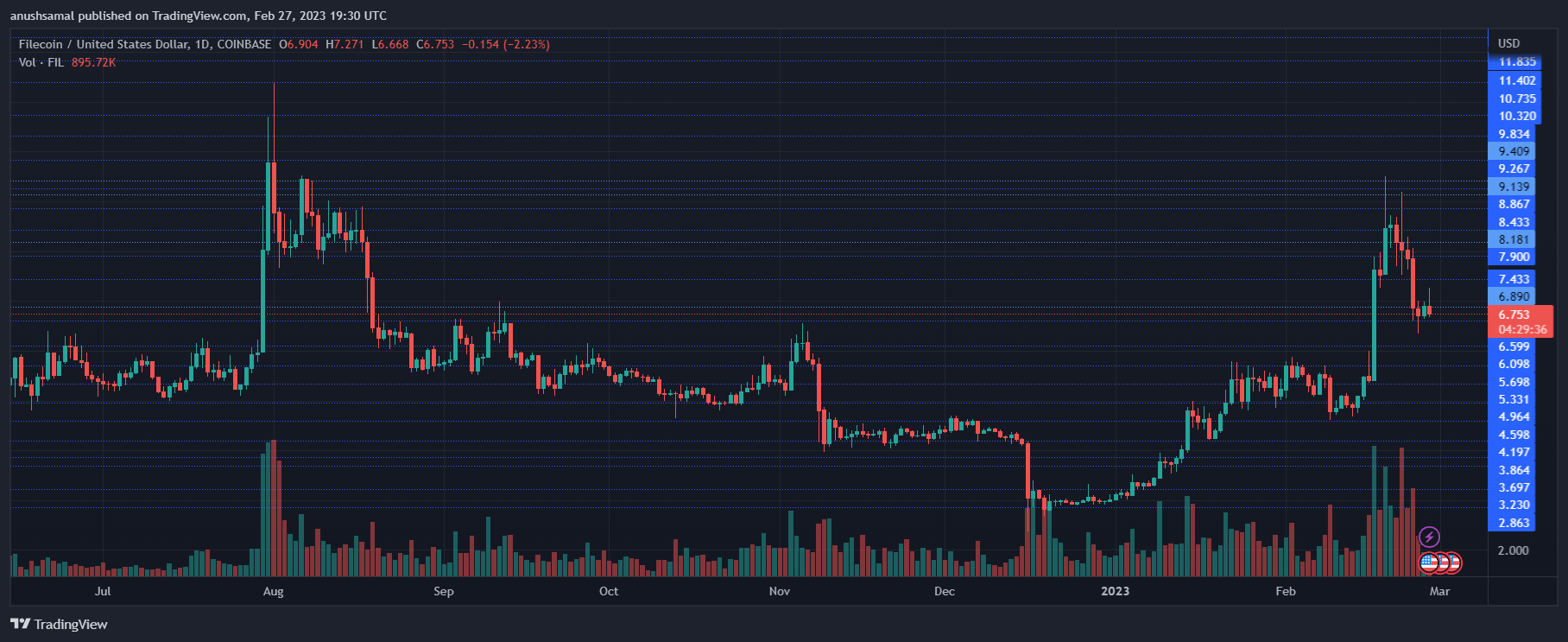 Filecoin bears have yet to tire out as the coin hovers below its immediate price ceiling. In just a week's duration, FIL lost nearly 25% of its value. Over the last 24 hours, the altcoin rose by 1%, indicating it was laterally trading.
Continued lateral trading can cause the altcoin to depreciate on its chart again. The technical outlook displayed that FIL was trying to recover on its chart, but the overall structure of the altcoin was bearish. Demand has decreased, but buyers are still trying to stay afloat in market weakness.
Accumulation also fell as demand for FIL was low on the chart. As the altcoin continued trading sideways, buyers' confidence also wavered.
Currently, FIL is trading near a crucial support level, but if buying strength doesn't pick up, the coin can fall through that price floor. Filecoin was trading 98% below its all-time high, secured in 2021.
Filecoin Price Analysis: One-Day Chart
FIL was trading at $6.75 at press time. The coin is above its crucial support line of $6.50, but lateral trading for too long can make the bears take over. The immediate resistance for the altcoin stood at $6.80.
The $6.50 level had previously acted as a strong barrier for the altcoin. Toppling that level will help Filecoin move into the $7 price zone, invalidating the bearish structure. Traders, however, can find opportunities to short if and when the price trades in the $5.33 to $6 region. The amount of Filecoin traded in the last session was red, indicating seller dominance in the market.
Technical Analysis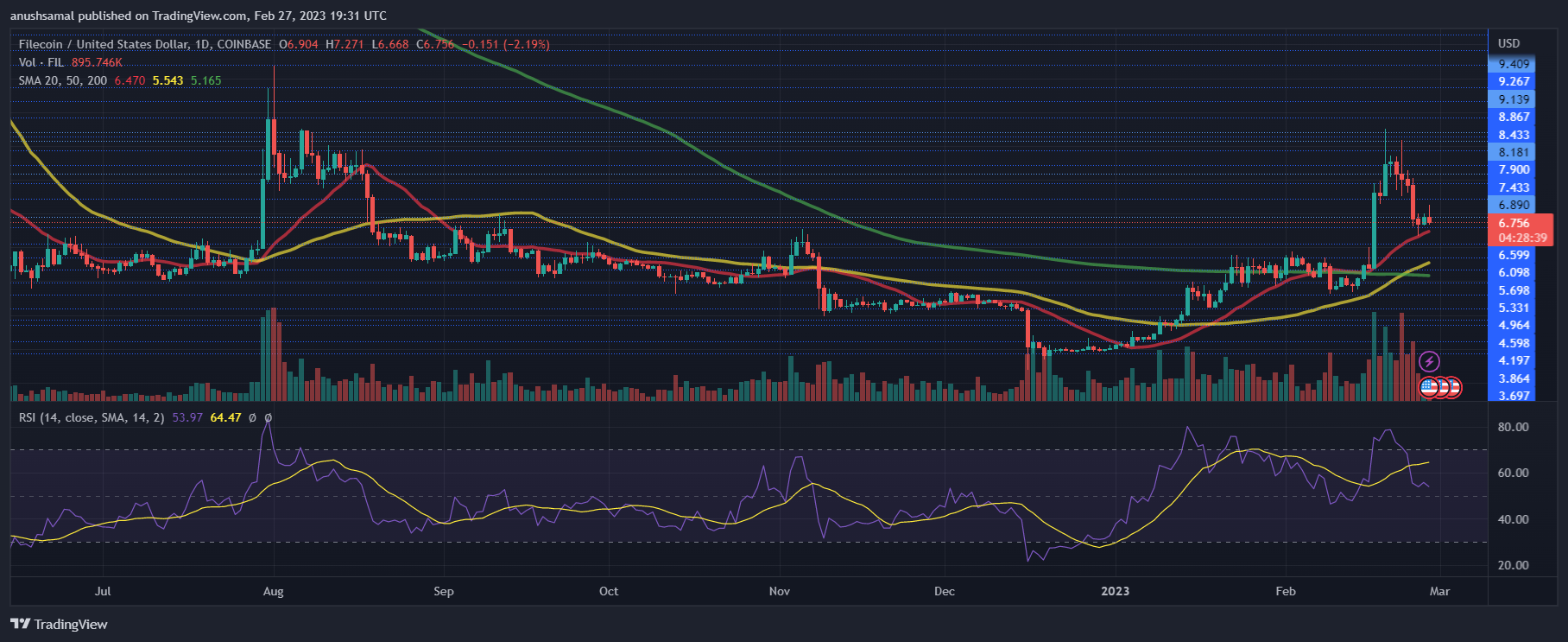 FIL still needed to reflect changes in its technical outlook despite the minor recovery on the daily chart. Buyers remained low on the chart. The Relative Strength Index corroborates that the indicator was moving near the half-line.
This reading signified a fall in the number of buyers. Buyers are not expected to return before the altcoin breaks above the $6.80 price ceiling.
The altcoin price still managed to stay above the 20-Simple Moving Average line. This showed some optimism for the altcoin; buyers were still in charge of the price as they drove the price momentum.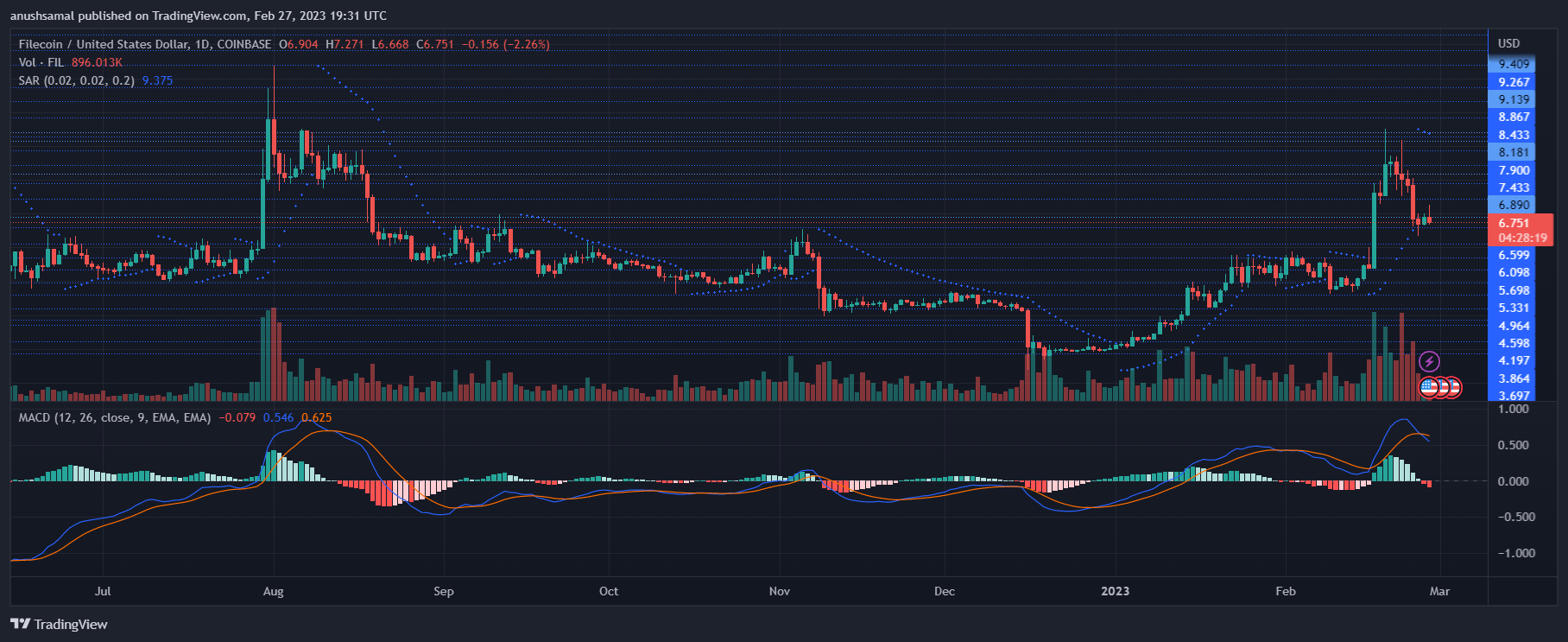 Technical indicators have also depicted mixed signals for the altcoin. The coin formed sell signals on the daily chart. Moving Average Convergence Divergence indicates price momentum and trend change. The indicator developed red signal bars tied to sell signals for FIL.
Parabolic SAR suggests the price direction. It formed a dotted line above the candlesticks, which meant an incoming downtrend for Filecoin price. This could result in another price drop before the market recovers.