BTC Bounces Off $23K, STX Soars Another 23% as Rally Continues (Market Watch)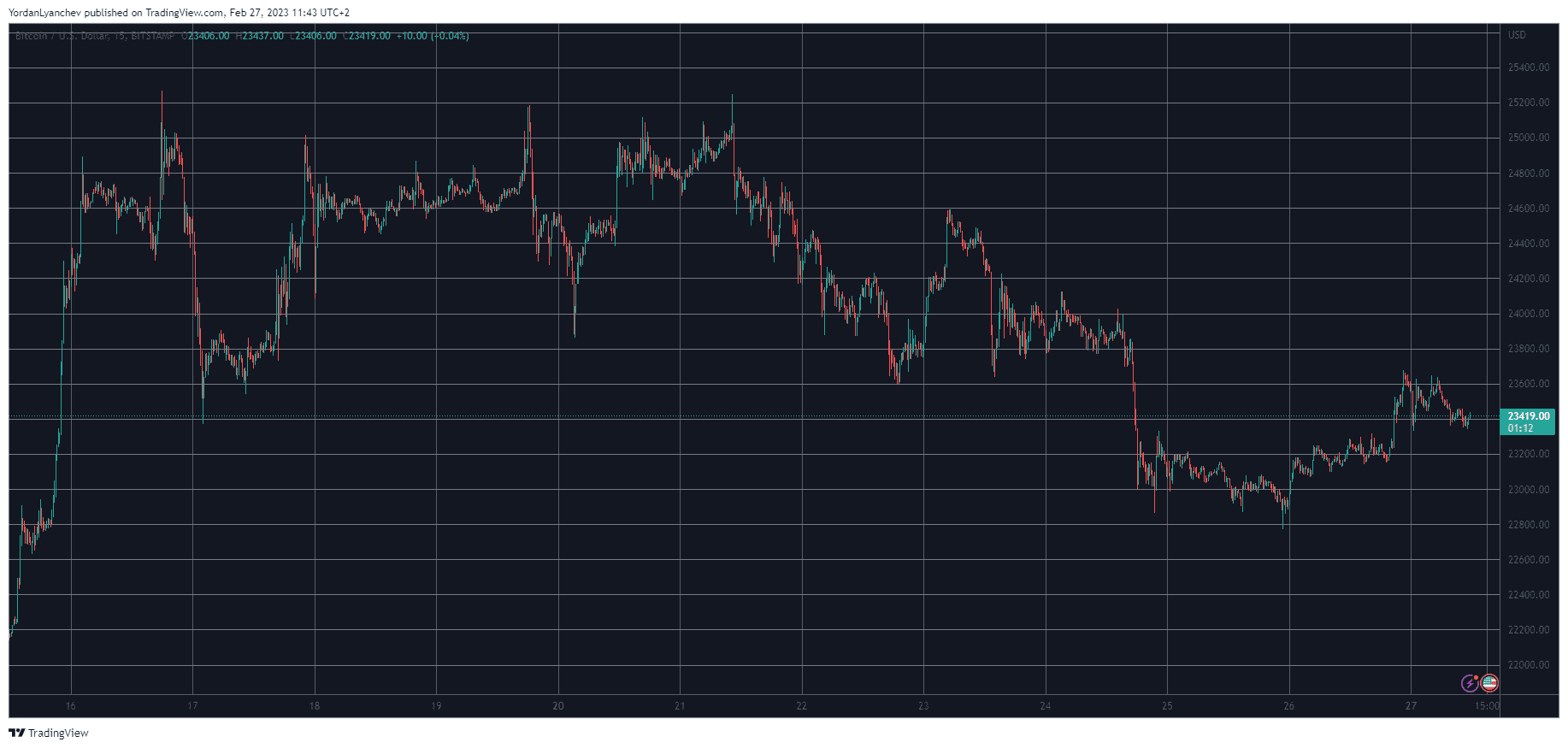 Bitcoin dipped below $23,000 to mark a multi-week low but managed to bounce off rather quickly and has reclaimed that level.
Most altcoins sit quietly once again, aside from Stacks. STX has taken full advantage of the Ordinals hype and has soared to almost $1.
Bitcoin Back Above $23K
Following the three unsuccessful attempts to decisively overcome $25,000 last week, bitcoin headed south and slipped to $24,000 at the end of it. Things took another turn for the worse on Friday when the US PCE data came out, suggesting a 0.6% increase since January.
Bitcoin reacted with an instant price drop to $23,000. It dipped further during the weekend to $22,800 (on Bitstamp), which became its lowest price tag since February 15.
The low trading volumes on Sunday meant that BTC remained calm at around $23,000. The bulls finally stepped up hours ago by pushing BTC to over $22,600. Despite retracing by a few hundred dollars since then, the asset still stands well above $23,000, and its market cap has climbed above $450 billion.
STX Keeps Going
It's safe to say that the relationship between Stacks and the Gamma marketplace has paid a lot of dividends for the former ever since the emergence of the Ordinals NFTs on top of the Bitcoin network. STX has become one of the best performers lately, and the past 24 hours only solidified that narrative.
The asset is up by more than 23% on a daily scale and came inches away from tapping $1 earlier today.
The rest of the altcoins are a lot calmer yet again. Ethereum managed to defend $1,600, and a 1.7% increase has pushed it well above that line. Binance Coin sits north of $300 following a minor daily climb.
In contrast, Ripple, Cardano, Polygon, Dogecoin, Solana, and Polkadot are slightly in the red.
Nevertheless, the total crypto market cap has remained under $1.1 trillion on CMC despite adding $10 billion in a day.
The post BTC Bounces Off $23K, STX Soars Another 23% as Rally Continues (Market Watch) appeared first on CryptoPotato.