Elliptic recognizes bitFlyer for outstanding compliance for the second time in a row!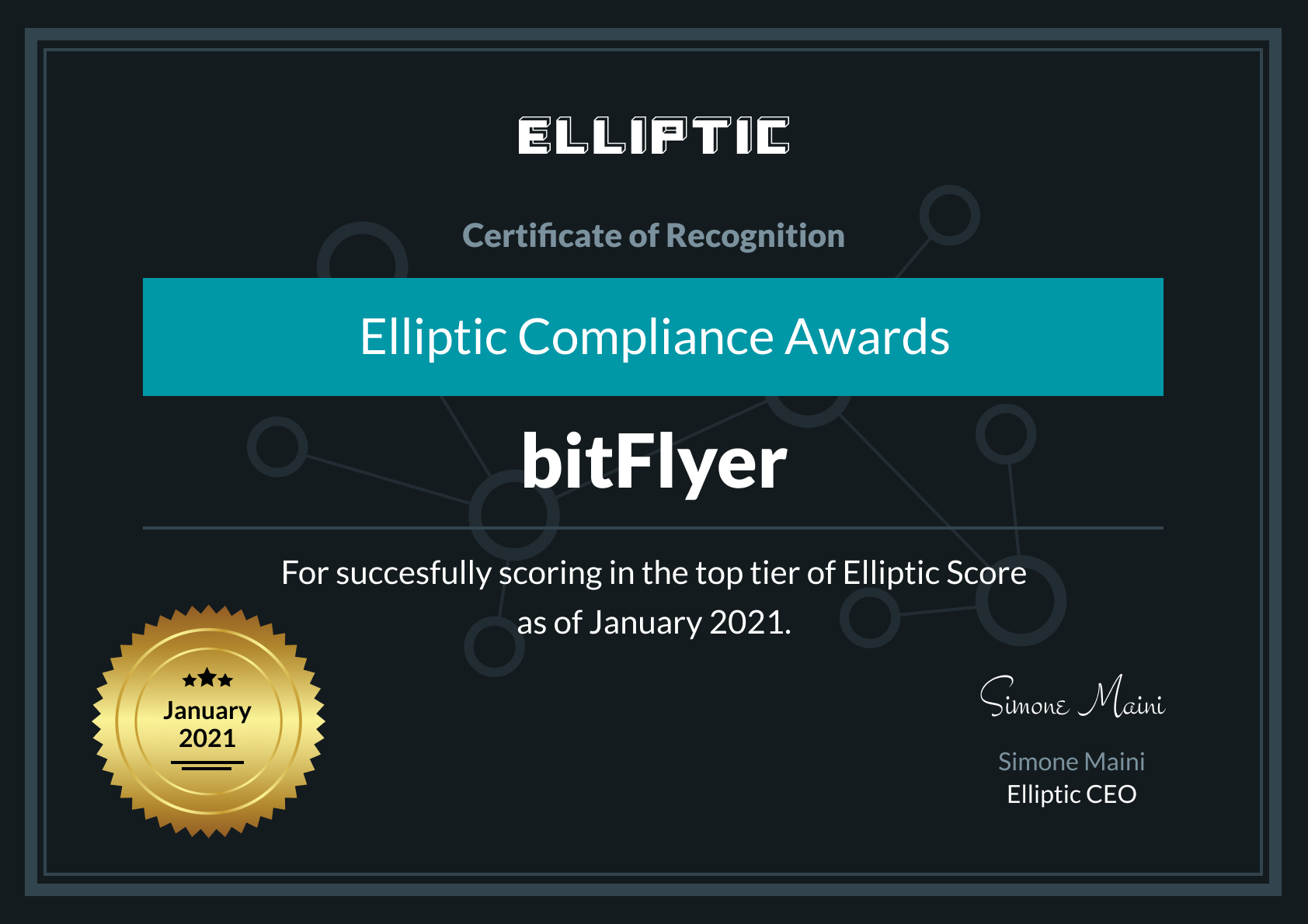 Elliptic, a global leader in cryptoasset risk management solutions, awarded the Elliptic Compliance Award to the cryptoasset businesses demonstrating exemplary compliance and their contribution to making the cryptoasset market safe to use.
For the second time in a row, bitFlyer received the award! Thank you Elliptic!
Our Chief Compliance Officer here at bitFlyer Europe, Ivars Zukovskis, shared some thoughts about the news:
"We are delighted to receive an Elliptic Compliance Award for outstanding compliance as we've established robust compliance controls to protect our customers and our business."
"This is the second time in a row for bitFlyer to receive the Elliptic Compliance Award. We're pleased that our continuous efforts, supported by Elliptic's crypto AML solutions, are recognized for meeting the highest standard for crypto compliance across the industry. Allowing us to reinforce the trust of our customers, and to grow our business."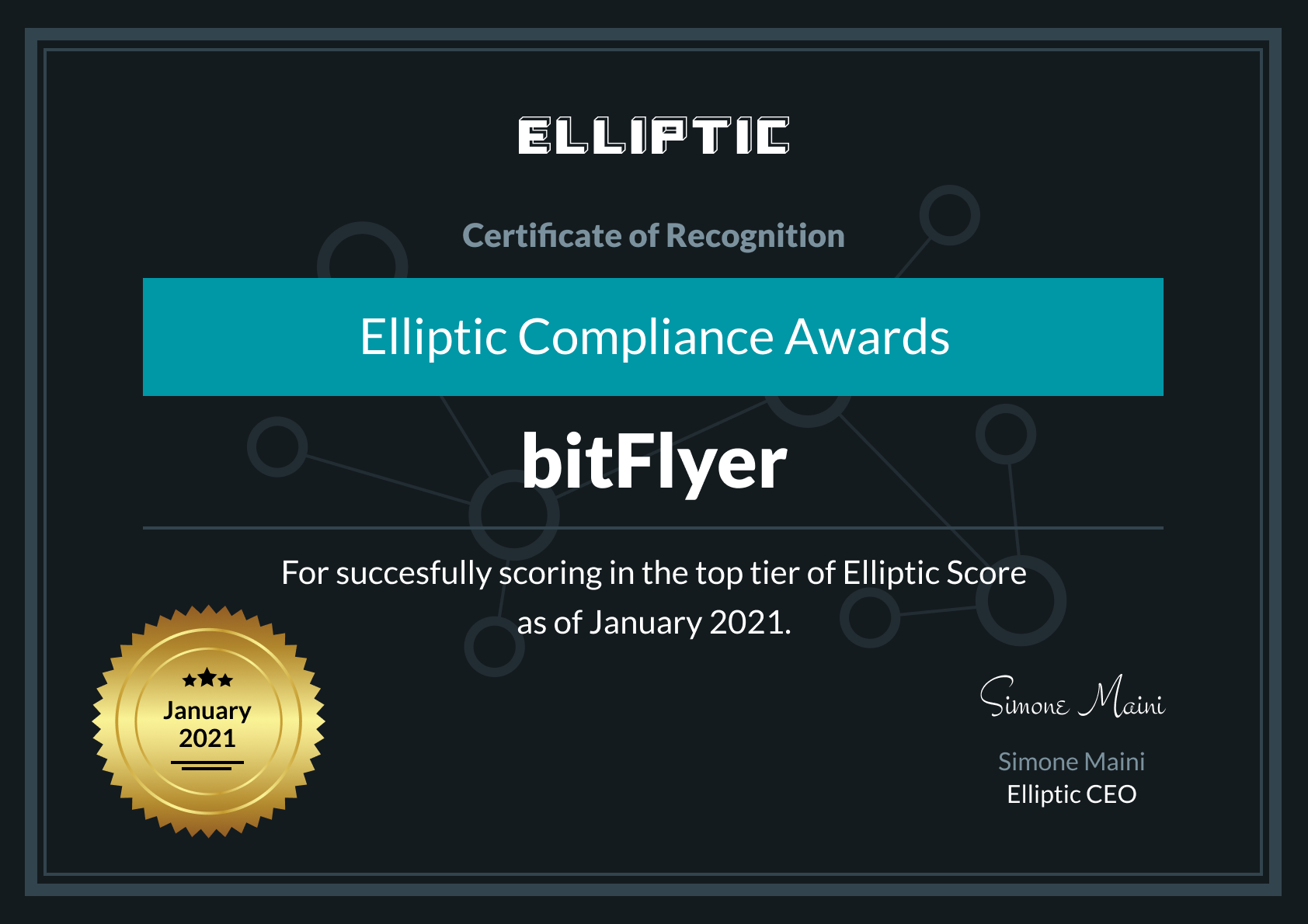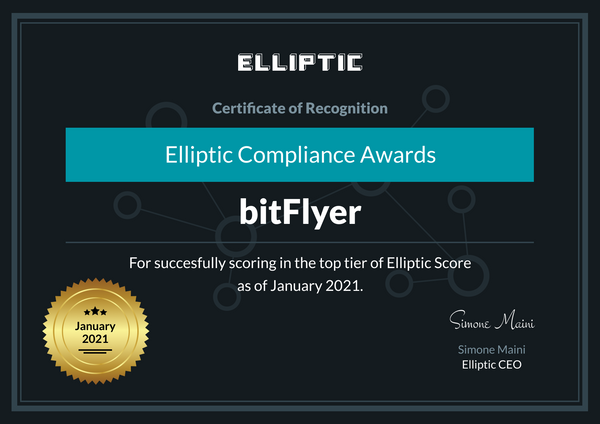 About the Award
The award winners are determined twice yearly according to their Elliptic Score, which indicates crypto-related financial crime risk for over 200 crypto exchanges, custodians, and other cryptoasset businesses, with the top tier of these businesses receiving an award.
The Elliptic Score is customer agnostic, in that the crypto businesses assessed may use any blockchain analytics solutions to support transaction and wallet monitoring in their compliance operations.
A word from Elliptic
Simone Maini, CEO of Elliptic, congratulated bitFlyer on the award and our contribution to the crypto industry.
"Elliptic believes in objectively recognizing the positive efforts that crypto businesses are making to drive the safe adoption of crypto."
"Congratulations to all the Elliptic Compliance Award winners, including three of our customers, for their commitment to preventing financial crime in crypto."
"These VASPs are role models for crypto businesses of all sizes and proof that best-in-class blockchain analytics tools, coupled with tight compliance controls, are a necessity for managing risk and growing a business."
---