Bitcoin.com Exchange Has Listed IQQ, the Token Behind the IQONIQ Fan Ecosystem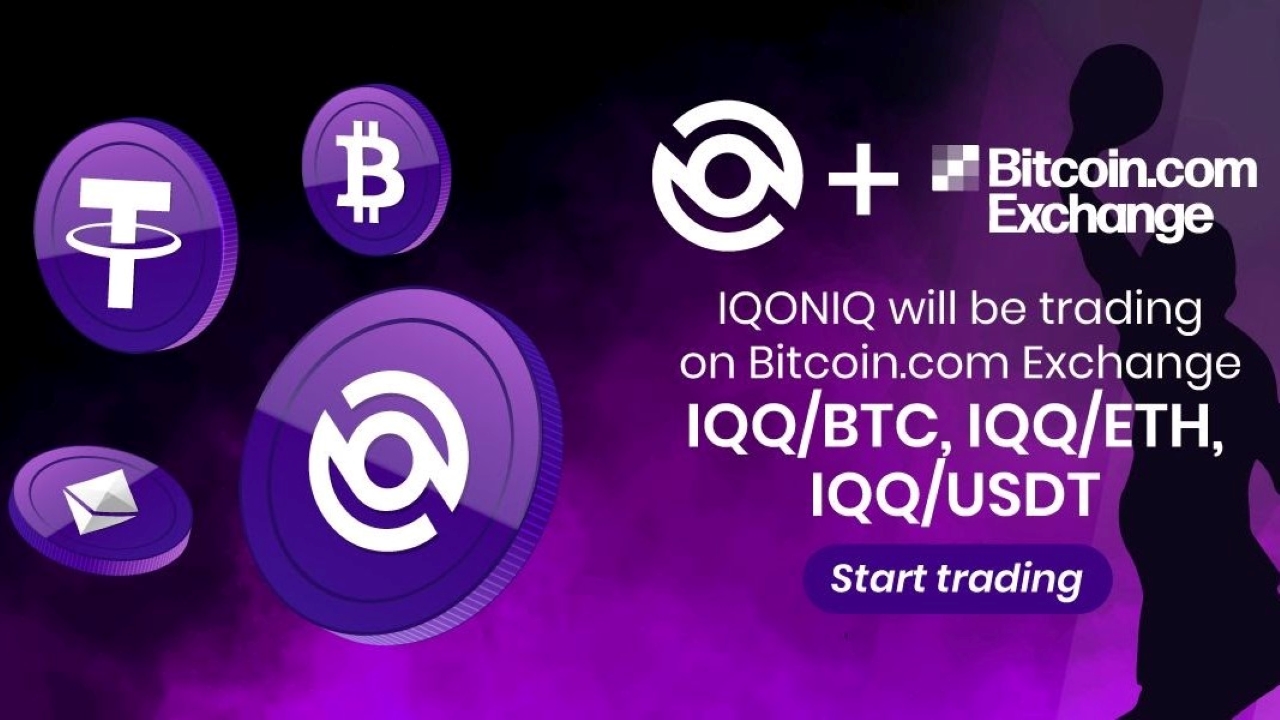 press release
PRESS RELEASE. Bitcoin.com Exchange is thrilled to announce the listing of IQQ which occurred on the 31st of March 2021 at 10:00AM UTC. IQQ was created by IQONIQ FanEcosystem, as the utility token to reward entertainment and sports fans for their engagement. IQQ started trading with ETH, USDT and BTC pairs.
What is IQONIQ?
IQONIQ is a new fan engagement platform that exclusively targets the sports and entertainment world. Existing social networking sites are not tailor made for sports and entertainment, with fans of idols and organisations in sports and entertainment often having to scour multiple platforms to get the content they desire. And when they get it, the content is often only one-way and detached, leaving many fans unfulfilled and wanting more.
By combining all the modern-day features of fandom into a single platform, IQONIQ provides fans with a unique fan club, which offers an all-in-one, game changing solution. IQO offers fans a more personal fan experience, with tailored content to their needs, unique opportunities to interact with their heroes, and fun games to play alongside fellow fans. IQONIQ offers fans a more rewarding fan experience, with loyalty programmes and membership schemes giving back to the most dedicated fans, as well as special offers for merchandise and tickets, and the opportunity to win exclusive fan experiences. And finally – IQONIQ offers fans a more purposeful fan experience, with the IQONIQ Foundation established to promote good causes, and idols and organisations in sports and entertainment being able to raise support for initiatives close to their heart – all in an open and transparent manner.
Why choose IQQ?
IQQ is a utility token supporting the IQONIQ fan ecosystem. The IQQ token allows holders to access merchandise, tickets, souvenirs, NFTs and win prizes associated with their favourite team on the app. Fans on the platform can customise their experience to their budget and preferences, closing the engagement gap between fans and idols. Idols can use IQONIQ to have conversations with their fans and monetise on fans who are willing to pay for higher engagement with them. By owning the IQQ tokens, users are rewarded with:
Discounts on memberships.

A multiplier on loyalty points earned.

Access to a club's new kit several days before it is released to the general public.

The chance to participate in 'ask the star' conversations with an idol.

VIP access to sports grounds.

NFTs and collectibles.

Specially produced video and exclusive content.

Priority access to tickets for matches, shows, and events.

A means of attributing privilege rights for IQQ Token holders

And much more…
The more engaged a fan is within the platform and based on the quantity of IQQ tokens the Fan owns, the more IQONIQ Loyalty Points they can earn, opening up a myriad of opportunities to become one with their idols and organisations in sports and entertainment. IQQ holders are also rewarded with a range of other benefits such as:
Dinner with the team

Executive box access

Meeting their idols one-on-one

And much more…
Strong Endorsement
Danish Chaudhry, CEO of Bitcoin.com Exchange, shared his views on IQONIQ's platform: "The recent pandemic has really shown us the importance of diversifying business models and finding better ways to engage with your fans. This is particularly true for sports organisations that are known to be following traditional models. We're very excited to see how IQONIQ can empower these organizations as well as their fans to engage in more meaningful ways. By listing the IQQ token, we're making it more accessible to a broader audience and supporting its growth."
Kazim Atilla, Founder and CEO of IQONIQ, expressed his enthusiasm by saying: "We are happy to be listed on Bitcoin.com Exchange, and would like to broaden our reach to crypto enthusiasts around the world. Our project is not mainly focused around blockchain and crypto, but rather bridges between the Sports and Entertainment world, along with the Blockchain world, in the best possible way. Users of the IQONIQ App don't need to understand blockchain or crypto, and they don't need to hold tokens to use our app and benefit from our ecosystem. For them, they see tiers of Loyalty points, and an ecosystem that enables them to enjoy a game-changing holistic solution."
About Bitcoin.com Exchange
The mission of Bitcoin.com Exchange is to empower people from all over the world to trade cryptocurrencies with ease and confidence, from first-time traders to advanced trading professionals. With high liquidity, 24/7 multilingual support and dozens of trading pairs, complemented with a high level of security, we offer an attractive platform for trading any cryptocurrency. Within one year since launch, on average, our exchange has been visited by more than 500K active traders per month, and this number continues to grow as you read this sentence.
About IQONIQ
IQONIQ is revolutionizing the multi-billion-dollar Sport & Entertainment industry by introducing a best-of-its-kind social engagement platform that enables sport clubs, athletes and entertainers to manage and monetize the value of their global fragmented fan base and social media assets better. It provides fans with a richer, rewarding and more personal relationship with their idols and clubs, with a universal, seamless, and gamified loyalty platform and many other features integrated in the IQONIQ App. IQONIQ is building a complete fan-centric ecosystem, and bridging it to the blockchain world. IQONIQ also provides a digital sports-focused marketplace and a Non-Fungible Token (NFT) platform. Partner companies are able to mint the NFTs, connecting them to the real world- or entirely digital assets. Users can buy and sell sports collectibles and items powered by state of the art decentralised ledger technologies. IQONIQ platform is a partly built blockchain technology. The main features of the technology are utilized in processes where a decentralized ledger technology adds value.
---
This is a press release. Readers should do their own due diligence before taking any actions related to the promoted company or any of its affiliates or services. Bitcoin.com is not responsible, directly or indirectly, for any damage or loss caused or alleged to be caused by or in connection with the use of or reliance on any content, goods or services mentioned in the press release.
Image Credits: Shutterstock, Pixabay, Wiki Commons