Kimchi Premium Puts Bitcoin Lower Ahead of Fed Minutes; What's Next?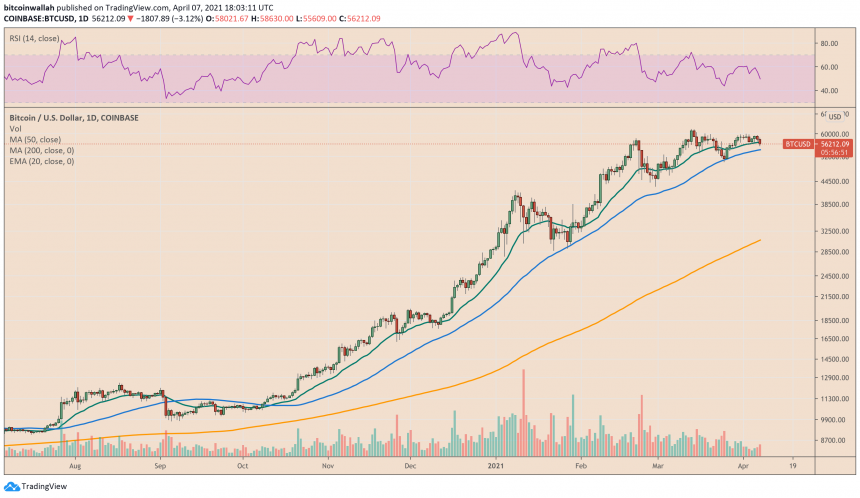 Bitcoin prices dropped lost 3.12 percent in early trading Monday, while the rest of the crypto market followed suit, turning lower aggressively after their record-setting bull runs at the start of this week.
At first, it appeared like a regular profit-taking exercise among western day-traders against overvaluation risks. Nevertheless, blockchain analytics platform CryptoQuant noted that the sell-off appeared out of South Korea-based crypto exchange Upbit Global. It happened after a so-called "Kimchi Premium" indicator reached its three-year peak.
What is Kimichi Premium?
In retrospect, Kimchi Premium a metric which represents the difference in the bitcoin prices on South Korean exchanges and other global trading avenues. Arcnae Research analysts note that when the indicator peaks, it somewhat ends up blowing up the bitcoin bullish bubbles. The metric reached 47 percent in January 2018 and 63 percent in 2017, and followed up with vast price corrections in the global bitcoin market.
Nevertheless, Kimchi Premium formed dwarfed peaks of 6.5 percent in January 2018 and 63 percent in May 2019 — also leading to major bitcoin price corrections lower. As of this week, the metric peaked around 18 percent, before dropping lower during the European session Wednesday, as shown in the chart above.
"It seems someone finally figured out how to arbitrage this Kimchi premium opportunity," said Ki-Young Ju, the CEO of CryptoQuant. "The trading volume in 30min time frame on Upbit Global, the largest Korean exchange, was bigger than Binance's. This drop seems related to Kimchi pullback."
Mr. Ju also told CoinDesk that the Kimchi Premium won't impact the Bitcoin market like the previous times, noting that South Korea's volume compared to the global one has significantly reduced — from 7.9 percent in 2017 to 2 percent.
Fed Minutes
Bitcoin also dropped below $56,000 during the US session Monday as investors awaited minutes from the Federal Reserve's meeting in March to look for clues on how central bankers view inflation and US economic recovery speed.
Some investors fear that vaccine rollout, easing coronavirus restrictions, and the latest $1.9 trillion stimulus package would pent-up consumer demand, leading to a higher inflation. In turn, it would prompt the Fed officials to hike interest rates from near-zero earlier than 2024.
"When you have all this money that has been pumped into the system and into people's pockets, but that hasn't been spent yet, then you know inflation is going to come at some point," said Brian Walsh, Jr., senior financial adviser at Walsh & Nicholson Financial Group.
Higher inflation prospects make the US dollar more attractive to foreign investors. Meanwhile, the greenback's weakness tends to benefit Bitcoin.