Bitcoin exchanges just saw massive Tether stablecoin deposits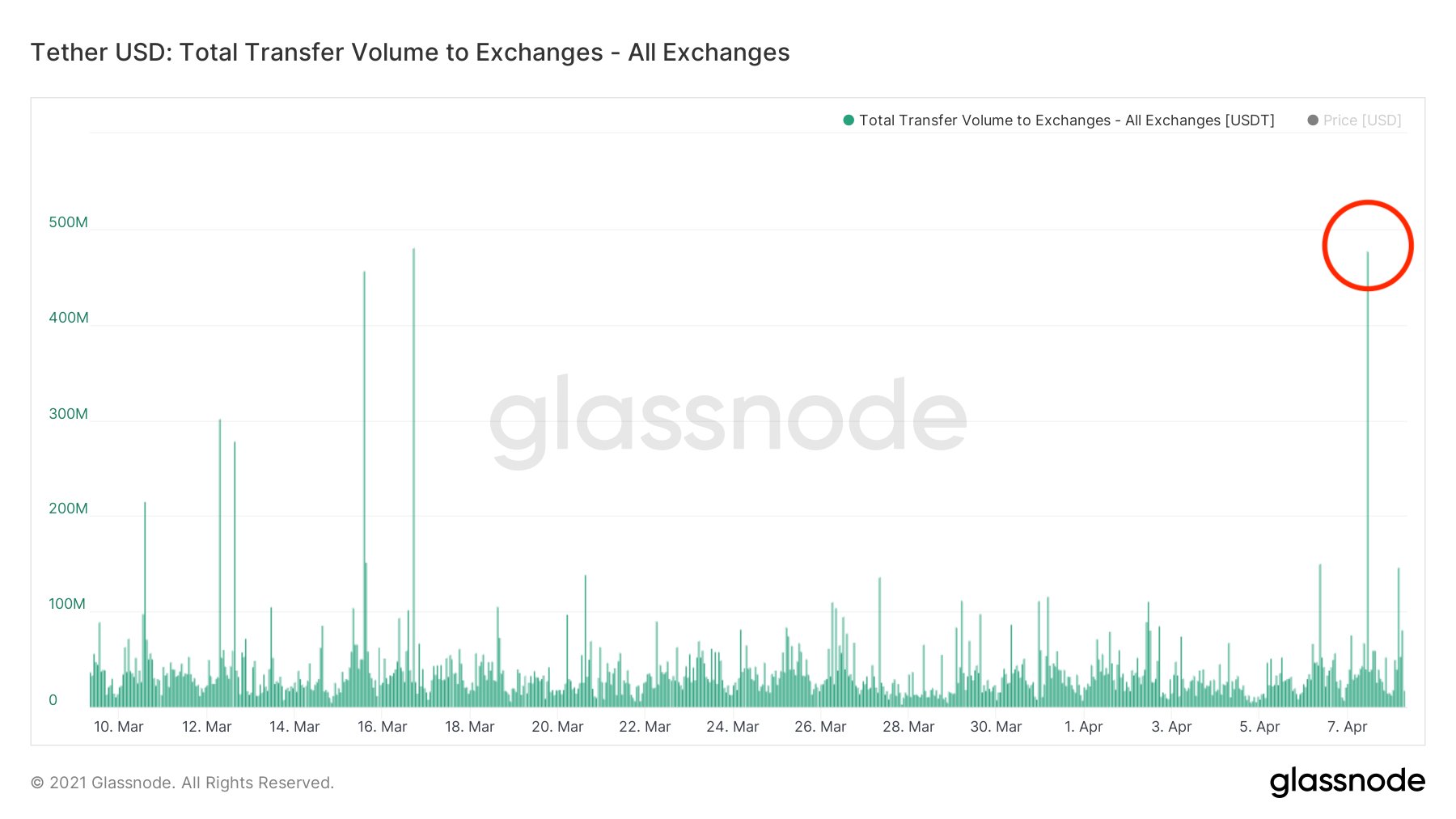 Nearly half a billion in Tether inflows was recorded on April 8 across major Bitcoin (BTC) exchanges, based on Glassnode's data.
Considering that the inflows, the biggest since mid-March, coincided with a minor Bitcoin pullback, it indicates that buyers could be waiting to step in following BTC's price drop.
Is a broader Bitcoin rally brewing?
There are two major on-chain metrics that often signal a bigger Bitcoin rally is forming: BTC outflows and stablecoin inflows.
Stablecoin inflows occur when traders deposit their sidelined funds to exchanges to buy back into cryptocurrencies.
Meanwhile, large BTC outflows typically happen when high-net-worth investors withdraw their Bitcoin from exchanges to self-hosted wallets, which often suggests their intention to hold for the long term.
In one hour, more than $476 million worth of stablecoin deposits were spotted on exchanges. According to Lex Moskovoski, the CIO of Moskovoski Capital, this demonstrates that there is no shortage of capital waiting to buy Bitcoin dips.
Moskovski said:
"$476M USDT deposited to exchanges in an hour yesterday to buy the dip. Every time we dip, there is no shortage of the cash on sidelines, it seems."
Stablecoins are seeing massive growth
On April 2, Bitfinex CTO Paolo Ardoino shared that the market cap of Tether, the largest stablecoin in the global market, has reached $42 billion in market capitalization.
. @Tether_to $USDt 42B

— Paolo Ardoino (@paoloardoino) April 2, 2021
In the following six days, the market cap of Tether (USDT) has added another $2 billion, showing strong momentum.
Since Tethers are essentially digital dollars that can be easily converted into Bitcoin and other cryptocurrencies, this uptrend suggests that the amount of sidelined capital in the crypto market is growing.
Theoretically, when there is a lot of sidelined cash in the market, it represents significant firepower to drive a new rally of major cryptocurrencies like Bitcoin.
When asked whether large USDT deposits could also mean that there's a demand to cash out instead, Moskovski countered by saying that USDT deposited to exchanges typically represents an intention to buy.
He explained:
"Stable coins deposited on exchanges is for buying, mostly. Some part of it may be used for lending to leveraged traders […]. Besides, it's bullish too as it highlights the demand for longs."
Meanwhile, data from CryptoQuant depicts a similar trend. The All Exchanges Stablecoins Ratio (ESR), for instance, which divides all Bitcoin reserves on exchanges by stablecoin reserves, is rising once again, suggesting that investors could be re-entering the market.