Number Of Bitcoin Mentions In Company Earnings Reports Goes Parabolic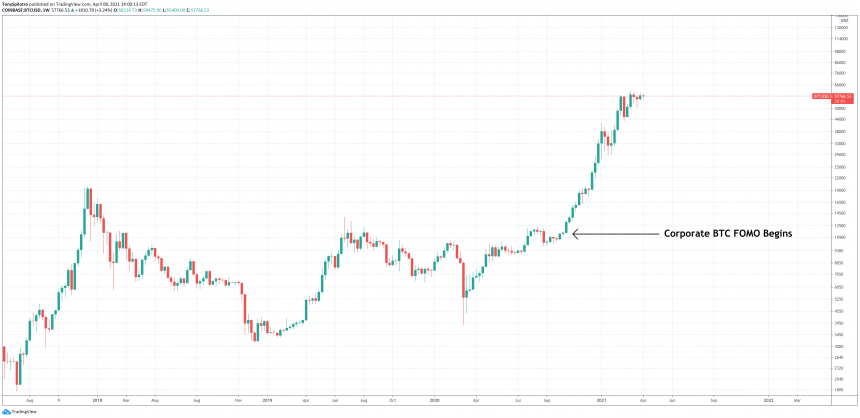 Among the many reasons for the ongoing bull run in Bitcoin, has been the emergence of corporations and businesses adding BTC to their company treasury reserves.
The sudden increase in demand for large sums of BTC during a period of low supply has caused prices to go parabolic. Interestingly, so have the numbers of mentions in company earnings reports that reference the first ever cryptocurrency by name.
Bitcoin Becomes Corporate Treasury Asset, Led By MicroStrategy CEO Michael Saylor
2020 was undeniably the year Bitcoin officially matured as an asset. Rather than pure speculation, the cryptocurrency network has shown it is here to stay, and instead the underlying asset is being leveraged to protect against dollar inflation.
Related Reading | Mathematical Mystery: Why Did The Crypto Rally Stop At The Golden Ratio?
Hedge funds began dumping gold expecting Bitcoin to be the better performing safe haven asset and economic hedge, and shortly thereafter major publicly traded corporations started swapping out useless cash reserves for an asset that over its lifecycle has appreciated more than anything else in history.
The bull trend took off once corporations began buying BTC | Source: BTCUSD on TradingView.com
The effort was first led by Michael Saylor, CEO of the Nasdaq-listed software firm MicroStrategy, who has since attracted more high-level CEOs and brands to the cryptocurrency sector, such as Elon Musk's Tesla, and long-time Bitcoin supporter Jack Dorsey, whose company Square Inc. also bought a lion's share of BTC.
Mentions Of Top Cryptocurrency During Company Earnings Reports Breaks Record
Since the trend of corporations suddenly scrambling to buy the ultra scarce cryptocurrency first began, the price per gone parabolic once again. Also climbing at a similar rate, is the number of mentions from company quarterly or annual earnings reports that include "Bitcoin."
According to the Twitter handle Documenting Bitcoin via the website Compeete.com, the total mentions in earnings reports has followed a similar trajectory as the price action above.
Mentions of the top crypto during earnings report discussion are rising | Source: Documenting Bitcoin on Twitter
Bitcoin price is currently struggling to make it above $60,000 and push higher. However, these companies boasting about earnings could cause further FOMO-effect once other businesses learn of how much revenue participation in cryptocurrencies brought.
Related Reading | Why The Return Of The Kimchi Premium Doesn't Bode Well For BTC
Coinbase is about to go public and its Bitcoin-related revenue has been record-breaking. FOMO might only get frothier from here on out, as the aforementioned Saylor held a seminar earlier this year focused on educating other executives on how to get BTC on the books.
The fruits of that labor could begin to blossom in the following months as those executives take a page from Saylor's playbook, and get in on the growing earnings mentions due to rising Bitcoin revenue.
Featured image from Deposit Photos, Charts from TradingView.com