Bitcoin Selling Pressure is Declining, Hints Key Glassnode Indicator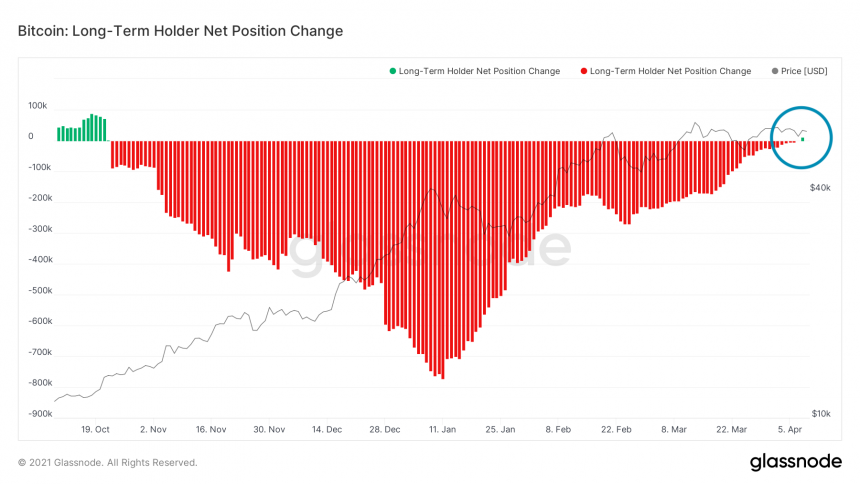 Even as the bitcoin market shows signs of bullish exhaustion after logging a 1,500-percent-plus upside move in the previous 13 months, all is not lost. Investors with a long-term growth outlook still want to hold onto the flagship digital asset, iterating their expansive bullish stance on it.
The analogy appears out of a chart from Glassnode, a blockchain analytics firm that determines Bitcoin's market bias based on on-chain indicators. One of its benchmark offerings is a tracking tool that studies Bitcoin wallets based on their net position holdings. In retrospect, the lesser the wallet owners spend their bitcoin, the higher their bullish bias is.
Green Red Green
Lex Moskovski, the chief investment officer at Moskovski Capital, spotted the said tool — dubbed as Bitcoin Long-Term Holder Net Position Change — and noted that it flipped from red to green for the first time since October 2020.
The red bars in the chart above reflect higher transactional volume from holders' wallets than to those who let the cryptocurrency sit ideal in their wallets. On the other hand, a green bar shows that more people prefer to hold bitcoin instead of transferring them to other addresses.
"Selling pressure is decreasing," the analyst ruled out after studying the pattern.
"Taken at the face value this chart means compared to a month ago more coins have been added to LTH UTXO than have left them. I'd say this is bullish," he added.
Why HODL Bitcoin?
The statements appeared as the Bitcoin price struggled to follow up to its previous parabolic move above $60,000. Rising US bond yields sapped investors' short-term appetite for safe-haven assets and, in turn, made a beaten-down US dollar — a bitcoin nemesis — a more attractive asset to hold.
On the other hand, Bitcoin maintained its bullish bias even against a relatively stronger greenback. Its upside cues kept coming in the form of fresh institutional investments from MicroStrategy, a Nasdaq-listed business intelligence firm, and the foray of financial giants like Mastercard, PayPal, Visa, Bank of New York Mellon, Morgan Stanley, and Goldman Sachs into the cryptocurrency services sector.
Investors also anticipated growth in the Bitcoin sector after Coinbase, a US-based cryptocurrency exchange, received regulatory approval from the Securities and Exchange Commission to go public via a direct listing Nasdaq. That ensured further exposure for Bitcoin on Wall Street, leading many analysts to say that the cryptocurrency would rise to $100,000 by the end of this year.
Photo by Chris Liverani on Unsplash