Crypto CEO "Convinced" Of Bitcoin Cycle Top, Warns Of Sell Side Intensity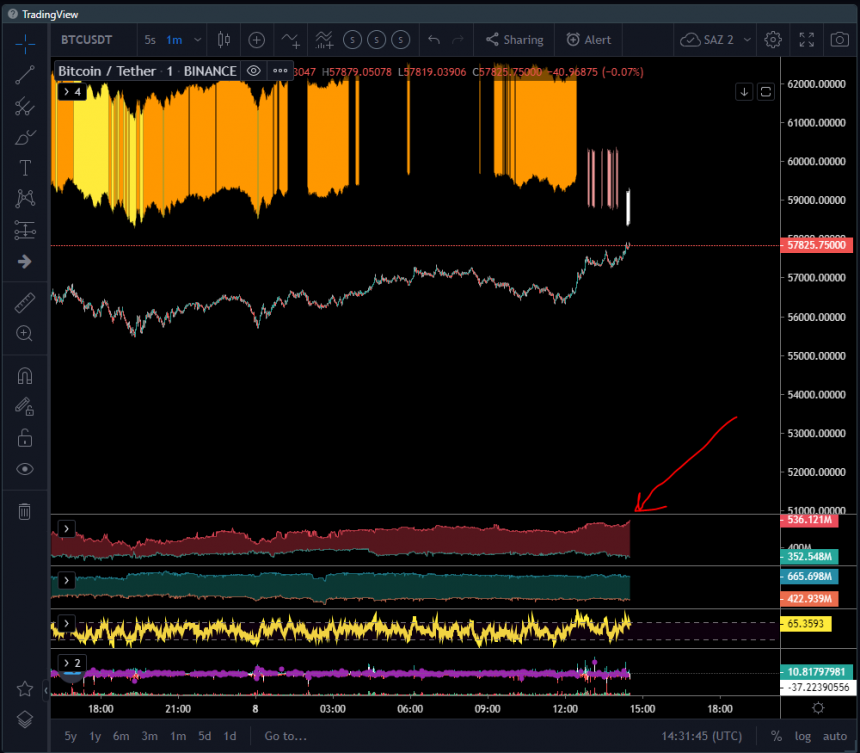 Despite the best efforts by bulls for what has been several weeks now, Bitcoin price can't seem to get back above $60,000 and spend any meaningful time above it.
Fundamentals are as bullish as it gets for the top cryptocurrency, but bearish technicals might have finally caused sellers to step in. That's according to one crypto company CEO, who has warned of sell side intensity increasing substantially in the last several hours. It's caused them to be increasingly convinced that a cycle top is potentially in. Here's a deeper look at why.
Bitcoin Bull Run On The Ropes As Technicals Face Off Against Fundamentals
Bitcoin price has had its best year on record yet dollar for dollars and fundamentals, the stock-to-flow, and just about all other data suggests that the bull run isn't near finished yet.
Technicals have been long overheated given the strength of the showing by bulls, leaving a large string of green monthly candles on the price chart without any serious corrective behavior. The once trending strong cryptocurrency has begun to slow, struggling specifically with anything around $60,000.
Related Reading | Mathematical Mystery: Why Did The Crypto Rally Stop At The Golden Ratio?
Indicators such as the logarithmic MACD are turning down on weekly timeframes for the first time since the bull phase began, and the quarterly candle just closed with the first ever bearish divergence in history. Yet the top cryptocurrency hasn't corrected anywhere near it has in the past.
Yet it is for none of these reasons that Embily CEO Joe Saz says could very well cause the "cycle top."
Bears have suddenly shown up just as the bull trend begins to falter | Source: BTCUSDT on TradingView.com
Why One Crypto CEO Says The Cycle Top Could Be In
Joe Saz like everyone else these days regularly offers their thoughts on what might happen next across crypto. In his latest self-proclaimed "chart spam," he warns of something with the potential to put in the cycle top.
Saz focuses on what's called OB, or order book analysis. He says that the rising red wave in the indicator pictures above is "ask dominance of aggregated spot markets" which he says depicts a "very serious sell side" with enough power that could topple the now struggling Bitcoin rally.
Related Reading | Why The Return Of The Kimchi Premium Doesn't Bode Well For BTC
Essentially, what this translates to is a sudden spike in sellers appearing at current levels – more so today as price has been rising than recently. At this point, it will be a showdown between bulls and bears, but also fundamentals versus technicals.
Fundamentals remain heavily bullish for Bitcoin, but bearish technicals could at least cause the first serious correction, if not the cycle top that Saz is warning of.
Featured image from Deposit Photos, Charts from TradingView.com