Why ADA could run hotter than Bitcoin and make 10x gains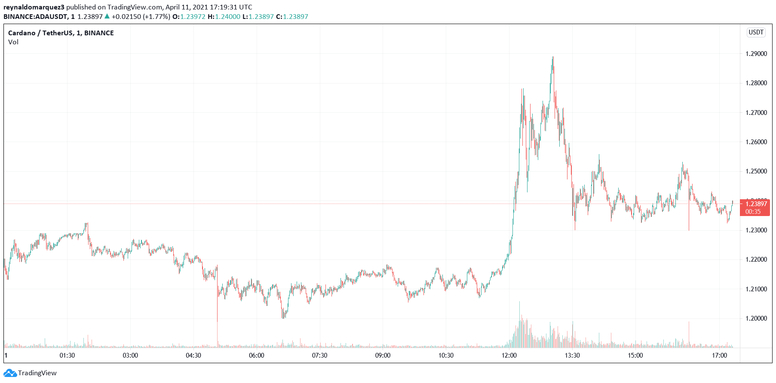 After breaking in the crypto top 10 by market cap and with 3.597% gains over the past year, Cardano (ADA) seems to be laying low. At the time of writing, ADA trades at $1,24 with 1.7% profits in the daily chart and 6.4% in the weekly chart.
Cardano's native token and its platform are moving towards a major milestone. Targeting a Q3 entry into DeFi with Hard Fork Combinator Alonzo.
Bullish investors are betting on ADA's further appreciation. Analyst Justin Bennett claims this token next rally will happen by the end of April. Around this time IOG should be stress-testing its smart contracts platform, Plutus.
A day ago, Bennet said to be building a "sizeable" ADA position and set support at $1.10 to $1.30. Over the next month's, according to the analyst, ADA could go as high as $10.
On the Cardano's native token recent price action, the analyst said it moving sideways is an indication of a "fair game", a sign that ADA's price is not overvalued. Bennet added:
ADA moving sideways for 6 weeks tells me the market doesn't believe it's overvalued at all. I don't buy markets that are going vertical. I buy markets that went vertical recently and have since gone sideways for over a month. That's a recipe for the next leg higher.
By the end of the month, ADA could target $2, as indicated by the chart below, and then could go for a higher price at $3 in the coming months.
In the 2017 bull run, ADA peaked at $1,18 therefore Bennet claims it could a 10x from its current price. Comparing ADA to Bitcoin, the analyst said the latter has "never done less than" a 10x profit in a bullish cycle. He added:
We know alts run hotter than Bitcoin. Translation: $10 $ADA is conservative, and $20 – $30 wouldn't surprise me.
Smart contracts capabilities closing in on Cardano
Cardano's next protocol upgrade is set to make it "the leading smart contract platform", according to Olga Hryniuk from IOG. Outlining Alonzon's roadmap and launch, Hryniuk wrote:
Throughout March and April, the IO Global team has been gradually combining the Alonzo rules with the Cardano node and ledger code (…). We expect the Alonzo upgrade (hard fork) to happen in late summer, and we will announce a firm date in April's Cardano360 show.
In the crypto space, many believe Ethereum's high fees are pushing users towards cheaper options. Cardano's platform promises this with higher security for its smart contracts and EVM compatibility.
If Ethereum's competitors, like Binance adaADAUSDTCardanoCryptocurrency news