3 reasons Dogecoin is up 123% this week, hitting 10 cents for the first time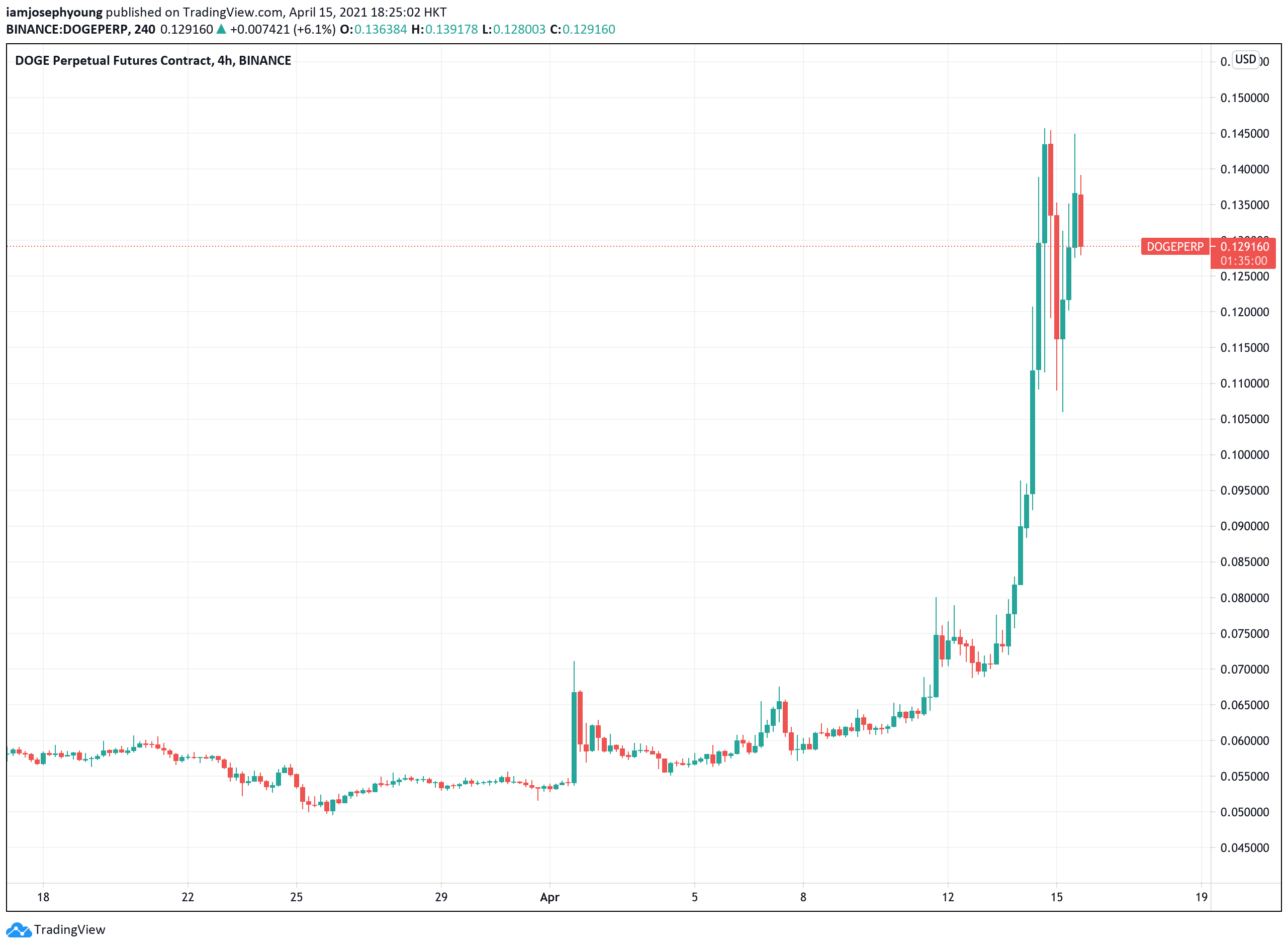 The price of Dogecoin (DOGE) has rallied by more than 123% this week, hitting new all-time highs of $0.13 on strong technical momentum.
It has been competing against Chainlink (LINK) for the top-ten spot with both cryptocurrencies hovering at around $17 billion in market capitalization.
There are three major reasons why DOGE saw a steep climb over the past seven days. These include Elon Musk's tweets, the resurgence of altcoins, and the positive sentiment around crypto in general.
Altcoin market rallies strongly with positive sentiment
Throughout the past week, many of the "OG" altcoins, such as XRP, Tron (TRX), and Stellar (XLM), saw massive rallies following Bitcoin's (BTC) upsurge to a new all-time high above $64,000.
XRP, for example, broke above $1.5 for the first time in over three years, showing that profits from Bitcoin and Ethereum (ETH) are possibly cycling into altcoins in the short term.
Kelvin Koh, a partner at Spartan Group, one of the largest DeFi-focused funds in Asia, explained that this trend happens periodically because quant funds trade the convergence between Bitcoin and altcoins
Koh noted:
"The reason this happens periodically is because there are a bunch of quant funds out there that play the convergence trade between $BTC and a handful of liquid alts. Whenever there alts look cheap relative to $BTC, they pile in. When they look expensive, they rotate back to $BTC. No fundamentals involved so don't try too hard to rationalize the moves. This strategy has proven effective over time and there are enough managers playing this that it becomes self-fulfilling and keep recurring."
The general increase in the momentum of the altcoin market played a major role in fueling Dogecoin's overall momentum throughout the past few days.
Technical traders have echoed a similar sentiment about the strong rally of altcoins over the past week.
Is the Altcoin market setting itself up for a dip in the short-term?

It's a possibility

But pull-backs from here would not only be a healthy development for Altcoins

But also a necessary one for many of them to confirm higher timeframe breakouts before further upside#Crypto

— Rekt Capital (@rektcapital) April 12, 2021
However, another well-known cryptocurrency trader Loma said that the fundamentals surrounding most altcoins haven't changed.
Hence, if traders trade altcoins that are breaking out based on technical analysis but disregard the technical aspect of it, there is a high chance of the trade becoming unsuccessful.
The trader explained:
"Friendly reminder that the fundamentals on most of these fossil coins are identical to what they were months or even years ago. As an altcoin trader, if you entered a trade off TA but disregard TA for FA somewhere in that trade, you're more often than not.. fucked."
Elon Musk tweets about DOGE
In addition to the technical momentum of altcoins, which directly fueled the uptrend of Dogecoin, Elon Musk, tweeted about DOGE on April 15 once again.
Musk wrote, "Doge Barking at the Moon" with a meme that hints at higher DOGE prices. The price of a cryptocurrency can easily skyrocket when a public figure or well-recognized influencer tweets about a less liquid altcoin and this time was no different.
Doge Barking at the Moon pic.twitter.com/QFB81D7zOL

— Elon Musk (@elonmusk) April 15, 2021
Despite Musk's affection for Dogecoin, Tesla has invested solely in Bitcoin, however, adding approximately 48,000 BTC currently worth $2.5 billion to its balance sheet while directly accepting BTC for its electric vehicles.