CME Flashback: How The COIN Listing Could Culminate Bitcoin Rally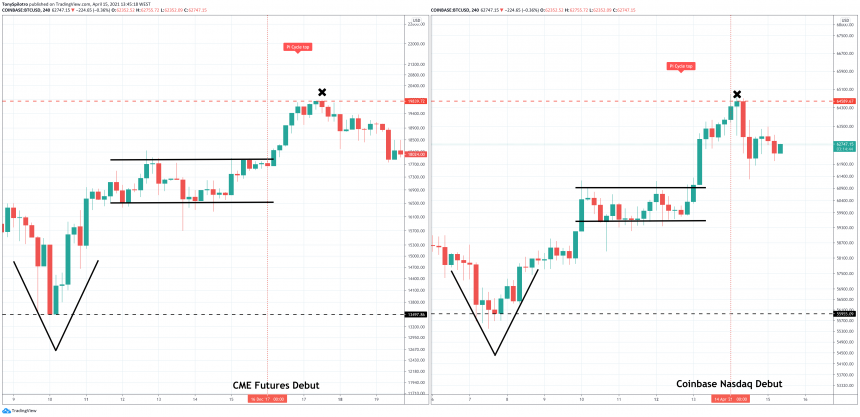 Bitcoin price (BTC) is down $2,000 from yesterday's high set right around the time that Coinbase Global (Bitcoin became taking over mainstream media, eventually reaching prices of $20,000 per hard fork took place, the halving was in the past, and big name speculating platforms began looking to launch Bitcoin-based futures contracts.
Related Reading | Coinbase COIN Debuts To A Bloody Bitcoin, But Bullish Structure Remains
The first to get involved was CBOE, but the bigger deal and the one still trading today is the Chicago Mercantile Exchange otherwise known as CME. The only problem was, its debut was the exact top of the bull market.
Unfortunately for the current bull run, that same price action is back with an almost flawless fractal. At the same time, a cycle top signal has appeared.
An initial plunge, followed by a controlled sideways period before peaking around launch | Source: BTCUSD on TradingView.com
With a transcendent technology like Bitcoin, however, anything is possible. But so is a scenario where the top is in, and is brought about by a "sell the news" event in the same vein as the debut of CME futures.
Related Reading | The Bearish Bitcoin Chart Bulls Definitely Don't Want To See
Granted, CME was the most dominant institutional focused platform that allowed short positions on Bitcoin, and Coinbase does nothing of the sort. However, it could cause some speculative capital that was once in Bitcoin to flow its way into
Aside from the much larger initial impulse and correction, the curve has been the same | Source: BTCUSD on TradingView.com
But could it be enough to bring forth a parabolic curve, would take the top cryptocurrency back under $10,000.
Even if a crash happens, bulls still have Elliott Wave Theory to hold onto. The 2019 peak which, also coincidentally happened around the launch of Bakkt and the introduction of Facebook Libra – two more sell the news events – would have acted as wave one of five.
The corrective wave down to the Black Thursday bottom completed wave two, and wave three could be concluding now. According to the study, wave four should never retrace into wave one, which means that so long as Bitcoin never passes below $14,000, the bull market is intact even with as much as an 70% selloff.
The fall to Black Thursday lows was about as sharp, and corrections have been slim during this bull run. Is this the top, a correction, or none of the above?
Featured image from Deposit Photos, Charts from TradingView.com