Bitcoin At $100,000: Estimating The Chance Of Six Figure BTC In 2021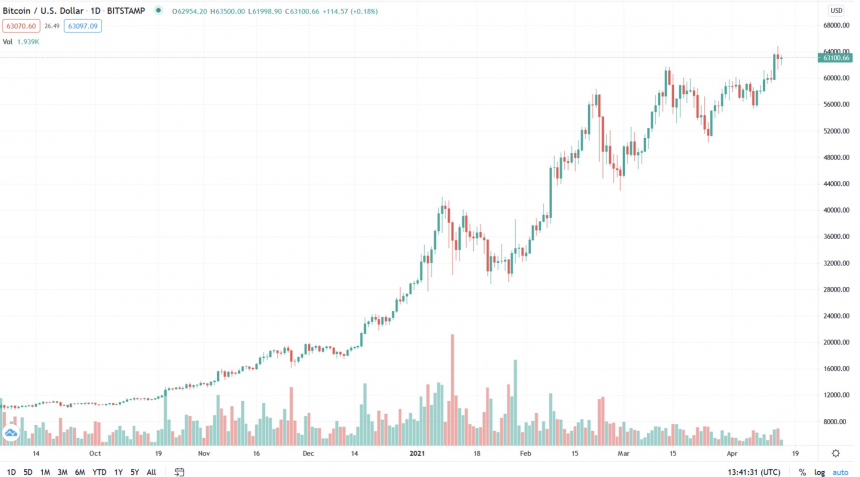 Bitcoin price (BTC) reached a new all-time high this week, soaring to almost $65,000 on Wednesday the 14th of April. With Bitcoin's price now in "blue sky territory" and its market cap sitting comfortably around the $1.17 trillion level, the big question is – just how high will the current bull market push the BTC price this year?
Rounding Up The Most Famous Bitcoin Price Predictions
Here are some of the most famous individuals and institutions in crypto that have gone on record with bullish Bitcoin price calls:
JP Morgan
In March, analysts at major US investment bank, JPMorgan, were reported to be eyeing a Bitcoin price of $130,000 – although no timeframe was provided for their prediction. JPM's CEO, Jamie Dimon, was vocal in his criticism of Bitcoin in the past. However, the firm's increasing involvement in crypto projects reflects the growing integration of cryptocurrency within the traditional financial sector.
Related Reading | The Bearish Bitcoin Chart Bulls Definitely Don't Want To See
MicroStrategy
MicroStrategy's CEO, Michael Saylor, is renowned for converting his firm's cash reserves to Bitcoin and encouraging other corporate leaders to follow suit. At last count, MicroStrategy held over 90,000 BTC, worth approximately $5.5 billion at the time of writing. Unsurprisingly, Saylor is extremely bullish on the BTC price, saying in a March interview that he "can see Bitcoin going to a million… [or] five million."
Pantera Capital
Pantera Capital, launched in mid-2013 as the original American crypto investment fund, has projected a Bitcoin price of $115,000 before September of 2021. Pantera's call is based on the Stock to Flow (S2F) model of Bitcoin's price, which has thus far shown a high degree of predictive power. Given the time-specificity of Pantera's call as well as their transparency regarding its rational basis, we would consider this the most considered prediction.
Daily Bitcoin chart showing the bull run since late 2020 until present | Source: BTCUSD on TradingView.com
A Rally-Supportive Economic Environment
Predictions alone, no matter who makes them, aren't enough to elevate Bitcoin to a six-digit price level. What's needed are enthusiastic buyers and hodlers, whether they be individual investors or large institutions.
As to the latter, we've already alluded to MicroStrategy's crypto corporate coffers. Perhaps following Saylor's advice as presented to thousands of corporate representative, Time Magazine recently announced their own acquisition of Bitcoin.
Furthermore, with financial titans like BlackRock and MasterCard recently announcing their involvement in Bitcoin, there can be no doubt of the institutional appetite for
The stock-to-flow model projects much higher prices for BTC | Source: Digitalik.net
Perhaps the most compelling reason driving investors, big and small alike, into Bitcoin is the expectation – and indeed the observation – of high inflation. With central banks around the world printing billions if not trillions of fresh fiat units as a response to COVID 19, the scene has been set for declining fiat value and rising costs for goods and services.
Related Reading | Coinbase COIN Debuts To A Bloody Bitcoin, But Bullish Structure Remains
With high inflation everywhere except government statistics – steel prices up 3x on the year, for example – it's no wonder that demand for hard, deflationary money has never been higher.
Featured image from Deposit Photos, Charts from TradingView.com