Despite Deep Plunge, Bitcoin Exchange Reserves Keep Dwindling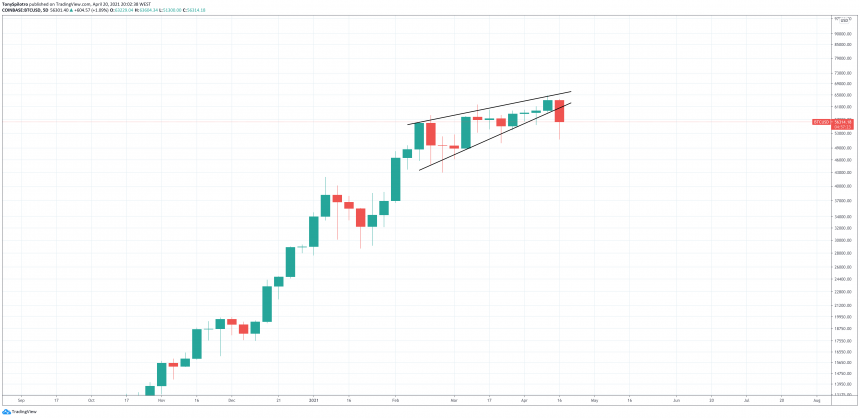 After a record weekend liquidation, Bitcoin price bounced back above $57,000 – gaining back approximately $3,000. At 14:21 GMT on Monday, the price of the recent slump in Bitcoin hash rate. However, the market seems to be gradually recovering and on-chain analysis shows that the bull run is far from over.
Crypto analyst, Jeff Dorman, noted on Twitter yesterday:
market recap

– incorrect analysis of $BTC hash rate decline
– incorrect analysis of how much $COIN insiders sold
– most likely false (or at best unsubstantiated) rumors of US Treasury charging financial companies over crypto money laundering

Result: Huge selloff/liquidations

— Jeff Dorman, CFA (@jdorman81) April 18, 2021
Dover Wan pointed out that
Bitcoin price
has continued to trade in the range above $58K for nearly two months now and despite that the exchange reserves have declined by 12%.
Bitcoin price vs all exchanges Bitcoin reserve since we start ranging from 58k for almost 2 months now. Price was pretty much flat but reserve down -12%

Yesterday there was a major outflow from Binance again during the sell off pic.twitter.com/J9hzbQoMP6

— Dovey "Rug The Fiat" Wan?? (@DoveyWan) April 19, 2021
Even with such a deep sell-off, it appears that exchange outflows continued. Binance exchange registered one of the highest outflows of Bitcoin on the day of the sell-off.
Coinbase Pro outflows, which have been the called the most bullish signal ever, keep on mounting. BTC is leaving the platform at a rate of roughly 10,000 or more per week each week since the bull market began.
A sharp selloff over the weekend liquidated almost $10 billion in longs | Source: BTCUSD on TradingView.com
The Bitcoin Bull Run Is Not Over
Since the current bull run began, Bitcoin has shown a similar pattern of "one step forward, two steps backward." The king cryptocurrency has consistently experienced a sharp correction following every new ATH. After correction, it has spent 3-4 weeks in consolidation.
Last week, Bitcoin price reached a new all-time high of $64,683. By the weekend, liquidation of high leveraged positions caused the price to plunge. Traders may have been over leveraged due to expectation of increased prices around the launch of the Coinbase Global listing on Nasdaq.
Related Reading | The Bearish Bitcoin Chart Bulls Definitely Don't Want To See
The Bitcoin Futures Open Interest rate touched another high indicating strong demand for the top cryptocurrency. Many analysts are forced to declare the start of a bear market on different occasions as the bitcoinBTCbtcusdBTCUSDTcryptoxbtxbtusd