Bitcoin Price Breakdown: Bulls In Trouble As $50,000 Is Lost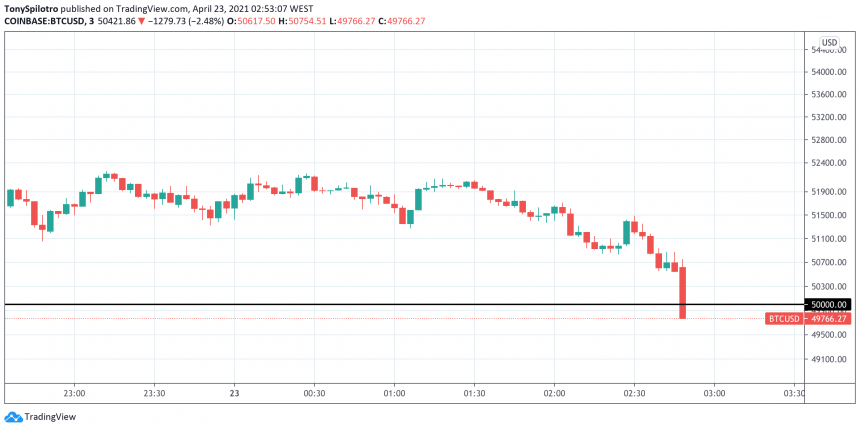 Bitcoin price has been in free fall mode, plummeting sharply from $65,000 to now under $50,000 for the first time since March.
Bitcoin Price Falls Under $50,000 Briefly
Bulls at the moment have pushed Bitcoin price back up more than $1,200 as orders at $50,000 filled for the first time in a month.
Related Reading | Bitcoin Loses Important Lifeline That Got Bulls Blood Pumping
A recent proposal under US President Biden to increase capital gains tax for the wealthiest individuals has spooked markets.
Combined with recent FUD surrounding the China hash rate decline and potential coming regulatory and tax crackdown, the once hot cryptocurrency is now struggling.
For now, bulls continue to insist on buying the dip considering how little time Bitcoin spent below the key psychological level before a decent bounce arrived.
Bitcoin price took a sharp dive below $50,000 | Source: BTCUSD on TradingView.com
Is The Crypto Market In Jeopardy Due To Capital Gains Proposal?
Bulls will need to call in the calvary with how bearish things just turned from a sentiment standpoint. Technicals have also started to turn for some time.
Fundamentals such as strong hands and a decrease in BTC supply on exchanges has kept the uptrend climbing, but the capital gains FUD could get some coins moving.
At the very least, some profit taking to cover off on what could be sizable capital gains for crypto investors might occur and free up supply and weaken some of the stronger hands.
Related Reading | Potential Island Reversal Leaves Bitcoin Bulls Stranded
Thus far, the market doesn't like this proposal. However, it's being done on purpose to slow down perceived dollar inflation, as these assets the dollar trades against have recently gone parabolic.
All eyes will be on Bitcoin from here and if bulls can defend $50,000. Lose it, and the uptrend is in danger.
Featured image from Pixabay, Charts from TradingView.com