New Bitcasino Game Offers 3 Players the Chance to Win a Tesla Worth €58,560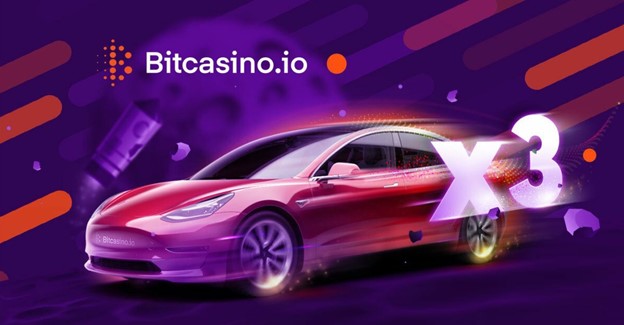 Crypto gaming innovators, Bitcasino, have launched one of their biggest giveaways to date and will reward 3 lucky players with a Tesla Model 3. To be in with the chance of winning, players of the new game, Live Crash, must reach the moon with the highest multiplier in a series of tournaments that are running between April 19 and July 11.
The Challenge: Reaching the Moon to Win
In order to qualify for the prize, daring players must hold their nerve and fly to the moon without crashing in the brand new Bitcasino game, Live Crash.
Players are challenged with choosing the optimal moment to cash out of a wager, as the multiplier grows, while they watch a car gathering speed and taking off into space. Players can pre-set their cash out amount but they will also have the option to alter it in real-time.
The excitement lies in the length of time that the players are able to hold their nerve and wait to cash out— the longer they wait, the higher the multiplier will be. But of course, if they wait too long, they risk going up in flames.
Bitcasino will be running weekly qualifier tournaments, before narrowing it down to three monthly tournaments, in which the player with the highest multiplier in each will win a Tesla.
Tauri Tiitsaar, Director of Bitcasino at the Coingaming Group, explained that they selected the Tesla Model 3 as the prize because they view Tesla as a pioneer at the forefront of their field, just as Bitcoin and Bitcasino are also leading the way in their respective fields. They wanted to create a fun and fair tournament with the car of their players' dreams as the reward.
The Prize: Tesla Model 3
The Tesla Model 3 is one of the best-selling electric vehicles on the planet, boasting a sleek design and impressive performance, including 423 kilometers of zero-emission driving and 0-100 km/h in just 3.3 seconds.
About Bitcasino
Bitcasino was established in 2014 as part of the Coingaming group, and has since evolved into a pioneering bitcoin-led casino operator. Bitcasino hosts an expansive library of more than 2,800 games, from slots and table games to live dealer casinos from some of the industry's leading suppliers.
They strive to create the ultimate user experience by continually using player feedback to perfect their platform and develop new features and rewards.
Fair Rewards: Bitcasino is the first crypto casino to withdraw its welcome offer, and has instead created a custom-built Loyalty Club that gives players greater control over their gaming.
Trustworthy and secure: Bitcasino prides itself on its trustworthy casino and gaming service. It has withdrawal times of around 1.5 minutes—among the fastest in the industry—and cutting-edge security measures in place.