The Rise Of Dogecoin: The Good, Bad, And The Ugly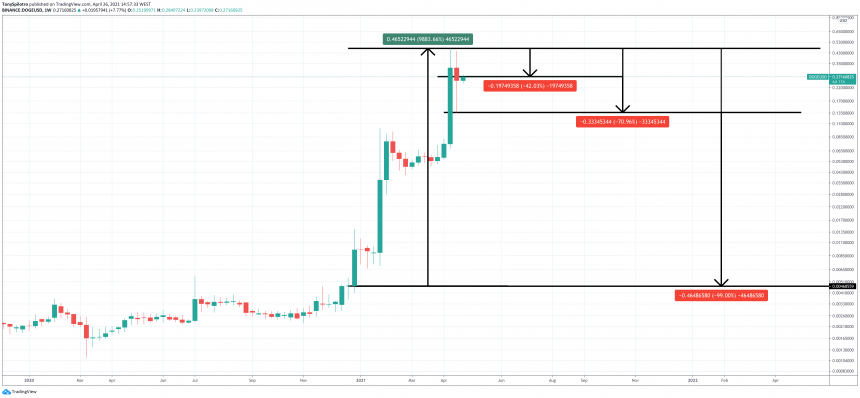 Dogecoin has made crypto investors more money than the likes of Bitcoin and Ethereum since the start of the year. But not everything related to this incredible rise to super stardom has been all glamor and glitz.
While the "joke" turned into a cool few grand in his pocket.
These stories aren't uncommon for mainstream investors who generally have no idea what they're doing, but heard about the meme the coin's frontman Elon Musk.
Related Reading | Is Amazon About to Accept Dogecoin? The Payment Use Case Explored
Anyone who put money into Dogecoin in early 2021 has far more money than they started with. Unless they were among the latest to join the feeding frenzy among the pack of hardcore fans, then there's always another side to every
The good, bad, and ugly of the Dogecoin pump all in one chart | Source: DOGEUSD on TradingView.com
Bad Doggy: Dogecoin Latecomers Get Bit, Rally Put To Sleep
The chart above shows the technical rollercoaster that has been the rapid rise of Dogecoin. DOGE has been on a tear, soaring almost 10,000% this year alone.
Anyone who got in before April still has plenty of bones buried out back for a rainy day, however, those late to the feast might want to roll over and play dead.
Related Reading | The Two Signals That Say Dogecoin Holders Are In For "Much Ow"
The initial correction saw an immediately 70% collapse. As of right now, there's a huge recovery, and Dogecoin is still down more than 40% from all-time high.
But when you're comparing a measly 40-70% correction against an almost 10,000% rally, this dog could have a lot more to shed.
When assets lose their parabolic advance, they tend to correct by as much as 80% or more. In altcoins like Dogecoin, historically things get far worse, often shaving a full 99% of all-time highs before another recovery attempt is made years down the line.
Those sucked in that don't understand markets can lose a ton of money | Source: Reddit
That could end up leaving investors like the one in the dog house for some time. Take this poor bloke for example, who now has to tell his wife that the allure of DOGE to the moon and $1 Dogecoin was well worth the risk of their life savings.
The moral of this story is that every dog has its day, and Dogecoin's could now be in the past. If that's the case, any further gains will be kept on a leash.
Featured image from Pixabay, Charts from TradingView.com