Market Update: Bitcoin Bulls Bounce Back, Dogecoin Slumps, XRP Jumps 18%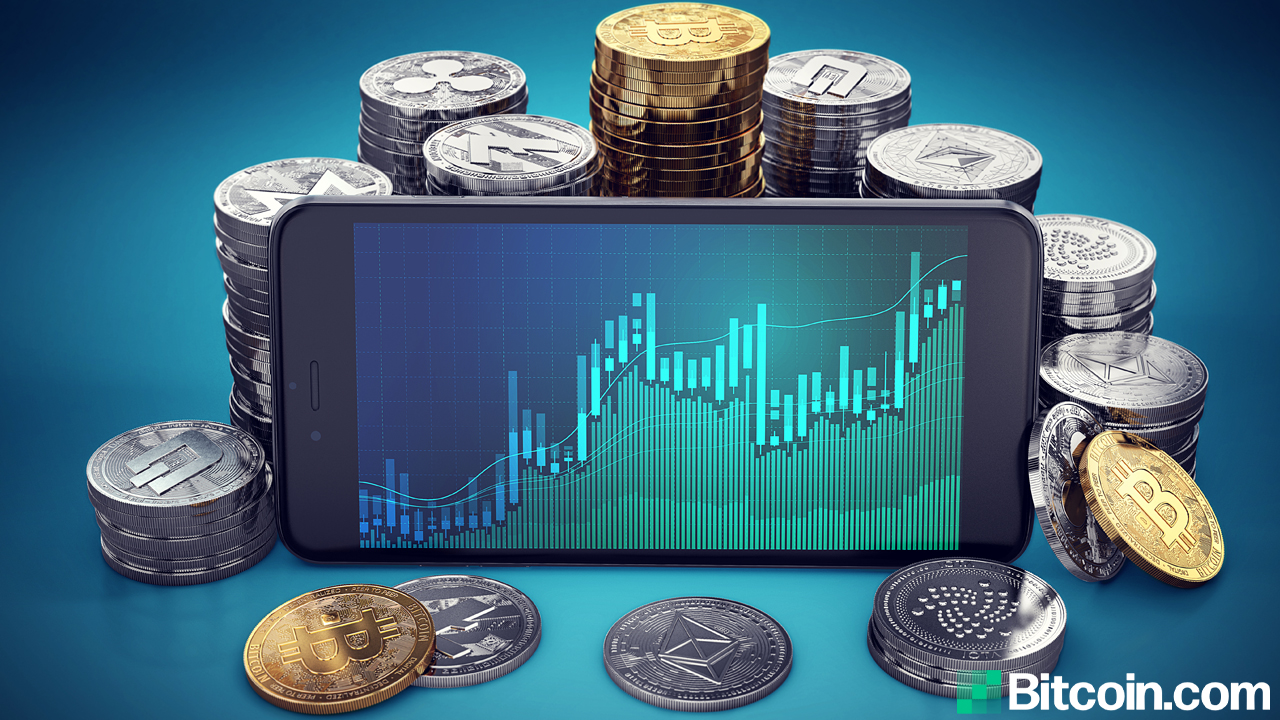 Digital currency markets have been regaining some of the losses felt last week as the entire crypto-economy has jumped back over the $2 trillion valuation mark. Bitcoin has risen above the $55k zone, while other digital assets have seen more precipitous gains. Out of the top ten leading crypto assets on Tuesday, XRP and UNI have amassed double-digit percentage gains during the morning trading sessions.
Crypto Markets Rebound
Bitcoin and a number of crypto assets have been doing much better during the first couple of days this week in comparison to last week's losses. Currently, bitcoin (BTC) is swapping for $55,178 per unit and is up 2.9% during the last 24 hours. Seven-day stats show BTC is still down a touch over 1.3%.
Tuesday's data shows that bitcoin (BTC) markets have around $20 billion to $51.70 billion in global trade volume, while messari.io stats show "real volume" could be around $9.16 billion worldwide. Exchange pairings show that the top five fiat currencies paired against BTC today include USD, JPY, EUR, KRW, and GBP.
The second leading crypto asset is ethereum (ETH), which is up 2.17% today. ETH is swapping for $2,574 per unit, and during the last seven days data shows ETH gained 9%. While BTC's dominance among the 9,458 crypto coins spread across 370 global exchanges is 49.5%, ETH's ratio is around 14.3% today.
Out of the top ten crypto leaders, in terms of market cap, XRP has seen the most gains during the course of the day. The crypto asset jumped over 18% during the last 24 hours and each token is exchanging hands for $1.446 per unit.
The second-biggest gainer on Tuesday is uniswap (UNI), which has jumped 12% during the last 24 hours. Each UNI is exchanging hands for $40.25 per token during the morning trading sessions (EST).
A Ripple Run-up, Dogecoin Slumps, Analyst Believes Ether Bulls Ready to Charge
Meanwhile, after the crypto asset dogecoin (DOGE) saw an incredible run-up, the token has been consolidating at around $0.27 per DOGE. The meme-flavored crypto is up over 2% today but the token lost 13% over the week.
Despite having weekly gains slide by 13%, monthly statistics show that DOGE is still up a whopping 413.26%. Similarly, XRP has gained 157.29% during the last 30 days of trading, and is the highest 30-day gainer besides dogecoin. As far as monthly gains from the top ten leaders, BNB is under XRP with a 107% gain during the last 30 days.
Speaking with Bitcoin.com News on Tuesday, Tim Frost the CEO of the defi project yield.app says he's very optimistic about ethereum prices.
"As BTC loses its historic market dominance (the flagship coin is now sitting at 49% of the market according to Coingecko), the currency of the 'world's computer' is starting to fly – showing hints of the decoupling long predicted by ethereum bulls," Frost said.
The crypto executive also added that he thinks ETH prices hitting $3,500 could be on the horizon. "BTC has been unable to hold a level anywhere near its all-time high of more than $62,000 while ETH is showing signs of pushing through the $2,500 resistance that has been holding it back. Once it does, we could see it head to $3,500 very quickly," Frost concluded.
What do you think about today's crypto market action? Let us know what you think about this subject in the comments section below.
Image Credits: Shutterstock, Pixabay, Wiki Commons, Markets.Bitcoin.com, Bitcoin Wisdom,