Buy Crypto with a Globally Trusted Financial Brand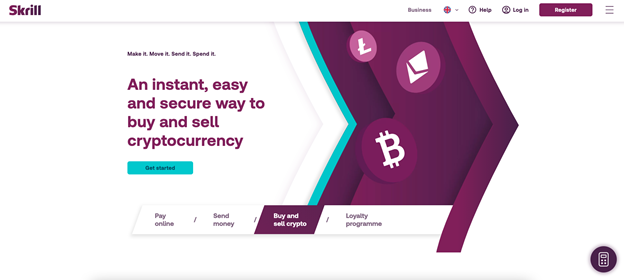 In a rapidly transforming world, making hay while the sun shines is definitely the wisest road to progress. Success, in whatever domain, comes to those who keep with the time. Considering the ongoing bull run, this is especially true of the blockchain-cryptocurrency sector.
Bitcoin's price has stayed above the $50,000 mark for some time now, expected only to soar higher. In courtesy of their futuristic vision, early adopters are now basking in their fortune. Simultaneously, the number of crypto enthusiasts is steadily rising at the global level. Individuals and enterprises alike are increasingly buying into cryptocurrencies, hoping to leverage the industry's exponential boom.
However, even in this environment of heightened enthusiasm, the need to interact safely and securely remains. While choosing any service or solution, it's necessary to consider the degree of security, reliability, and usability. When it comes to buying, selling, and storing cryptocurrencies. In comes Skrill, who meets all of these stringent requirements, while offering even more. In this article, thus, we discuss why and how to buy your crypto from this globally-trusted financial brand.
International Outreach: Fostering Financial Inclusion
Extending financial services to the hitherto deprived, global unbanked population has been a primary vision of the blockchain community. Apart from countries that face sanctions from the World Bank or the United Nations, Skrill can process payments to-and-from every nation. In 2019, the ecosystem processed over $98 billion in annual transaction volume, implying its broad scope and relevance.
In all of these metrics, one aspect emerges in full vivacity—Skrill fosters financial inclusion, catering to communities forward and backward. Contrary to a majority of its peers playing safe by treading only developed terrains, this is Skrill's distinguishing mark. Considering the platform's compatibility with over 40 fiat currencies, end-users making fiat-crypto conversions have a wide range of options. Indeed, the chances of being excluded from Skrill's services are quite low, especially in comparison to its alternatives.
The Security & Reliability Quotients
Regulation is a matter of intense debate within the blockchain-cryptocurrency community. Yet, in general, it's accepted that a regulated entity is reliable. Especially from the end-users of perspective, interacting with regulated entities assures proper redressal in the event of a conflict, loss, or any misfortune.
In this regard, Skrill is duly registered under the UK's Financial Conduct Authority (FCA), ever since its inception. As a public enterprise listed on the London Stock Exchange, Skrill is marked with the FTSE 250 Index, thus confirming its rank within the UK's top 350 companies. The European e-Money license allows Skrill to function anywhere in the world. Further, the platform is licensed in all of the USA. Long story short—anywhere you go, Skrill is in the good books.
Another crucial element for determining reliability is the people responsible for a solution. How does Skrill fare in this regard? Considering that the PaySafe Group—the company behind Skrill—has over 20 years of experience in payment processing, the answer is rather obvious. In its early days, then known as Moneybookers, the platform was garnering some bad reputation, for reasons valid and invalid.
Prioritizing users' concerns, as always, PaySafe spontaneously reformed and rebranded in 2011, renaming its offering to Skrill. The baggage of the past has been shed, fixing the vision solely on the future. Since then, the ecosystem has expanded not just in terms of user participation, but also of partnerships and integrations.
Usability & User Experience
Security and reliability are necessary but they don't mean much if a solution isn't optimally usable. As the population of digital natives grows, so does the need to ensure the best possible user experience. There's no regard for hassles, especially in the context of the purchase, sale, storage, and transfer of assets online.
Realizing this demand, Skrill assures a seamless, responsive, and intuitive UI, which ultimately makes your crypto journey cakewalk. The onboarding process is secure yet simple, while not involving any additional and time-consuming verification. The unified dashboard allows Skrill users to easily access and manage various aspects of their accounts, including the usage of funds. While purchasing cryptocurrencies, users can pay using Credit or Debit Cards, Internet Banking, Account Transfer, and nearly 100 other payment methods.
What's more? Opening an account on Skrill is free of cost, so you can get started anytime, anywhere. To incentivize users who transact using Skrill, there's a robust loyalty program in place, namely Knect. Almost every transaction on Skrill earns you rewards, by collecting which, you can redeem cash prizes, bonuses, and so on.
Following its recent partnership with VivaTicket, it's also possible to buy sports and music tickets using the Skrill wallet. In general, such use-cases are steadily on the rise, as they have been since the platform started its journey. To tread along, get onboard with Skrill today and buy your share of crypto.