SEC Delays VanEck Bitcoin ETF Decision Until June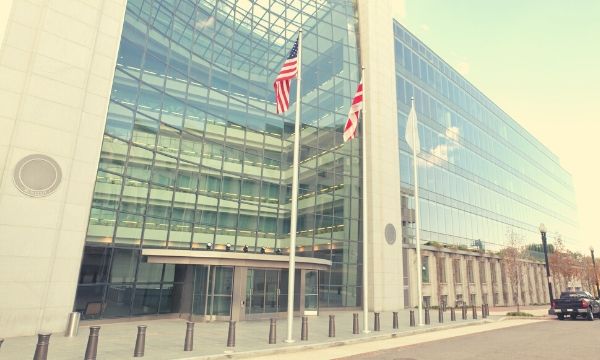 The United States Securities and Exchange Commission (SEC) that had put the VanEck Bitcoin ETF proposal up for discussion in March has made a filing confirming that the decision will be delayed for a 45 day period.
The Implications of a Bitcoin ETF
As of now, the Grayscale Bitcoin Trust holds a virtual monopoly when it comes to institutional money that is invested indirectly into cryptocurrencies. Grayscale's trust is used by institutions for various regulatory reasons instead of buying Bitcoin directly, and GBTC is usually priced at a premium compared to its underlying asset.
The approval of a Bitcoin ETF would provide a more stable alternative to Grayscale's trust, and large amounts of institutional wealth would likely flow into the new ETF.
Since ETFs are regulated traditional finance offerings, they will be available on hugely popular trading platforms. This could potentially be a massive mid-term demand boost and would enable a new world of retail traders to access cryptocurrency markets, especially those who have trouble fiddling with the ins and outs of digital technology.
Along with being able to gain exposure to Bitcoin through popular trading platforms, a Bitcoin ETF would likely be massively popular with institutions since the regulatory framework and taxation strategy that the government employs with ETF are much more clear. Institutions would also not have to worry about issues like custody since the ETF provider would provide that service, and the ETF would merely track the crypto instead of being directly redeemable for real BTC on the Bitcoin network.
Unfortunately, the SEC has once again delayed the VanEck Bitcoin ETF proposal.
Bitcoin's History With ETFs
So far, the SEC has either denied or delayed ETF applications: none have been approved in the United States. Several years ago, one of the earliest Bitcoin ETF denials sent the price tumbling over 10% down to below $900.
The cryptocurrency market has since matured into one of far greater volume and relative stability — subsequent ETF denials have not caused dips of such magnitude.
In fact, it appears that cryptocurrency investors, especially young people, have decided to ignore the validation of the legacy finance industry as a whole since it has proven to be incorrect and/or irrelevant time and time again, as we have seen with JPMorgan in the past.
Several ETF applications are now ongoing from firms like Galaxy Digital and Goldman Sachs. The review process is done by the Division of Trading and Markets of the SEC.
Analysts have speculated that it will take a word from higher up (i.e., from one of the SEC Commissioners) for this ETF to be approved. Thus far, Commissioners have only looked at manual decisions after the full 240 day waiting period, so more delays can be expected.
Despite every SEC decision so far being a rejection, we have seen a clear uptick in the number of legacy finance-involved institutions and people being interested & invested in cryptocurrencies like Bitcoin. Clearly, the demand for a Bitcoin ETF is bursting at the seams, and it's very likely that the VanEck ETF will be approved after the full waiting period if one of the Commissioners happens to be a brand new member of the cryptocurrency investor club.
SPECIAL OFFER (Sponsored)
Binance Futures 50 USDT FREE Voucher: Use this link to register & get 10% off fees and 50 USDT when trading 500 USDT (limited offer).
PrimeXBT Special Offer: Use this link to register & enter POTATO50 code to get 50% free bonus on any deposit up to 1 BTC.
---