Gate.io Celebrates 8th Anniversary – a New Era for Crypto-Asset Trading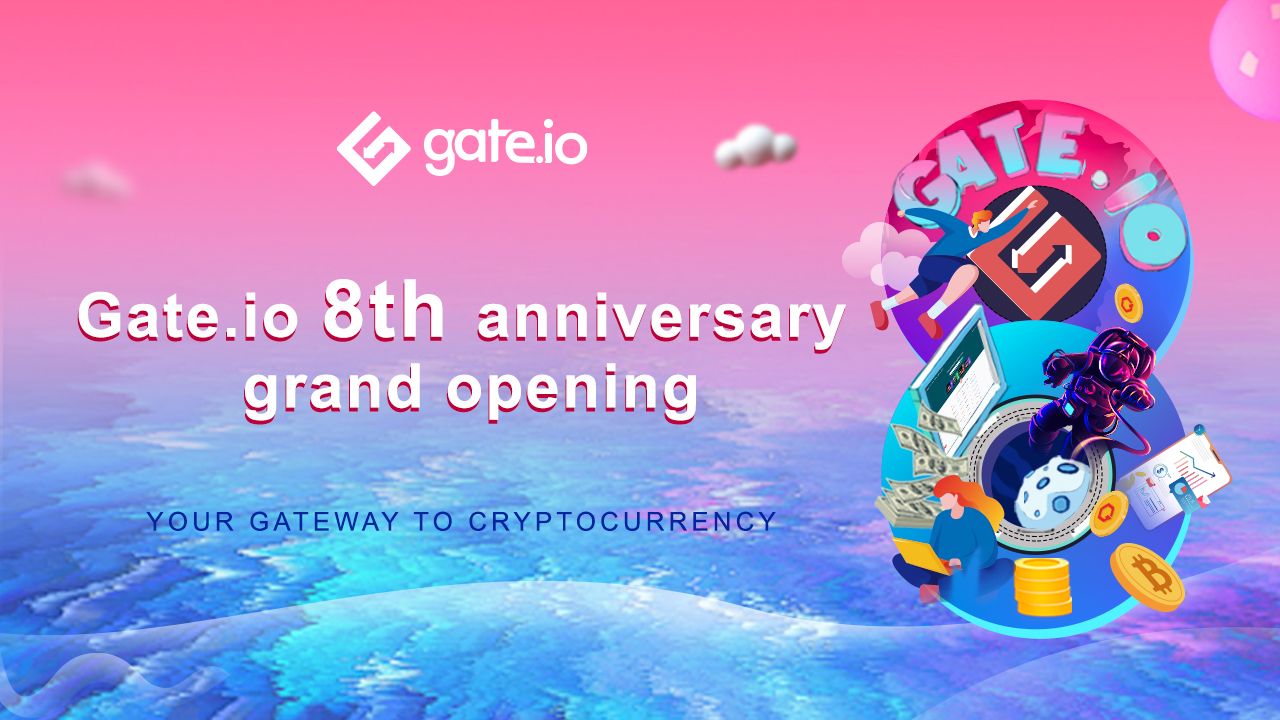 sponsored
Leading cryptocurrency exchange Gate.io was established back in 2013 and is now celebrating its eighth anniversary. This is an impressive milestone in the ever changing crypto landscape, but the company isn't resting on its laurels. Gate.io keeps taking the initiative to innovate and offer many new services for traders of digital assets and DeFi startups.
A Veteran Crypto Exchange You Can Trust
In a world where so many new services pop-up every day, Gate.io marking 8 years of operation is a major sign of durability and commitment. While other platforms collapsed or just disappeared overnight, Gate.io endured for so long and always focused on offering a safe, secure and reliable service to its users. This has brought it a loyal fan base that stuck with it over the years, and the respect of being able to call themselves veterans in the field.
Gate.io, as one of the world's long-lasting trading platforms with the largest transaction volume, deeply understands the importance of blockchain asset security, and always puts user asset security in the first place. Through both centralization and decentralization, Gate.io has launched a variety of safe fund storage solutions. It not only guarantees the convenience of transactions, but also guarantees the safe storage of funds.
Users who are familiar with Gate.io know that security is embodied in all aspects of the platform: GateChain secure DeFi ecosystem, secure hardware fingerprint wallet Wallet S1, contract security audit and the most innovative secure smart public chain, and so on. The principle of "security always comes first" has been thoroughly integrated into Gate.io's business philosophy. Even Gate's crypto-pedia is always sending out the message that users should always use security equipment to protect their digital assets.
In CoinGecko's Trust Score 2.0 scoring system list, Gate.io ranks among the top five in the world, with a trust score of 10 points, which is one of only 8 exchanges that have obtained a perfect score of 10 out of nearly 400 exchanges in the world. Furthermore, in May 2020, Gate.io also established a collateral system to provide 100% collateral for each user in order to ensure the safety of user assets – which fundamentally eliminates runs and insolvency.
A Great Platform for Crypto and DeFi Startups
The cryptocurrency market has changed a lot since 2013 and Gate.io had to offer new services to keep up with client demands and other challenges. A great example of this is the success of the company's platform for launching new crypto projects. Gate Startup helped with the launches of some great DeFi projects such as DAO, HAPI, WOO, KAI, and it's first-launch project yield rate ranks third in the world according to statistics from CryptoRank.
Gate.io Startup aims to help the development of the blockchain industry and technological innovation. In fact, since 2020, Gate trading platform has also upgraded its Startup platform, and has made more stringent auditing and standards for projects and investors selections. Gate Startup provides more than just fundraising for high-quality projects around the world, but also adds more flexible and diversified services.
The Startup platform continues to launch high-quality projects and discounted purchases of BTC and ETH, injecting new vitality into the IEO method. Gate gradually receives verification and recognition from the market and users. On the other hand, Gate has also given enough market enthusiasm and focus for the high-quality projects on the Startup platform, supplemented by funds and community driving forces and gradually forming a virtuous and positive market cycle.
While attracting more high-quality projects to the platform, Gate.io Startup also raises the barriers to entry and created multiple protections for investment users.
In order to ensure the reputation of Startup, Gate.io announced an unprecedented rule: if the project breaks within one year, the platform will redeem the user's currency at 65% of the issue price. This was the first time ever for something like this in the industry, showcasing Gate.io's determination to be responsible for the security of its users.
Gate.io Keeps Taking the Initiative to Innovate
Gate.io has also kept developing new investment products and assets for its traders. In August 2019, it launched Wealth Management; In February 2020, leveraged ETF to provided users with medium and high-risk preferences with more trading options; In July 2020, the pro version of the trading interface launched to meet the operational needs of high-end users; In July 2020, Gate.io launched short-term options trading, which supports the buying of short-term (1 hour, 4 hours, and 1 day) expiration option transactions. In August 2020, the grid trading function was launched, allowing users to generate certain profits even in a volatile market.
In addition to these, Gate.io has also had major developments on the DeFi side. In June 2020, the GateChain mainnet 1.0 was released. In January 2021, GateChain's EVM test chain Meteora (supporting smart contracts) was launched. In February 2021, the smart contract DeFi ecology and cross-link diagram were released. At present, GateChain's TPS exceeds 2000, which can support more than one thousand nodes and has laid a solid foundation for its subsequent ecological construction.
And at the DEX level, Gate.io established a DEX HipoSwap based on GateChain. HipoSwap refers to the automatic market maker AMM mechanism. At the same time, based on a constant product market maker, Gate introduces two single currency market price Maker pools to provide Makers with a way to place market orders and earn commissions, while greatly increasing system liquidity, effectively reducing Taker's transaction price slippage. This innovative mechanism solves the long-term bottleneck problems of Uniswap and other DEXs such as high transaction slippage, large transaction losses, and low automatic market makers' income, as well as satisfies the pursuit of trading operations by users and market makers.
After deploying the public chain and DEX, the creation of the DeFi ecosystem was also encouraged.
Gate.io also launched the Gate.io Labs incubator program. On February 9, 2021, Gate.io announced that Gate Labs will invest $50 million (in equivalent cryptocurrency) to set up seed funds ranging from tens of thousands to millions of US dollars and support project development to promote more high-quality projects to join the GateChain ecosystem. Gate.io Labs uses the best resources and services to support outstanding start-up teams to launch their projects and assist them create innovative products and quality services that meet the market needs. Excellent start-up projects can further be launched at Gate.io Startup, and will be given priority to access the GateChain ecosystem.
To learn more about all the services offered by the exchange and sign up visit Gate.io today.
---
This is a sponsored post. Learn how to reach our audience here. Read disclaimer below.
Image Credits: Shutterstock, Pixabay, Wiki Commons