Genesis spot volume up 287% in Q1, corporate treasury service takes off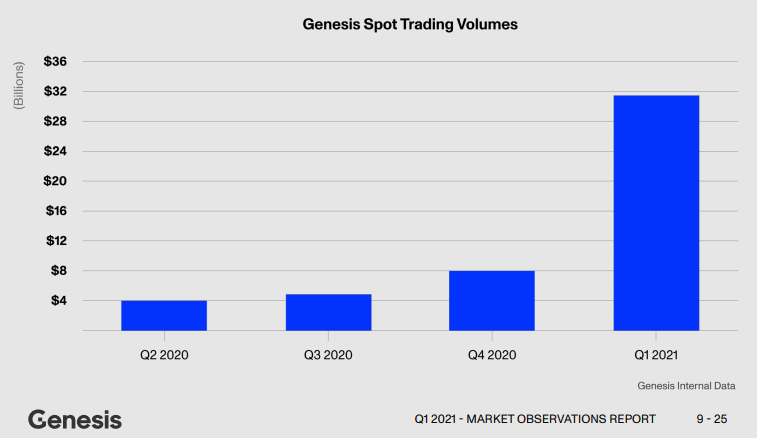 Leading full-service cryptocurrency prime broker Genesis Global Trading has seen spot trading treble in the first quarter.
Corporate interest accounted for the biggest slice of trading, with Genesis attributing part of its success to its Bitcoin treasury product "Genesis Treasury".
The Q1 report released on April 28 revealed the firm had processed $31.5 billion in spot trading volume — a 287% increase from $8 billion in Q4 2020. It also saw $10.5 billion in derivatives trading.
Corporates accounted for $8 billion of the total spot trading volume, an increase of 25% from the previous quarter. The growth of corporate trading to account for the largest share was a significant shift from the passive funds and hedge funds that formerly dominated trading in Q4.
"Much of this surge was attributable to a mix of clients taking positions in Bitcoin for the first time, existing clients adding to their positions, and clients choosing to take a more active approach to manage their exposure." Genesis wrote.
The crypto broker noted that "numbers were bolstered" due in part to the launch of Genesis Treasury — a service designed for corporates to gain exposure to Bitcoin through accumulation strategies such as equity, liquidity, and yielding returns. The firm noted interest in the Genesis Treasury followed the broader level of interest from large institutions entering crypto markets such as Tesla and MicroStrategy:
"As corporate clients began buying Bitcoin for their treasuries in Q1, our ratios shifted. The entrance of companies like Tesla, MicroStrategy and Square led to a wave of interest from corporates looking to work together with Genesis Treasury for their own treasury allocation efforts."
Genesis also posted strong increases in crypto lending in Q1, adding over $20B in new originations, compared to $7.6B originated in Q4, with active loans outstanding increasing to $9B, up 136.4% from $3.8B at the end of 2020.
Cumulative originations increased 94.8% bringing the total up to $40B in originations since the launch of its lending services in March 2018.
"Our loan portfolio increased substantially in value through a combination of new issuance across cash, ETH, and Decentralized Finance (DeFi) assets alongside a significant rise in asset prices across our existing crypto book," Genesis wrote.