New Month, New ATH: Why Ethereum May Hit $10k This Year
Ethereum has been steadily gaining 5% a day over the last week and is now reaching a new high of $2900. Ethereum is currently trading at a new all-time high of $2866, with a market capitalization of $331 billion.
New Month, New ATH
For the first time in history, Ethereum was able to reach $2,850, and it is on its way to surpassing $3,000. This will help the virtual currency to break its all-time high price and get closer to Bitcoin's market capitalization. While Bitcoin remains the most common virtual currency, its market share has fallen below 49%, and Ethereum's market share is approaching 15%.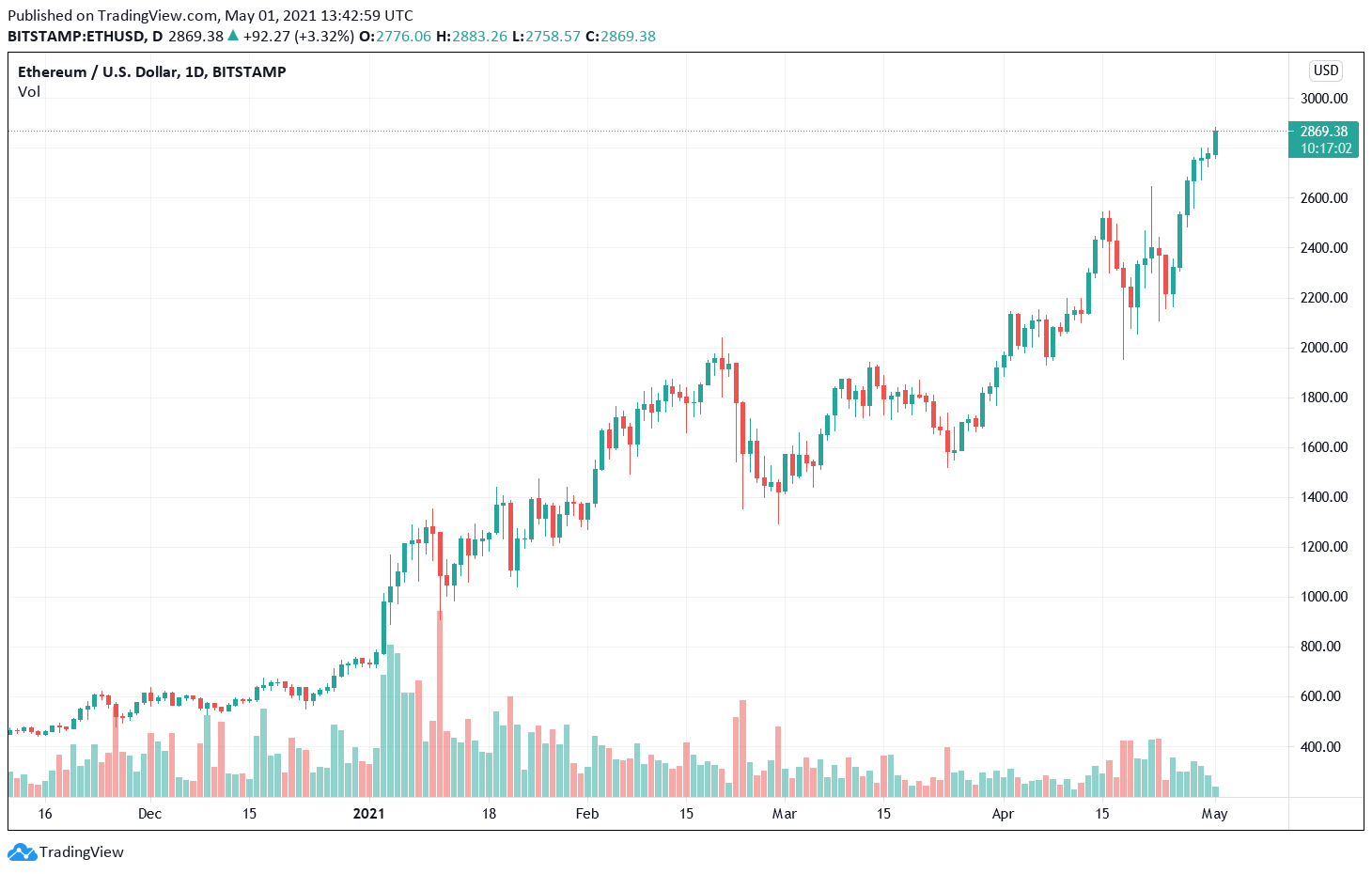 According to data analytics platform Skew, the recent ETH price rally coincides with an increase in spot trading volumes since mid-April.
Ether spot volumes have materially picked up since mid-April pic.twitter.com/3WqHlWdsl7

— skew (@skewdotcom) April 29, 2021
Analysts are optimistic about the ETH price surge, predicting that it will continue in the near future. A majority of market participants expect that the Ethereum price will rise to $10,000 or higher by the end of the year.
Bitcoin has crossed $58,000 in the last few hours and is now very close to $60,000, a high psychological level that will be critical to surpass in the coming days.
Bitcoin and Ethereum aren't the only virtual currencies that are rising in value. Binance Related article | Ethereum Consolidates Above $2,700, Here Are Chances of Downward Move
Fundamental Reasons For ETH To Hit $10K
Market analyst 'Spencer Noon' has provided the top-ten reasons why Ethereum holds the potential to hit $10,000 by the end of 2021.
There's a massive demand currently for the ETH block space as the Ethereum blockchain overshadows its peers with the average daily fee paid around $18 billion.
NFT sales on Ethereum have been skyrocketing and have recently surpassed $600 million.
Ethereum-based Polygon network currently processes $1 million in daily transactions. It has also onboarded some of the biggest DeFi projects like Aave.
The Ethereum blockchain network currently has more than $50 billion in outstanding stablecoin supply.
As of date, the Ethereum blockchain network settles $30.5 billion of value every day which is twice that of the Bitcoin blockchain network.
The daily active addresses for Ethereum are on a continuous rise and have reached a new all-time high above 625K in recent times.
Ethereum is slowly emerging as an institutional-grade technology with the explosive growth of the DeFi activity this year. Of the total $65 billion locked in DeFi, a majority of the DeFi projects are on Ethereum.
The Ethereum community is now waiting for the ETH 2.0 update to be launched. As a result, ETH could grow to become one of the world's largest blockchain networks. Several projects have moved from Ethereum to the Binance Smart Chain (BSC) in recent months, attracting a slew of new Decentralized Finance (DeFi) projects.
Ethereum may be able to reclaim its supremacy in the DeFi market with ETH 2.0. With cheaper and faster transactions, the world's second-largest blockchain network may once again become home to the most widely used and powerful dApps, attracting users from Binance Smart Chain who previously used Ethereum.
Related article | Ethereum Closing In on $2,800 As ETH 2.0 Deposit Contract Hit New ATH
Featured image from Pixabay, Charts from Tradingview.com