Phemex Lists 8 New Coins, Reintroduces Ripple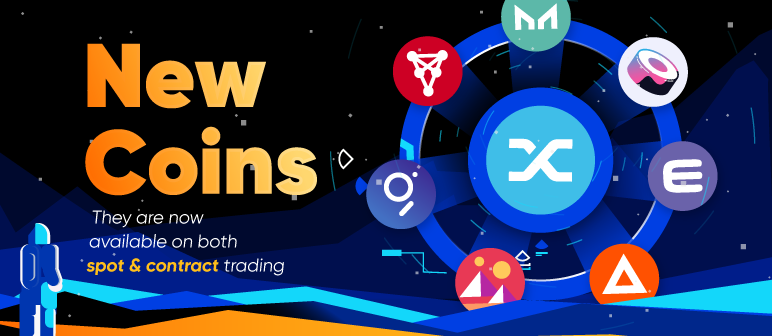 Phemex, one of the fastest crypto exchanges and futures trading platforms in the industry, has further bolstered its offering by announcing the inclusion of 8 new cryptocurrencies available in both their crypto spot market and derivatives market. The latest bunch of coins to make it to the list includes BAT, CHZ, MANA, ENJ, SUSHI, SNX, GRT, and MKR.
Following the listing, Phemex now supports BAT/USDT, CHZ/USDT, MANA/USDT, ENJ/USDT, SUSHI/USDT, SNX/USDT, GRT/USDT, and MKR/USDT spot trading pairs, as well as contract trading of these eight assets with up to 20x leverage.
Placing Users First, Always
Phemex has come a long way since it was launched 2 years ago. Created by a group of ex-Wall Street executives to provide a much better professional trading experience to the crypto community, the platform has always put its user's needs first. The platform implements a robust trading engine and state-of-the-art security to enable a flawless trading experience.
The platform implements a stringent evaluation process for new token listings. Each entry is subjected to due diligence and only those that satisfy all prescribed criteria will be made available to Phemex users. Meanwhile, users can always provide feedback and suggestions regarding new features or tokens to the Phemex team. They act upon these inputs based on demand and popularity, ensuring their community always stays a step ahead of others.
Reintroduction of XRP
Phemex has reintroduced XRP along with BAT, CHZ, MANA, ENJ, SUSHI, SNX, GRT, and MKR after a brief period of suspension due to the SEC lawsuit against Ripple Labs – creators of XRP. The news of the lawsuit resulted in massive selloffs on various exchanges around the world.
Phemex is one of the many exchanges that halted XRP trading and delisted the popular cryptocurrency to protect its customers from widespread liquidations. Since then, the XRP market has returned to normalcy, which has, in turn, influenced the platform's decision to reintroduce XRP spot and contract trading on Phemex. Users can now access XRP/USDT spot trading as well as the XRP/USD linear contract with up to 20x leverage.
Read the official announcement at – https://phemex.com/announcements/phemex-releases-eight-new-coins-plus-xrp