Funding Rates Low After 10K Rally, What This Means For Bitcoin's Price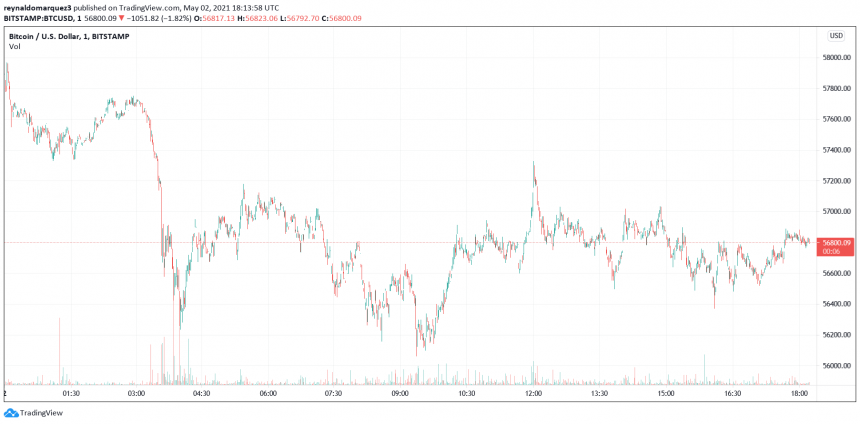 Bitcoin has been sitting above a critical support zone during the weekend. At the time of writing, BTC trades at $56.662 with sideways movement in the daily chart. In the weekly chart, the first cryptocurrency by market cap has a 12.8% following a $10,000 rally from the higher zone in the $40,000 range.
The bullish sentiment appears to be making a comeback in the crypto market with many investors expecting new highs in the short term. In the meantime, BTC could consolidate at current levels with $54,000 as a critical support zone as there is a large concentration of investors that bought around these levels, as trader Byzantine General showed.
During BTC's climb towards the upper $50,000 range, CryptoQuant CEO Ki-Young Ju registered an increase in whale's activity. According to Young Ju, "massive Bitcoin have transferred" across all exchange platforms. Possible due to OTC (Over-the-Counter) deals made by institutions still accumulating BTC. CryptoQuant CEO added:
Significant Coinbase Premium could indicate institutional investors in the United States are buying. A significant amount of $BTC moved to derivative exchanges from other exchanges, meaning whales might open a long position by using their BTC as collateral. This happened in the dip.
Further data provided by analyst William Clemente shows an increase in stablecoin Tether (USDC) Total Transfer Volume to Exchanges. The last time the metric registered a spike, Tesla announced their Bitcoin purchase. The analyst believes that the demand for BTC in the market is rising and could contribute to more appreciation.
In parallel, funding rates during BTC's rally have remained relatively low. Therefore, and in spite of a rise in the whale's activity, the analyst believes the rally has been driven organically by investors in the spot market. Clemente added: "Price is likely going much higher in the coming weeks".
$55,000 As The New Bottom For Bitcoin's Price
Trader Josh Rager is more conservative and expects BTC to test the weekly level at $59.979. If it holds it, BTC could see new highs, but until then "we're just ranging as price goes" into that target, as the trader said.
If Bitcoin retakes a downtrend, $50,000 could be the new $10,000 for future corrections. Data provided by Glassnode via analyst Clemente indicates that 14.46% of BTC's supply has been bought in the mid area of the $50,000 range.
This constitutes Bitcoin's largest base of capital seems the cryptocurrency was around $6,000 and $11,000, as the analyst said adding the following:
Each bull-market forms a base of capital 2-3X above previous ATH, marking "the point of no return." Would eye this as the next

Source: Glassnode via William Clemente