Blockchain-Based Gaming Illuvium (ILV) Token Is Now Listed on Bitcoin.com Exchange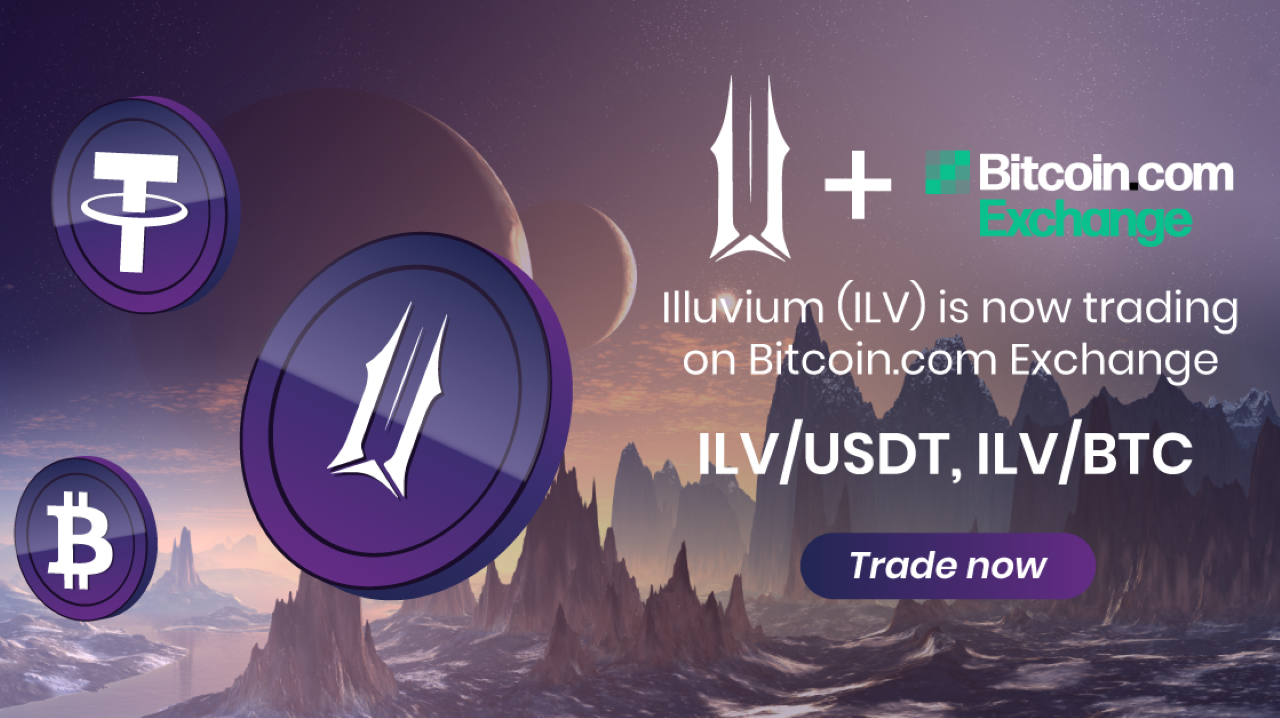 press release
PRESS RELEASE. Bitcoin.com Exchange is thrilled to announce the listing of ILV, being available to trade on the 3rd May 2021 at 15:00 UTC. ILV was created by the Illuvium team, as the token to reward players in their open-world RPG adventure game built on the Ethereum Blockchain. ILV will start trading with USDT and BTC pairs.
What is Illuvium?
Illuvium is an open-world fantasy battle game built entirely on top of the Ethereum blockchain. It's often referred to as the first actual AAA game on Ethereum. The world of Illuvium is a world full of beauty and wonder inhabited by creatures known as Illuvials. From a visual perspective, Illuvials go way beyond crypto kitties, one of the earliest and most famous examples of non-fungible tokens. These illuvials are designed as high-quality 3D art made by some of the leading artists in the space.
While venturing through the vast landscape of Illuvium, players can capture Illuvials by beating them in battle and then nursing them back to health. The Illuvials will become part of a player's loyal following and can be used in fights or other adventures. Some of the Illuvials are already introduced on the Illuvium blog, such as the one below named Archeolon. Each Illuvial is also an NFT, with all of them having a strictly finite supply.
Unlike other blockchain games, players on Illuvium can spend time simply exploring the landscape consisting of 7 unique and stylised regions, building up a team of powerful Illuvials or a combination of both. Additionally, players can also earn Ethereum by selling their Illivuials on the Illuvium exchange.
Illuvium has been in development since 2020 and is created by more than 40 professionals with vast experience across the gaming and cryptocurrency sector. Illuvium is backed by some well-known names in the industry, including Quantstamp, Moonwhale, Bitcoin.com Exchange and more.
What is ILV?
The in-game currency of Illivium is ILV. ILV is used to reward players for in-game achievements, entitling players to a share of the vault and is used for governance in the Illuvium DAO. The maximum supply of ILV is set to 10 Million, allocated across Flash Pools, In-Game rewards, Liquidity Pools, Treasury, the Team, Launchpad Seed and Pre-Seed capital.
Strong Endorsement
Danish Chaudhry, CEO of Bitcoin.com Exchange, shared his views on Illuvium, and their respective token: "Entering the AAA gaming space is no small task, becoming the first AAA blockchain video game is just another step in the right direction for the industry. Illuvium is addressing some of the most pressing challenges in the gaming industry, including scalability or a lack of detailed artwork. Their vision, and target audience spans further than the usual crypto community most projects are focused around, giving them an edge and further possibility to build further adoption in the market."
Chaudhry continues on by saying; "We're very excited to see how Illuvium will continue to empower their vision for the future of blockchain based gaming. With their launch being planned for Q3 this year, accompanied with the listing of the Illuvium token (ILV) on our exchange, we can't wait to see where this project will be in the following years."
Kieran Warwick, Co-founder of Illuvium, also expressed his enthusiasm of the listing, stating: "We're excited about Bitcoin.com Exchange listing our $ILV token. At Illuvium, we seek to increase trade volume to ensure a sustainable performance of $ILV on the market. Partnering with premium exchanges like Bitcoin.com Exchange assists our DAO, and token holders, with that goal. We are eager to see the reception from traders."
About Bitcoin.com Exchange
The mission of Bitcoin.com Exchange is to empower people from all over the world to trade cryptocurrencies with ease and confidence, from first-time traders to advanced trading professionals. With high liquidity, 24/7 multilingual support and dozens of trading pairs, complemented with a high level of security, we offer an attractive platform for trading any cryptocurrency. Within one year since launch, on average, the exchange has been visited by more than 500K active traders per month, and this number continues to grow as you read this sentence.
About Illuvium
Illuvium is a decentralized, NFT collection and auto battler game built on the Ethereum network. Integrated with the hyper-scalable immutable-X layer-two solution, players of Illuvium gain access to zero gas fees for minting or exchanging assets, as well as sub-second transaction times, all with user-maintained custody. Founding Illuvium DAO contributors, Kieran and Aaron Warwick are the younger brothers of Synthetix founder, Kain Warwick, and together, they offer a diverse set of skills in the gaming and crypto space. The genesis of the Illuvium project was a desire to make a collectible NFT game that was open, transparent and governed by the community.
---
This is a press release. Readers should do their own due diligence before taking any actions related to the promoted company or any of its affiliates or services. Bitcoin.com is not responsible, directly or indirectly, for any damage or loss caused or alleged to be caused by or in connection with the use of or reliance on any content, goods or services mentioned in the press release.
Image Credits: Shutterstock, Pixabay, Wiki Commons