6 Upcoming Initial DEX Offerings (IDOs) to Watch in May 2021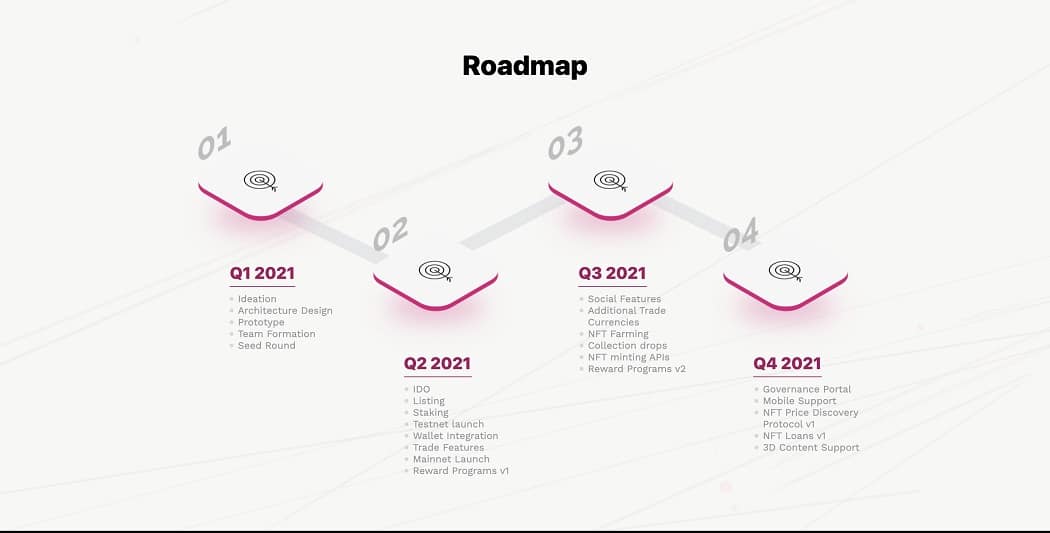 Initial DEX Offerings (IDOs) are one of the hottest topics in crypto over the past couple of months. This has led to the creation of multiple IDO launchpads, which are platforms where teams are able to raise funds by selling some of their native tokens to the general public.
Shortly after the public sale stage, the projects usually list their token – mainly on the leading DEX platform Uniswap.
There are plenty of projects going on, but we've shortlisted some to watch for in the current month of May, which appear to have solid foundations, serious investors and VCs behind, and large communities backing them up.
Before we dive into the projects, if you would like to know more about what are IDOs and how to invest in them, please refer to our IDO guide.
PolkaRare
PolkaRare intends to host the web3 economy for scarce and unique digital assets. The project offers a multichain NFT marketplace, an NFT wallet, collections, NFT-collateralized loans, price discoverability protocols, and other features.
Network: PolkaRare is powered by Polkadot, Polygon, Ethereum, and the Binance Smart Chain. It has a triple IDO launching on Gate, Poolz, and RedKit.
Team/Advisors: Notable advisors in the project include Sandeep Sudagani, founder at Playcent, Dylan Dewdney, project lead at Kylin Network, Thi Truong, CEO at PolkaFoundry, and others.
Invested Funds: Seed and private sale investors include AU21 capital, Raptor Capital, Morningstar, Moonrock Capital, Magnus Capital, Moonwhale, and others.
IDO Details: Gate.io IDO on May 10th, 8 AM UTC, Poolz IDO on May 11th, 1:30 PM UTC, RedKite IDO on May 11th, 11:30 AM UTC.
The IDOs will sell a total of 2% of the total supply, which is 2 million tokens. The initial market cap is $450,000.
Pinknode
The main goal of PinkNode is to become the "Infura for Polkadot." It aims to provide developers with API access to the Polkadot Relay Chain and for future parachains to be deployed by project teams.
The latter is expected to deliver substantial value because Polkadot is designed to function as a network with multiple parachains interconnected by the Relay Chain – this is opposing the single-chain structure that's currently being used by Ethereum.
This aims to reduce the resource and workload requirements for developers who are keen on working with Polkadot, and it would enable them to send and request information through PinkNode without having to operate their own Polkadot node.
Network: The PNODE token will launch on Ethereum following a Polkastarter IDO.
Team/Advisors: The Co-Founder of the project is Eric Poh. Besides being a crypto investor from the early days, he has also been a consultant at Resource Capital Business Consultancy, as well as a regional brand and marketing manager at Whyte & Mackay.
Some of the notable advisors include Lester Lim and Garlam Won, Founder of Momentum 6 crypto fund.
Invested Funds: Seed and private sale investors in Pinknode include Astronaut Capital, Moonrock Capital, Signum Capital, AU21 Capital, White Palm Ventures, and so forth.
IDO Details: The IDO date is set for May 14th, 2021. The price per one PNODE token is $0.035, and the public round aims to raise $150,000, selling a total of 4,285,714 tokens.
50% of the tokens will be unlocked on TGE, and the other 50% will be unlocked in 1 week after the TGE. The starting market cap is $588,000, and the maximum allocation per person is $300.
Relite Finance
Relite provides a money market, cross-chain protocol that allows users to lend, borrow, and to stake cryptocurrencies in a single interface. It will enable the utilization of ERC-20 tokens as well as other popular chains, including Bitcoin and Polkadot, to create a basket of mixed assets.
In theory, this should lower the collateralization requirements, management fees and provide high usability levels.
Interoperability, sustainability, and simplicity are amongst the core features of the protocol, which aims to enable financial operations with native BTC, ETH, DOT, and so forth, at lower fees and interest rates as well as with good ROI for lenders.
Network: Relite Finance is powered by Polkadot, and it's launching through PAID's Ignition launchpad.
Team/Advisors: The founder of the project is George Groshkov. Some of his previous positions include being a Head of Growth at Piixpay, Co-Founder of Delta Heroes, and so forth. The CTO of the company is Boris Lebowski. He's an Agile Coach at Aurora Labs and was also the head of software development at Art Medical.
Notable advisors in the project include Kyle Chasse (PAID Network), Marco Calicchia (Certik), and Orion Depp (Master Ventures).
Invested Funds: Seed and private sale investors in Relite Finance include Master Ventures, AU21 Capital, A195 Capital, Blocksync Ventures, CryptoDormFund, and others.
IDO Details: The public sale aims to sell 500,000 tokens at $0.045 per RELI. The total supply of the token is 182 million, and the initial circulation supply will be 14 million.
The whitelist closes on May 10th, and the exact IDO date is to be announced, though it's expected shortly after.
TeraBlock
TeraBlock has developed an advanced portfolio trade automation tool that's designed to protect users' funds against severe market volatility. Using ML-based algorithms that learn and improve consistently, the process takes the emotion out of the way. It's touted as suitable for beginners as big price swings, and extreme volatility can cause massive losses in an instant.
According to the official website, their machine-learning strategies provide accurate market entries so users won't have to spend countless hours looking for the optimal moment to invest in the market.
Network: TeraBlock is launching on the Binance Smart Chain and Ethereum through BSCPad.
Team/Advisors: The founder and CEO of the company is Shivam Tandon. The Chief Commercial Officer (CCO) of the project is Muhammad Ali. Ali is the founder of a few other businesses, including Monzoro, Threaditionz.
Some of the advisors include Lester Lim, founder at X21 Digital, and Saeed Hareb Al Darmaki – the co-founder of Alhpabit Digital Currency Fund.
Invested Funds: Seed and private sale investors in TeraBlock include names such as Lotus Capital, AU21 Capital, Magnus Capital, OroPocket, Master Ventures, and so forth.
IDO Details: The launch is on May 11th, 2021, on BSCPad. The staking cutoff is at 5 AM UTC, and the allocation round is at 8 AM UTC. The Uniswap and PancakeSwap listing will happen immediately after the IDO, but the exact time is still to be disclosed.
The token price is set to $0.05 BUSD. The public sale will distribute 2,000,000 tokens which is 0.5% of the total supply.
PERI Finance
Pynths Protocol, also known as PERI Finance, is a decentralized cross-chain synthetic issuance protocol and a derivative exchange.
It aims to provide unlimited liquidity on the Polkadot network. In addition, it also provides an opportunity for users to access a range of traditional financial, as well as crypto-assets in the form of non-leveraged and leveraged synthetic products.
The goal is to achieve low gas fees, fast transactions, as well as enough security from potential flash loan attacks or front-runners.
Network: The PERI token will be launched through Kickpad – a BSC IDO launchpad.
Team/Advisors: The Chief Strategy Officer of the project is Soobin Ryu. He's also the co-founder of another blockchain-based company called MagNet.
Invested Funds: Some of the seed and private sale investors include Moonwhale, Exnetwork Capital, One Block Capital, PrivCode Capital, Mindworks, Ruby Capital, and so forth.
IDO Details: The project will have its IDO on May 10th, 2021.
The PERI listing price is $3.5 and the startup supply is 30,000 tokens. It will launch through Kickpad – a launchpad on Binance Smart Chain, as well as on Gate.io.
Cere Network
Cere Network aims to deliver a fast-tracked consumer enterprise through decentralized data interoperability, data clouds, and SaaS-Defi. The company is already working with businesses that boast millions of users.
It's a Polkadot-inspired distributed network that consists of a few modular layers that are interconnected.
The core layer with Cere and enterprise chains sits at the foundation. The second layer hosts Substrate private networks for interoperability and scalability. The entire ecosystem is consisted of distributed applications and open data marketplaces that are built on top.
Network: CERE is launching on Ethereum following a triple public sale on Republic, DAO Maker, and Polkastarter.
The sales on Republic and DAO Maker are complete, and the one on Polkastarter will happen at some point in May.
Team/Advisors: The founder and CEO at CERE Network is Fred Jin. He has years of experience in Silicon Valley and has previously founded a Tencent-backed gaming company called 50cubes.
The co-founder is Kenzi Wang, who is the former vice-president and general manager at Huobi. He is also a partner at AU21 capital.
Some of the notable advisors include Brad Bao, chairman at Lime, Rajani Ramanathan, former COO at Salesforce, and Jochum Haakma – the chairman at the EU-China business association.
Invested Funds: Some of the funds that have invested in CERE Network include Republic Labs, Kenetic Capital, Alphabit, AU21, as well as Binance Labs.
IDO Details: Both the Republic and DAO Maker sales are completed with heavy oversubscriptions. The only one left is Polkastarter, and the team should reveal further details on the exact date, though it should take place in May.
Disclaimer: None of the above is financial advice. The content aims to educate and entertain only. Investing in the cryptocurrency market carries a serious risk of capital loss and should only be exercised after serious and advanced due diligence. Check the footer for the full disclaimer.