TimeCoin Delivering eSports DApp with a Focus on DeFi and NFTs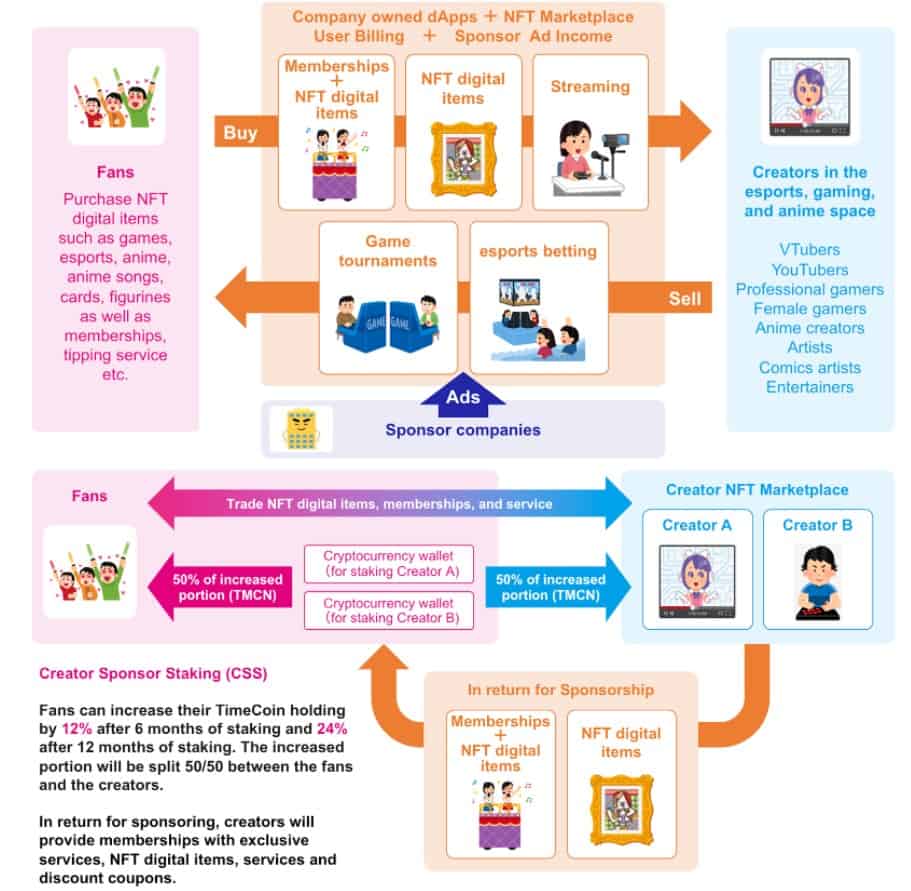 [Featured Content]
The team behind TimeCoin Protocol is building a brand new decentralized application that attempts to disrupt the eSports industry by enabling players and fans to compete against each other.
It goes without saying that NFTs have taken center stage in the past couple of months. Plenty of people speculate on whether the market is in a state of a bubble. Still, the truth is that non-fungible tokens are seeing serious adoption, with athletes, professionals, and celebrities across the world dropping their own pieces.
With this said, TimeCoin Protocol – a subsidiary of TimeTicket Inc., is on a mission of building its eSportStars DApp. To do this, the company is raising additional funds through a special token sale.
About TimeCoin Protocol
Developed by a TimeTicket GMBH, the protocol aims to bridge people who want to provide services by selling their own time and those who are willing to purchase it.
TimeTicket allows its users to own TMCN – its native token. The biggest market for it is the cryptocurrency exchange Bitforex. The goal of the special token sale is to raise funds for the development of an eSportStars dApp.
The decentralized application was originally developed in October 2020. The project needs further development as it's going to implement both NFT and DeFi functionalities. In essence, the funds are covering development and marketing costs.
The plan is to create a designated NFT marketplace where VTubers will be able to trade NFT items.
Integrating these capabilities will also allow creators and fans to receive additional tokens and trade in-game items, art, anime characters, and so forth.
The Creator Sponsor Staking (CSS)
The team also brings forward an innovative DeFi system called the Creator Sponsor Staking – coming along with an NFT marketplace. Fans can increase their holdings by as much as 12% for staking for 6 months and up to 24% if staking for 24 months. This will be split in half between creators and fans.
In return for sponsoring, creators will be able to provide exclusive services, digital items, services, discount coupons, and memberships.
Speaking on the matter was Masato Kakamu, TimeTicket GMBH CEO, who said:
"We want to create a place where professional players, creators, and fans can easily earn money which also helps them to better engage with their fans. To extend the eSportStars service, we want to offer esports gambling as well. We offer eSports mining for eSportStars participants to earn TimeCoin. The more TimeCoin participants own, the better service they can get."
This is the main reason for which the team is conducting the special token sale to raise funds.
Additional Details on the TMCN Token
It's worth noting that the TMCN was launched through an initial exchange offering on BitForex – it's a global cryptocurrency exchange. This happened on November 11th, 2020. The IEO price was $0.7 per TMCN token.
Despite the success of the IEO, the team hasn't conducted any other private sales and have only sold a small amount of it prior to the IEO. Until now, the project has been financed by equity funding amounting to about $4 million.
There's currently an ongoing special token sale where users can purchase the token on the OTC market with a discount. The second round of the sale spans from May 1st to May 31st, and it sells tokens with more than 80% discount. The total amount that's expected to be raised in the first and the second round is about $20 million.
For more info, join the TimeCoinProtocol on Telegram