Bitcoin Plummeted $6K as Crypto Market Lost $200 Billion (Market Watch)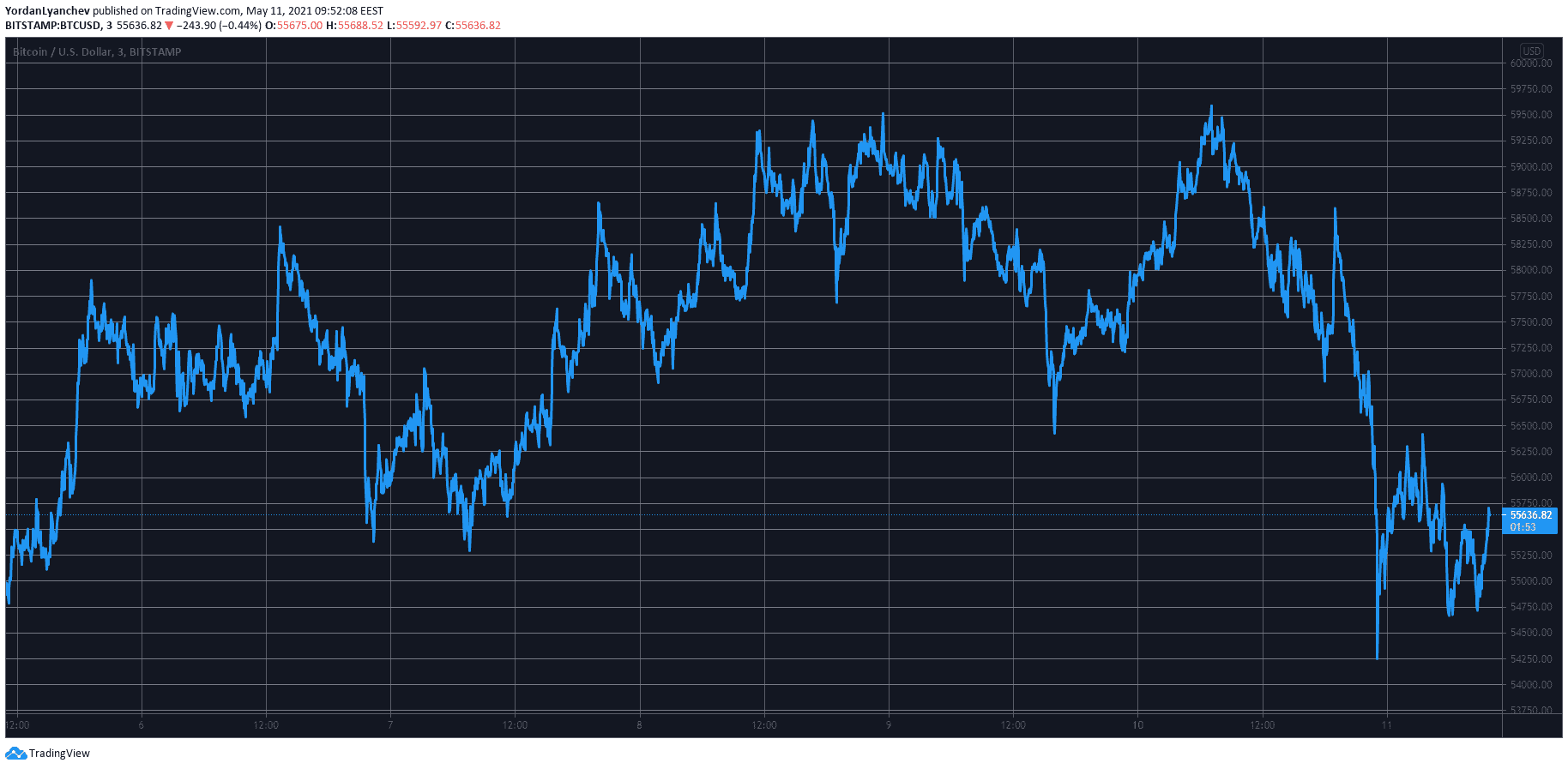 After reaching a new 3-week high at $59,600, bitcoin slumped by roughly $6,000 in a matter of hours. Most alternative coins followed suit. Red dominates the field, and nearly $200 billion were evaporated from the total market cap.
Bitcoin's $6K Dump
Although BTC has failed to overcome $60,000, it was actually riding high in the past few days. As reported yesterday, the cryptocurrency spiked to its 3-week highest level at $59,600.
As the community started to anticipate another leg up to and above $60,000, though, the bears took control.
In the following hours, bitcoin started to lose value fast. As a result, the primary crypto fell by more than $6,000 to an intraday low of just below $53,600.
Despite bouncing off and recovering a few thousand dollars, BTC is still about 6% down on a 24-hour scale. Furthermore, bitcoin's market dominance continues to fade away and is now down below 43%.
Sea of Red Among the Altcoins
The alternative coins were performing more impressively than their leader in the past few weeks. However, most of them have plummeted since yesterday as well.
Ethereum, which has been at the forefront of the altseason, registered yet another all-time high at $4,200 yesterday. However, it dumped by about $400 almost immediately to a low around $3,800. ETH has recovered some ground since then but still stands below $4,000.
Binance Coin (-5.5%), Ripple (-10%), Cardano (-7.5%), Polkadot (-12%), Bitcoin Cash (-12%), Litecoin (-12%), and Chainlink (-12%) are also deep in red.
Dogecoin continues with its slide since Elon Musk's SNL appearance during the weekend. Another 11% dump has driven the meme coin below $0.5.
Further losses come from Bitcoin Diamond (-20%), Qtum (-18%), ICON (-17%), Ethereum Classic (-17%), OMG Network (-15%), Fantom (-15%), DigiByte (-15%), Ontology (-15%), Avalanche (-15%), EOS (-15%), and more.
Naturally, the crypto market cap also felt hard and declined by about $200 billion at one point after yesterday's record above $2.5T. As of writing these lines, though, the metric has increased above $2.4 trillion.