Bitcoin Tumbles Below $39K as Correction Hits 40%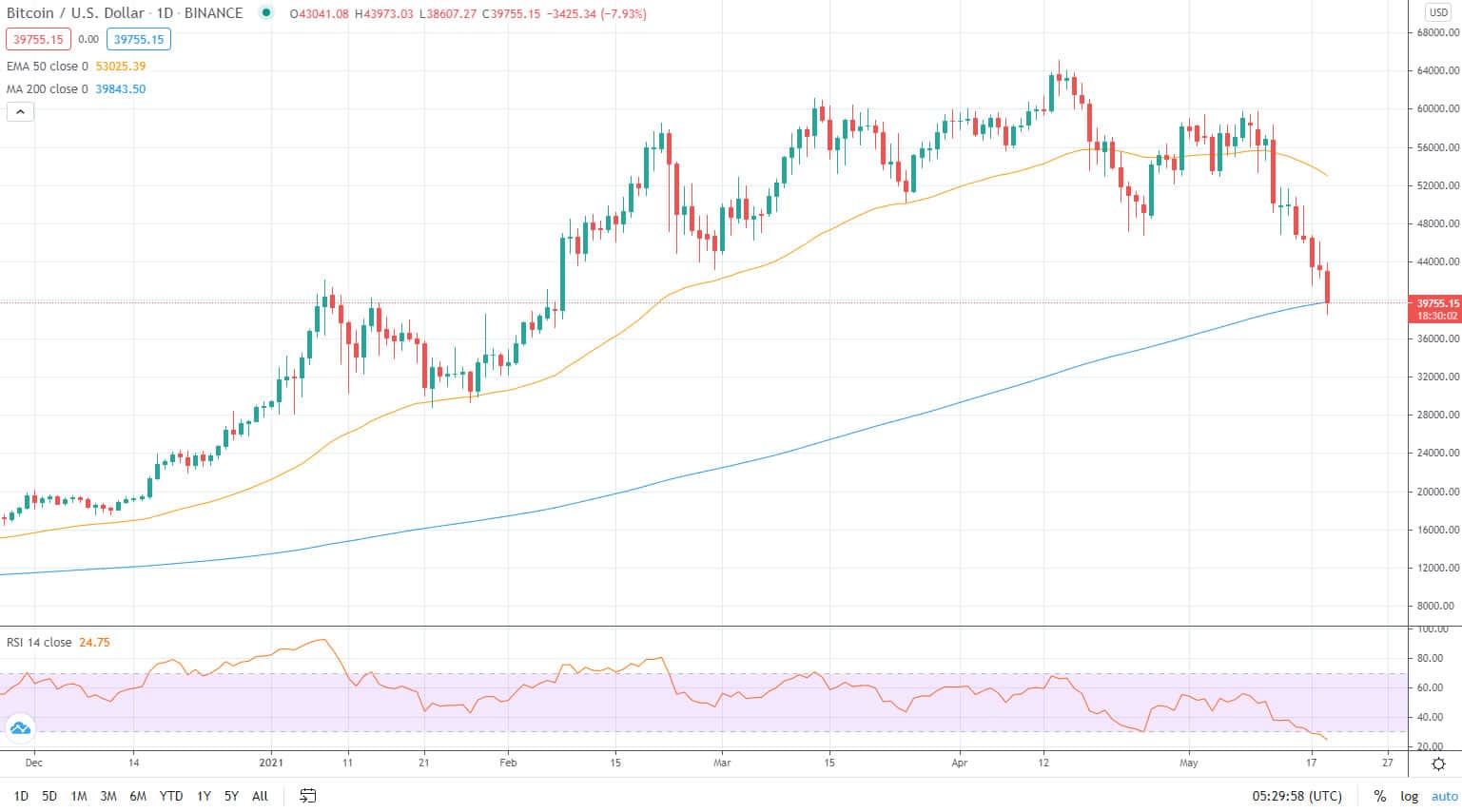 Wednesday's Asian trading session has seen Bitcoin prices tumble below $40,000 for the first time since February 6. The asset dropped to a low of just below $39,000 a couple of hours ago according to Tradingview.
BTC is now trading at support on the 200-day moving average which serves as a crucial level in determining whether this is a major correction in a bull market or the beginnings of a full-blown bear market.
The next couple of days will be critical for Bitcoin and cryptocurrency markets in general as a break below current levels is likely to spell the end of this rally.
Bitcoin Descending Wedge
Technical analyst 'CryptoHamster' has identified a descending wedge pattern which could be a good perfect reversal point if we are still in the bull market.
Both #Bitcoin and #Ether are testing the bottom of a descending wedge.
Also, $BTC at its support zone and yesterday it was the red "9" by TDS and plenty of bullish divergencies.
It is the prefect reversal point now if we are still in the bull market.
N.B. We trade probabilities. pic.twitter.com/ItoAVSOznv

— CryptoHamster (@CryptoHamsterIO) May 19, 2021
Fellow analyst 'PlanB' is of the opinion that we are still in the bull market but it could be coming to an end soon according to his price modeling.
"Just to be clear: I do not think $60K was the top, far from it, because I do not see the kind of transactions that normally happen after an ATH (red dots). In fact, I think we are just a couple of months out of the bear market (blue dots). And yes, this on-chain view fits S2F(X)."
There has been a huge inflow onto centralized exchanges such as Binance which is usually indicative of a big selloff despite stronger hands buying the dip. Using data from Glassnode, analysts observed that May 18 saw the largest ever inflow of BTC to Binance.
Largest day of BTC inflows to Binance ever. pic.twitter.com/HG56s37mtv

— William Clemente III (@WClementeIII) May 18, 2021
Much of this has now been sold with Bitcoin dumping 12.5% on the day and 30% over the past week. As it stands, the correction is now at 40% from peak to trough. In March 2020, Bitcoin dumped 60% from over $10K to a low of $4K so things are not that bad just yet.
Double-Digit Bleeding
The rest of the market is also in a world of pain today with total capitalization shedding $325 billion in 24 hours with a slump to $1.9 trillion.
Ethereum has been smashed back below $3K in a 16% slide while Binance Coin has dumped almost 20% falling back towards $400.
Other altcoins losing heavily today include Cardano, Dogecoin, Bitcoin Cash, Uniswap, and Stellar, all losing over 15%.