$750 Million in Bitcoin Withdrawn From Exchanges After the Bloodbath to $30,000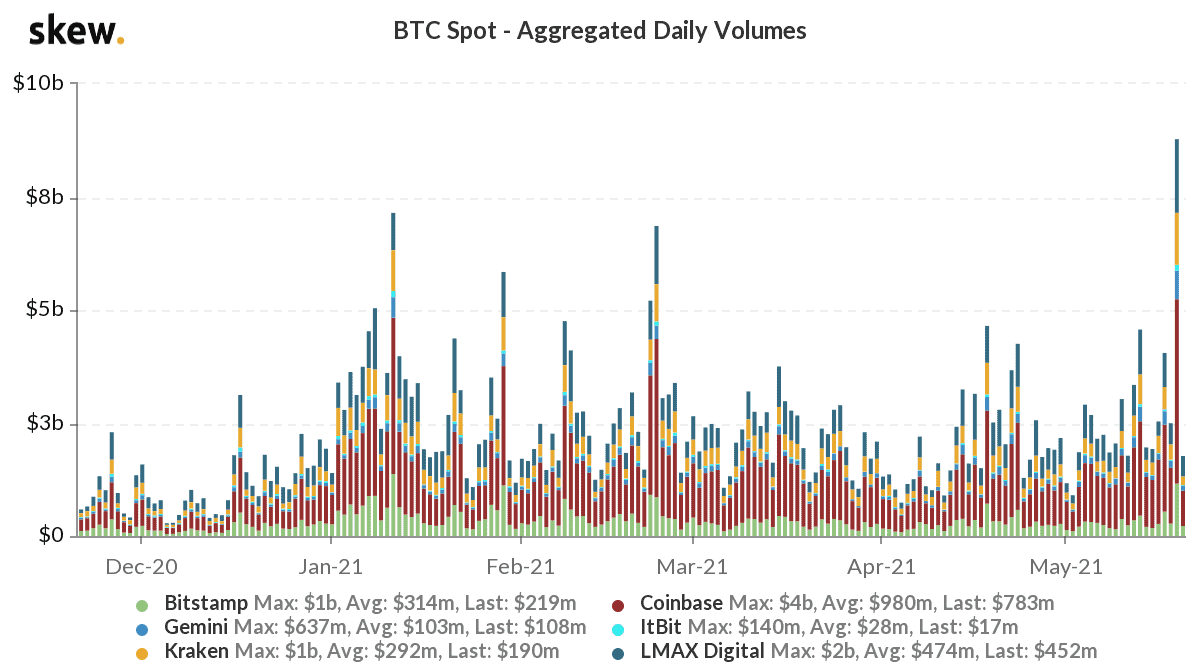 May 19th, 2021, will remain in history as one of the steepest corrections in the cryptocurrency market. Bitcoin fell hard by $10,000 in minutes before it bounced off shortly after. While thousands of traders felt the adverse consequences of the enhanced volatility, larger investors used the opportunity to buy the dip as $750 million in BTC was transferred out of exchanges in minutes.
The Records After The Dust Settled
The ever-volatile nature of the cryptocurrency industry struck hard yesterday. The primary cryptocurrency fell badly from above $40,000 to its lowest price tag since January at $30,000. It was a sudden price dump that affected the altcoins even worse – 30% to 50% declines were evident from Ethereum, Binance Coin, Cardano, Ripple, and more.
Apart from causing massive pain for leveraged traders with over $8 billion worth of liquidations in 24 hours, the overall spot trading volume skyrocketed. Data from the analytics company Skew demonstrated that the spot volume for the trading pair BTC/USD went to a record at around $9 billion.
$750M In BTC Transferred Out of Exchanges
During the previous recent corrections, perhaps prompted by Elon Musk, Tesla, and China reports indicated that so-called short-term investors (holding BTC for less than a year) were those who sold out the most significant portions, even at a loss.
At the same time, on-chain data revealed that larger investors, typically referred to as whales, were accumulating. Such seems to be the case now as well. According to Glassnode, such holders withdrew about $750 million worth of bitcoin off exchanges in a matter of minutes.
Some argue that these withdrawals came from institutional investors who were doubling down on their bitcoin engagements. This theory received support from the BTC premium on Coinbase.
The largest US-based crypto exchange is among the most preferred venues for (American) institutions to accumulate BTC. When the platform sees a significant influx of buy orders, which is much higher than on other exchanges, it creates a price difference known as premium.
CryptoQuant data shows that while BTC was tumbling to its daily low, the metric went into negative territory. However, when the dust settled, and bitcoin started to regain its value, the Coinbase Premium went to a new all-time high of over 7.5%. The analytics resource concluded that "the higher the premium, the stronger the spot buying pressure from Coinbase."