Bitcoin Dominance Skyrockets to 44% as BTC Price Recovers $10K in a Day (Market Watch)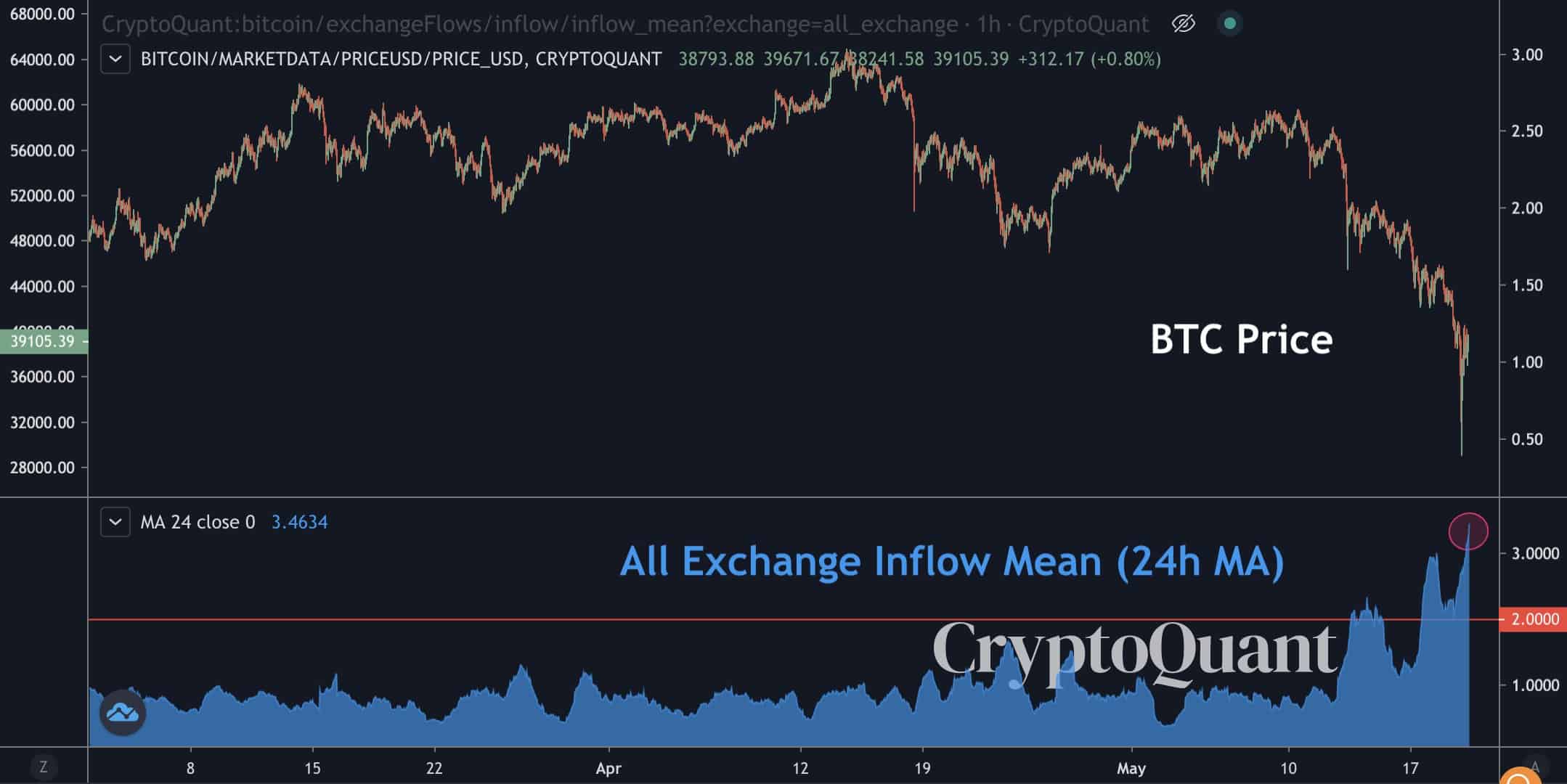 Bitcoin, and the rest of the market, went through an absolute roller-coaster in the past 24 hours. BTC plummeted to its lowest level since January at $30,000, but it recovered $10,000 in less than a day. The altcoins suffered as well with ETH dipping below $2,000, BNB beneath $300, and so on.
Bitcoin's Wild 24H Ride
No boring days in crypto, right? The past 24 hours confirmed this, and the primary cryptocurrency led the wild charge. Bitcoin, which was already suffering following negative news from Tesla and China, traded just above $40,000.
At that point, though, the situation worsened fast. In a matter of minutes, the asset's price plummeted by about $10,000 in one of the steepest corrections to date. The cryptocurrency fell to its lowest price since late January at $30,000.
After this massive drop, the bulls took charge and recovered almost all losses as BTC trades around $40,000 as of writing these lines. Naturally, these enhanced fluctuations caused substantial losses for traders as the liquidations were over $8 billion on a 24-hour scale.
Furthermore, some reports suggested that the over-leveraged positions were to blame for the drop.
Despite recovering somewhat rapidly, though, CryptoQuant's CEO believes more pain is to come in the short term. Ki-Young Ju noted that the "whale dumping indicator hit a year-high since the March great sell-off last year" as large addresses keep depositing to exchanges.
On the positive side, bitcoin has recovered some ground in terms of market dominance which is back to 44%. Just a few days ago, it had dropped to a 3-year low beneath 40%.
Altcoins Have it Worse
While BTC's drop was quite massive, the altcoins' pain was (and still is) even worse. Ethereum led this adverse trend as it dumped from $3,500 to a daily low way beneath $1,900. ETH also bounced off in the following hours, neared $3,000, but has retraced now to below $2,700.
The same faith reached Binance Coin. BNB was above $500 yesterday before its price was smashed to a low of $280. It recovered some ground, but it's still well in red on a 24-hour scale at $365.
The rest of the top ten coins saw similar developments. As of now, XRP (-20%), ADA (-6%), DOGE (-14%), Polkadot (-25%), Bitcoin Cash (-20%), Litecoin (-24%), UNI (-16%), and Chainlink (-24%) are deep in red.
Even Polygon, which reached a new ATH yesterday, is down by 30% to $1.9.
Curve DAO Token is the most significant loser on a 24-hour scale after a 35% dump. Fantom (-32%), Terra (-31%), Kusama (-30%), BitcoinSV (-30%), Aave (-29%), 0x (-28%), Harmony (-27%), Avalanche (-25%), and many more follow.
Ultimately, the crypto market cap lost $600 billion in a day to a low of $1.450T. Despite recovering to $1.7T, the metric is more than $800 billion down in a week.