Bitcoin Amid $40K As Major Altcoins Continue Recovery From Black Wednesday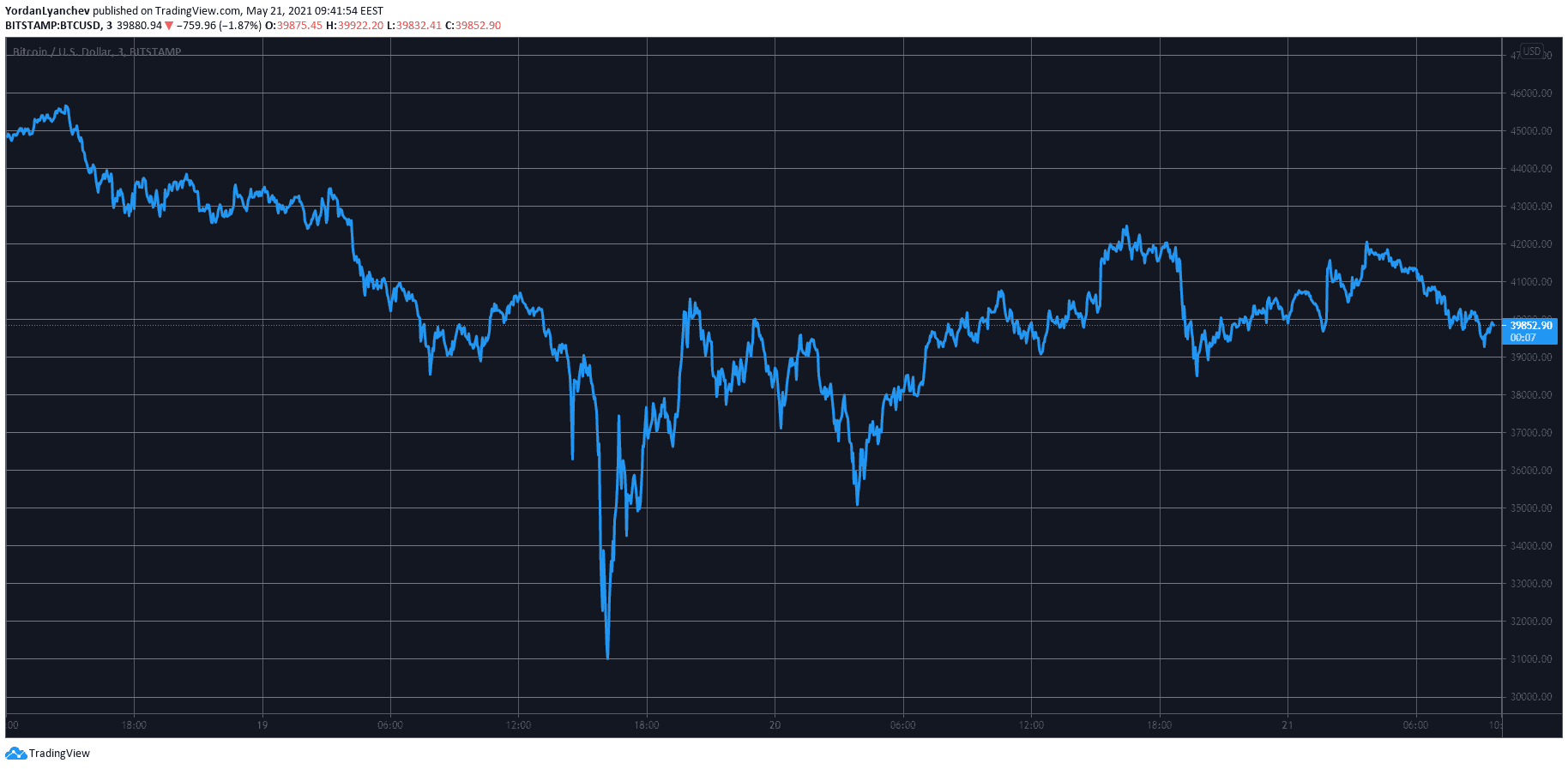 Following the two-day wild-ride that saw massive five-digit price fluctuations, bitcoin has calmed quite a bit around the $40,000 line. Most alternative coins have also recovered the steepest losses, with ETH above $2,700 and BNB nearing $400.
Bitcoin Calms Around $40K?
The past several days were anything but boring for the primary cryptocurrency. After the initial price correction following negative news from Tesla and China last week, the situation worsened on Wednesday, prompted by too many leveraged positions.
The cryptocurrency traded above $40,000 when a sudden dump drove it to the lowest price level since January 2021 at $30,000. The bulls intercepted the move at that point and reversed the trajectory rather immediately. In a matter of hours, BTC had recovered all losses.
In the past 24 hours, bitcoin even attempted to spike further north, and it jumped above $42,000 briefly. However, it failed to sustain the rally. After retracing by a few thousand dollars, BTC sits calmly around $40,000.
The asset's market capitalization has remained well beneath $800 billion, while its market dominance is at 42.6% after falling below 40% days ago.
Altcoins in Recovery Mode
The alternative coins suffered even more than their leader during the Wednesday crash. Ethereum slumped below $2,000, BNB bottomed beneath $300, and so on. Since then, though, most have recovered a substantial portion of the losses.
Ethereum is up by 5% in the past 24 hours to just over $2,700. Binance Coin (8.5%) is nearing $400 again. Cardano is up by 6% to $1.7, Dogecoin (8%) is close to $0.4, Polkadot (4%) sits at $28.
Apart from Ripple (-2%), the other larger-cap altcoins, namely Bitcoin Cash, Uniswap, Litecoin, and Chainlink, are also in the green.
Monero is the most significant gainer in the past 24 hours after a 27% jump to $290. Nano (22%), Helium (19%), Filecoin (15%), Telcoin (15%), Ontology (15%), Solana (13%), Ankr (13%), Ethereum Classic (11%), Huobi Token (11%), and 0x (10%) follow.
Ultimately, the cumulative market capitalization of all crypto assets stands at $1.750 trillion after bottoming at $1.450 trillion two days ago.