Bitcoin Twitter Mentions Skyrocket to a New All-Time High After the Crash to $30,000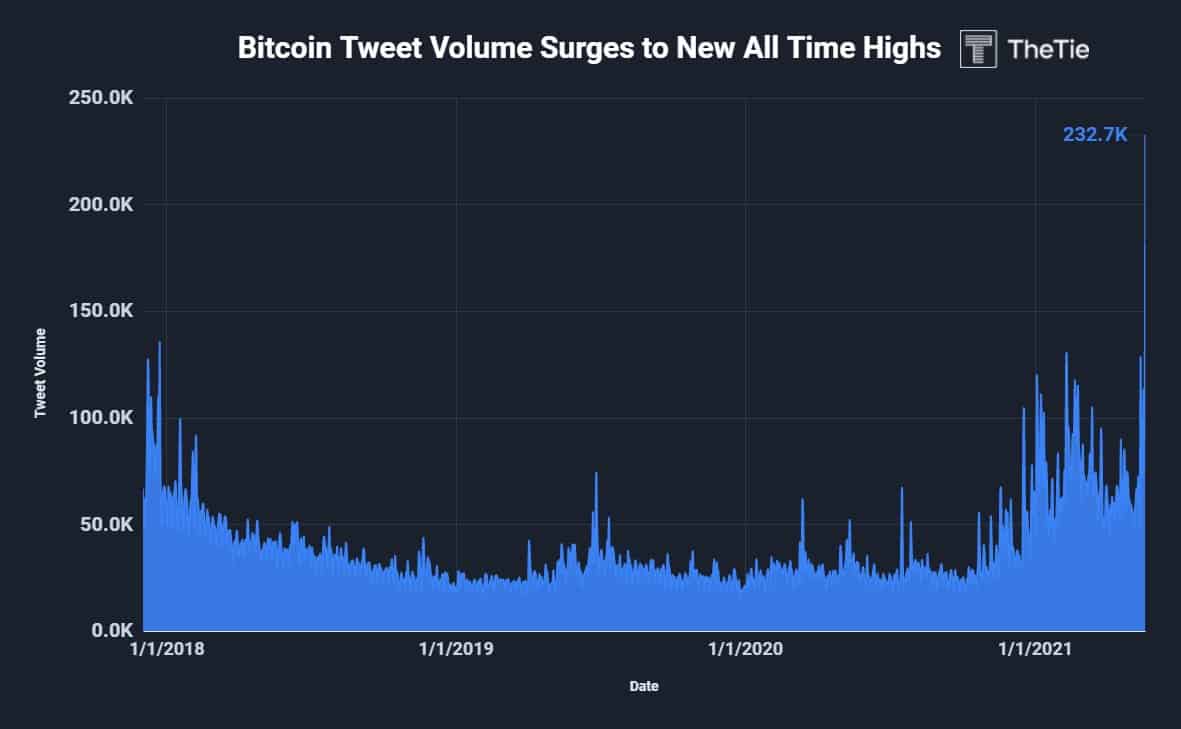 Although bitcoin's price may have tumbled by 40% since its peak, the asset's popularity and engagements are actually booming. According to recent on-chain data, the number of tweets involving the primary cryptocurrency has spiked to a new all-time high amid and following the latest market crash.
Bitcoin Twitter Engagements Through the Roof
Jack Dorsey's social media giant is arguably the most preferred platform for crypto fans, investors, and proponents to engage with each other. Not surprisingly, there's an unofficial term "Crypto Twitter."
Data provided by the digital asset monitoring resource The TIE shows that such interactions for the largest cryptocurrency by market cap have been significantly higher in 2021 compared to the past few years. Somewhat expectedly, this spike coincided with the substantial price appreciation.
However, the BTC/Bitcoin Twitter posts skyrocketed on May 20th to a new all-time high of over 232,000 tweets. This sudden increase could be attributed to the price developments once more.
It arrived on the day after bitcoin tumbled from over $40,000 to $30,000 in minutes and recovered $10,000 in hours. Such enhanced volatility typically lures people in to comment whether staying on a bearish side or presenting a more bullish opinion like "buy the dip."
Panic Mode Confirmed
Data from another analytics company, Santiment, confirms the massive increase in social media engagements towards bitcoin and the rest of the market. However, it shows more negative interactions, and the firm concluded, "it's clear that crypto traders are in panic mode."
Santiment based its views on the "FUD in the Tweets" and the "blood in the streets."
Furthermore, the company touched upon the contract funding rate on the popular derivatives exchange Bitmex, which generally tracks the ratio between long and short positions. The metric is down to negative territory (-0.25) for the first time since the post-Black Thursday crash in mid-March 2021.
The Greed and Fear Index also confirms Santiment's narrative by showing that the community has been in a state of "extreme fear" for the past several days.