Crypto Markets Bleed Another $180 Billion: Bitcoin Dominance at 46% (Market Watch)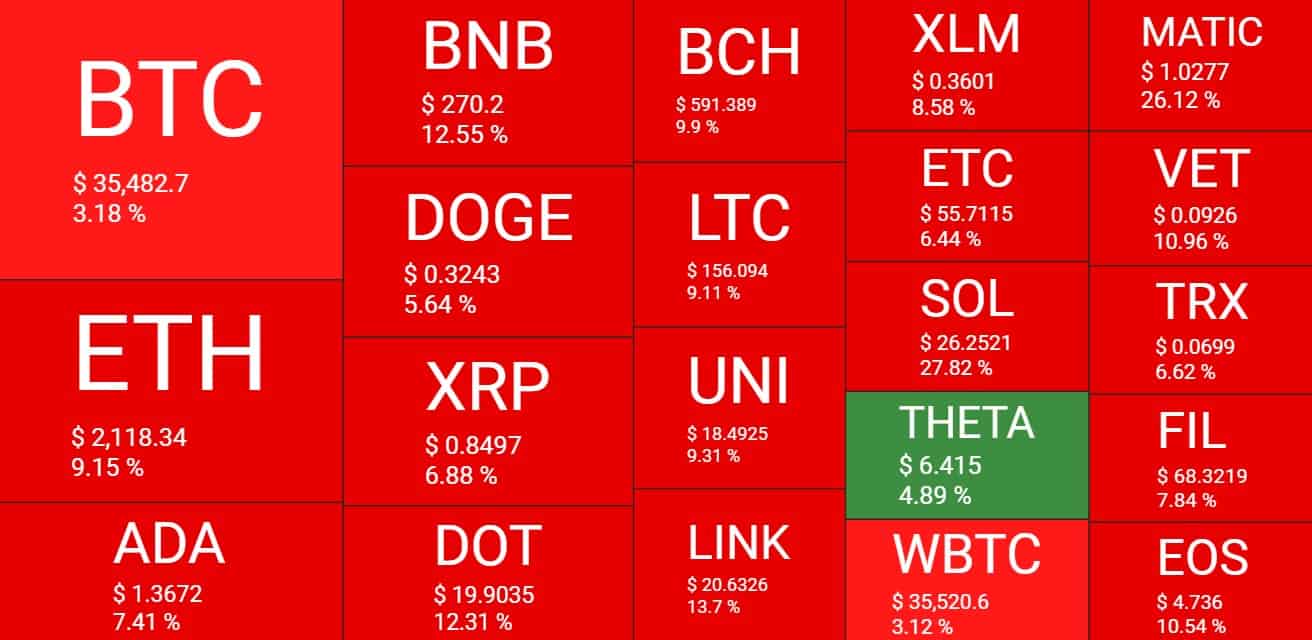 Bears continue to take their toll on the cryptocurrency market as the prices are still bleeding out. The total market capitalization lost over $180 billion since yesterday's peak.
It's worth pointing out, though, that throughout the past few days, Bitcoin's dominance – the index that tracks BTC's share relative to that of the entire market – is increasing and now sits at almost 46%.
Bitcoin Price Slides Below $35K
Yesterday, bitcoin's price was on the verge of recovery. It reached an intraday high of exactly $38,200 (on Bitstamp).
However, bears intercepted the move and started dragging the price down. Today, it dropped down to a current daily low of around $34,479, and, at the time of this writing, bitcoin is down about 4.4% over the past 24 hours.
Zooming out a little bit paints an even worse picture. Over the past seven days, the cryptocurrency is down almost 25% after having dropped to a low of $30K earlier on Wednesday.
*INSERT CHART
The silver lining for Bitcoin bulls is that its market dominance is increasing. The total market cap is down about $180 billion, but BTC's dominance increased to almost 46%, which is a sign that the primary cryptocurrency is recovering a lot better compared to altcoins.
Tough Days for Altcoins
Altcoins have it even worse. The entire market is painted in red altogether. Ethereum is currently down about 9% on the day, Binance Coin (BNB) – 12.5%, Cardano (ADA) – around 7.5%, and so forth.
Out of the top 100 cryptocurrencies by market cap, the only notable gainers are XinFin Network (10%), Shiba Inu's SHIB (10%), Theta, and Theta Fuel, both charting gains in the range of 3%.
Everything else is bleeding out. This comes a couple of days following another round of reiterations on behalf of China, the State Council of which once again reminded us that authorities should crackdown on Bitcoin mining and trading – a narrative that we've seen more than once in the past.