Bitcoin's Bull Run Is Very Much In Tact: Analyst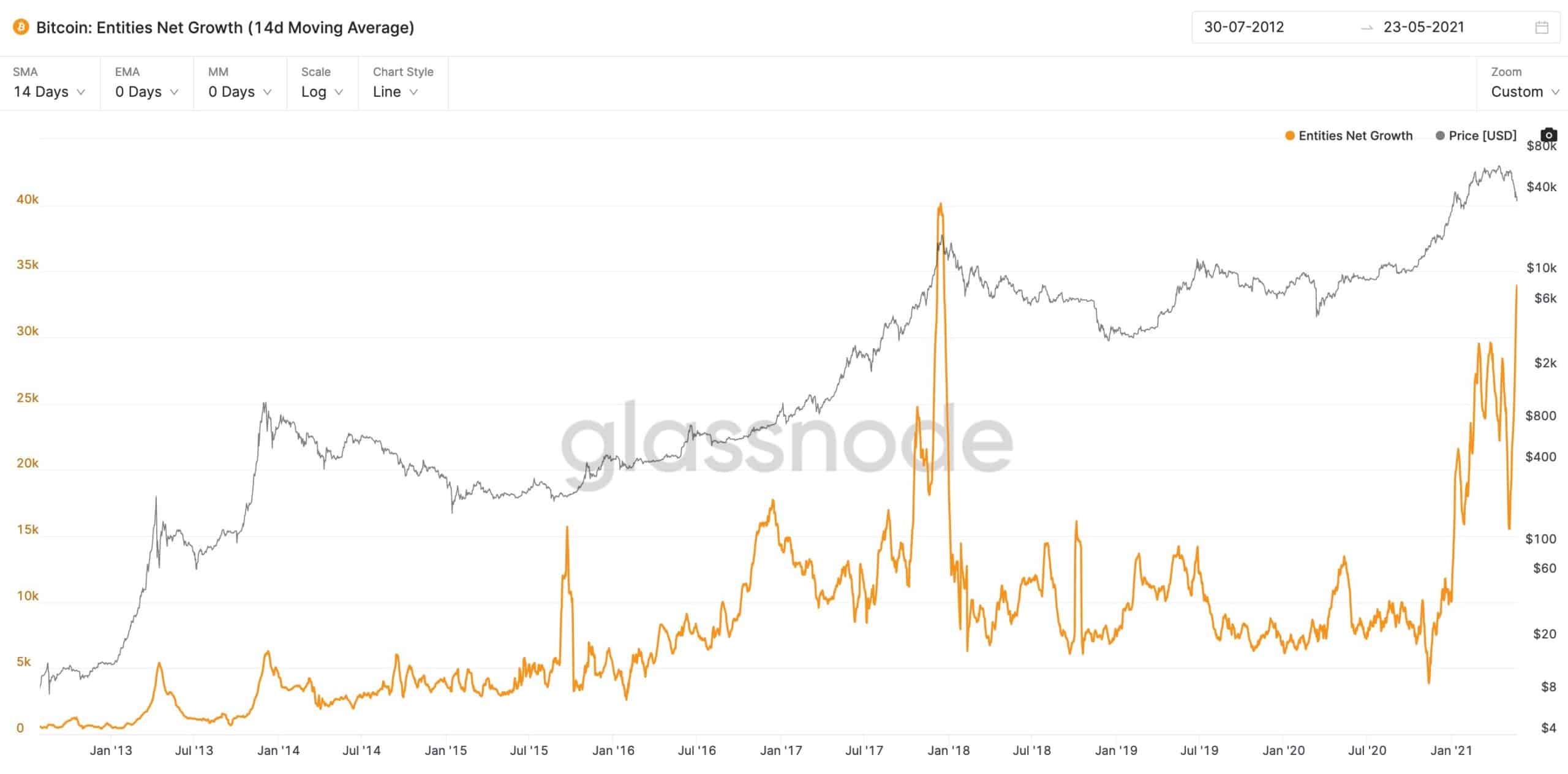 Bitcoin's bull market will endure and resume, pointed out the popular crypto analyst – Willy Woo. He came to this conclusion after indicating that BTC's network has kept expanding during this crash. Interestingly, further on-chain data support this narrative.
BTC Bull Run Intact
Ever since bitcoin peaked at $65,000 in mid-April, the cryptocurrency has been on a downfall. After nosediving below $60,000, the situation worsened earlier in May following negative news from Tesla and double-trouble from China. Consequently, BTC slumped by $35,000 from its ATH to a low of $30,000 reached recently.
Despite initially recovering over $10,000, the bears have intensified the pressure, and the asset still fails to reclaim $40,000. Some reports suggest that institutions have accumulated throughout this crash, while short-term holders have disposed of their coins.
However, data provided by Glassnode and outlined by Willy Woo indicates that the user growth on the Bitcoin network has kept increasing in the past several weeks. The popular analyst noted that "no-coiners are taking this opportunity to buy the dip."
"In case you're wondering, the bull market is very much intact," noted Woo before adding that the BTC user count has roughly doubled every year since the asset's inception. "So the 2021 peak is expected to end at levels MUCH higher than the 2017 peak. Under this trend, we are just warming up."
Thus, Woo joined the likes of SkyBridge Capital's Anthony Scaramucci, who recently made the same comment about BTC's bull cycle not being over yet.
Investors Withdraw Their Bitcoins
Before, during, and after the most volatile days of the market crash, investors rushed to deposit their bitcoins to exchanges. Typically, they tend to do so to sell their coins.
However, the tide has turned according to additional data from Glassnode. The number of deposits on trading platforms has dropped to a 4-month low after the recent spike.
At the same time, the outflows from exchanges have increased dramatically to the highest level since after the Black Thursday crash in mid-March 2020.
These developments come as bitcoin's price has recovered from yesterday's low at $31,000 by adding roughly $7,000 of value.