Soku Swap: Ethereum and BSC-Based DEX With Variety of Features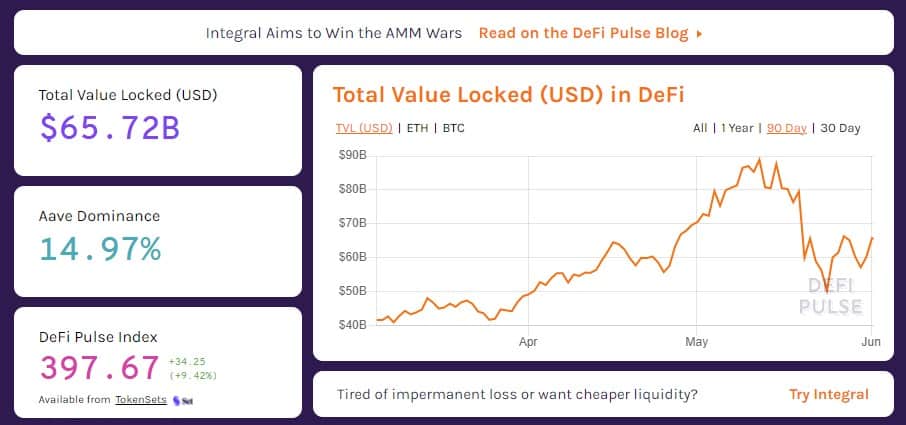 [Sponsored]
The DeFi ecosystem saw incredible growth over the past few months. As a result, various protocols and solutions saw a significant increase in the value locked in them.
Data from DeFi Pulse shows that the total value locked (TVL) in the DeFi ecosystem had surged to an all-time high of around $85 billion, representing a massive increase since the beginning of the year. Despite the recent dip, it's still almost at $60 billion.
Automated market makers and decentralized exchanges such as Uniswap saw their interest surge to levels we hadn't seen before.
And yet, the majority of decentralized exchanges share in one very similar issue – they are bound to a single network – be it Ethereum, Solana, Binance Smart Chain, or Polkadot.
Soku Swap is revolutionizing that limitation.
What is Soku Swap?
Soku Swap brings forward a decentralized exchange that functions on the Ethereum blockchain and the Binance Smart Chain. Additionally, it takes advantage of the automated market maker (AMM) smart contracts to create liquidity pools for tokens based on the ERC-20 protocol standard and BEP-20.
Our approach provides meaningful and actionable flexibility for users as they can trade using an algorithm versus an order book used by conventional centralized exchanges.
The platform, upon launch, will be seamless and easy to use. It will have a focus on privacy, education, and a strong emphasis on customer support. The DEX is for traders, and it's intended to perform very well as a critical component of other smart contracts that require guaranteed liquidity provided on-chain.
One thing to consider is that Soku Swap was built with gas efficiency in mind, as described in the project's whitepaper. In addition, it uses AMM smart contracts, allowing the team to lower gas fees to about 10% of those on regular exchanges. Consequently, the efficiency continues in almost all swaps between all cryptocurrencies supported on the platform.
Key Features of Soku Swap
The exchange offers various features that are all designed and intended to provide a comprehensive and compelling trading experience.
Right off the bat, flash loans are not only for developers – anyone who uses the platform can use them as well. They allow users to borrow assets without depositing collateral as long as the said amount returns to the protocol within the same block. If that fails, the transaction reverses as if it never happened.
The most popular use case for flash loans is arbitrage trading. Users can benefit from price disparities across different exchanges and profit off of them. The platform allows users to see whether the arbitrage trades they wish to make will be profitable or not with the help of AI.
Another innovation that Soku Swap brings forward to help users capitalize on investment-worthy tokens.
Every week, the team will go through a list of the top gainers and those with the highest liquidity. Then, each token will be thoroughly verified and researched before being included in the Swap Box. After that, users can buy packages ranging from $50 to $1,000 and select the number of tokens they would like to receive.
The main idea behind this is to reduce the efforts that investors need to research.
In addition to that, the exchange also features:
Live on-screen chat is a feature offered by many exchanges; however, it is not our standard and full potential. Instead, Soku Swap focuses on taking care of their community members by providing instant support and results, something other platforms fail to do.
Soku Swap's fun and easy-to-understand videos and articles allow users to learn about the crypto, blockchain, and DeFi industry. Furthermore, the platform incentivizes people by offering them rewards in SOKU tokens for taking part in these classes and for every successful referral.
Soku score to check the validity of tokens
Thorough research of each listed token is done by the Soku Swap team, scoring newly listed tokens with a percentage. The score relies on various factors such as liquidity, community, team members, contract codes, among others. This capability saves users time when researching projects because the Soku platform provides it to you.
Moreover, users don't have to worry about going through an extensive Know Your Customer (KYC) check. Since the exchange is entirely decentralized, there's no need to provide any documents or verification.