Bitcoin Price Reclaims $40K for the First Time in 19 Days (Market Watch)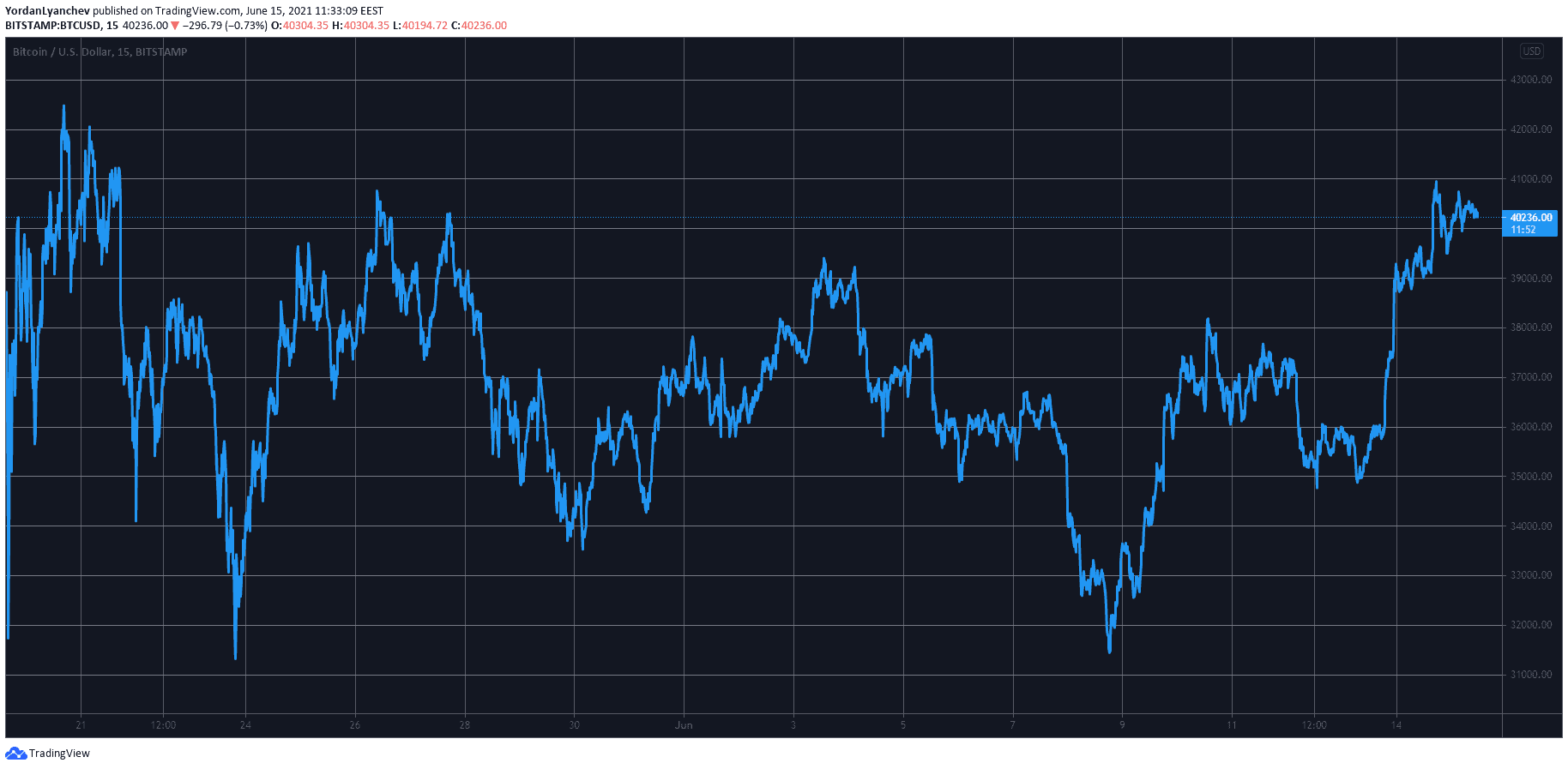 The recent bullish developments for bitcoin continued in the past 24 hours as the asset broke above $40,000 for the first time in nearly three weeks. The altcoins are also well in green, with double-digit gains from Polkadot, Chainlink, and Solana.
Bitcoin Reclaims $40K After 19 Days
Roughly a week ago, the situation with the primary cryptocurrency seemed significantly less bullish. The asset had slid to $31,000 following more FUD from China and Elon Musk.
However, the bulls stepped up at that point and started gradually push BTC north. It stabilized around $35,000, but positive news from El Salvador impacted the price even more.
It all peaked yesterday after Paul Tudor Jones III praised bitcoin once more, and MicroStrategy revealed plans to buy up to $1 billion worth of the asset. In a matter of hours, BTC spiked by a few thousand dollars, reclaimed $40,000, and surged to a new high since May 21st at $41,000.
Consequently, bitcoin's market capitalization is now well above $700 billion, while its dominance stands at around 44%.
Alts in Green; DOT Skyrockets
The alternative coins stood behind initially but have also marked substantial gains similarly to their leader. Ethereum is 5% up on the day and trades above $2,600.
Binance Coin's increase is identical to ETH. As a result, BNB has jumped to $380 and eyes $400.
Cardano (5%), Dogecoin (2%), XRP (2.5%), Uniswap (7%), Bitcoin Cash (6%), and Litecoin (7%) are also well in the green.
Polkadot is the most substantial gainer from the larger-cap alts after a listing on Coinbase Pro. DOT is up by 16% since yesterday and currently stands above $25. Chainlink (12%) and Solana (12%) have also joined the double-digit price increase club.
More gains are evident from Amp (22%), Klaytn (16%), THORChain (14%), Polygon (14%), Synthetix (13%), Basic Attention Token (10%), and SushiSwap (10%).
Ultimately, the cumulative market capitalization is up by more than $200 billion in a few days to well above $1.7 trillion.