Massive Outflows See Bitcoin Exchange Balances Plummet to 2018 Levels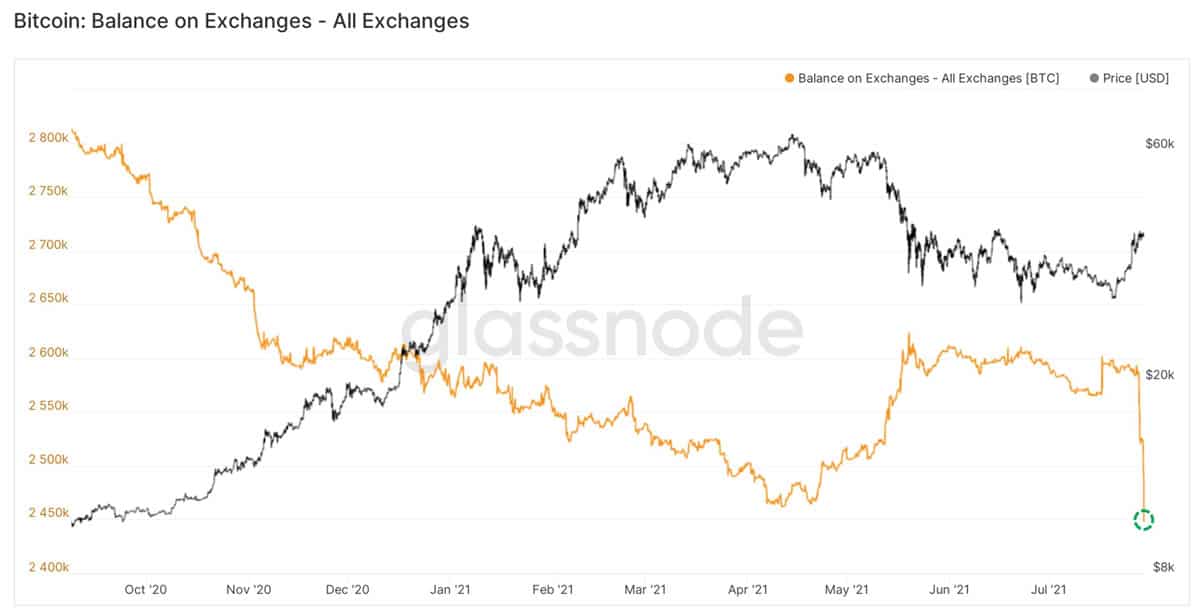 According to data from on-chain analytics provider Glassnode, Bitcoin exchange balances have dropped to the lowest levels since the deep crypto winter of late 2018.
Market analyst, Will Clemente, has observed the metric noting there have been two more large outflows over the past 24 hours.
"Two massive outflows today: one worth 23,530 BTC this morning and another batch worth 40,181 BTC about a half-hour ago."
When Bitcoin leaves centralized crypto exchanges it is usually viewed as a bullish sign. The assets may be getting moved into custody or cold wallets or being invested in DeFi. Conversely, when there are large inflows to exchanges it is considered bearish as investors are preparing to liquidate.
As evidenced by the chart above, May witnessed a lot of BTC being moved to exchanges, reversing the trend for the year. The asset reached its all-time high of $64,800 the month before and markets have been down-trending ever since. The massive exodus of Bitcoin from exchanges could signal another move higher and an improvement in market sentiment.
Whales Moving BTC
This week, the blockchain and large transaction tracker Whale Alert has detected almost 50 transactions totaling 465,000 BTC worth a whopping $18.5 billion at current prices.
🚨 🚨 🚨 🚨 🚨 🚨 🚨 🚨 🚨 🚨 9,977 #BTC (399,349,419 USD) transferred from unknown wallet to unknown wallethttps://t.co/k5xUeZE4yt

— Whale Alert (@whale_alert) July 28, 2021
Bybt and CryptoQuant also revealed that this week had the highest one-day outflow of coins in at least a year with 57,000 BTC leaving exchanges over a 24 hour period.
It is unclear which entities hold these addresses or where the assets are moving to but the pattern is clear – Bitcoin is being taken off exchanges.
Bitcoin Price Outlook
Bitcoin has managed to hold onto its gains this week, trading flat on the day at $39,700 this Friday. CoinGecko reports that the asset has made 22.5% since the same time last week.
BTC has crept over the psychological $40K resistance level 3 times in the past couple of days but has failed to push higher. Analyst and crypto YouTuber Lark Davis pointed out that Bitcoin has just closed its ninth straight day of green candles, but warned that a red one is imminent.
#bitcoin just closed its 9th straight day of green candles! Nice!

Although that makes a red day more likely to be coming very soon! pic.twitter.com/PjqQe3phpf

— Lark Davis (@TheCryptoLark) July 30, 2021
Fellow analyst Pentoshi also thinks that a retreat will be coming soon:
"I think market needs to go down to put in a HL before continuing up. To put it simply. Been bullish from 29.6k into resistance but today to me signals need to go down for higher low."
Short-term support lies at around $36.5K with more in the $34K region, but a break above $40K will signal more upside momentum.