Ethereum Whales Shake Off Market Uncertainty, Break 7-Year Accumulation Record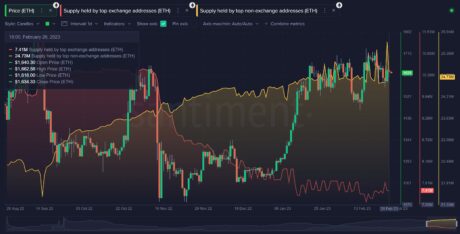 Ethereum has already seen a slowdown in its price over the past couple of days. Now, while investors mainly seem indifferent to the crypto market at the moment, some whales have taken this time to fill up their bags. This has brought their balances to a new seven-year high.
Ethereum Whales Go On Buying Spree
Santiment reported on Tuesday that top Ethereum whales have been filing up their bags recently. These top ETH whales which are not exchange addresses added a significant sum to bring their collective total to more than 25 million ETH.
Interestingly, the last time that the balances of these top 10 non-exchange addresses held this much ETH was back in 2016. Now, in 2016, when the top wallets held this much ETH, the price of the digital asset exploded over 1,000%, going from a meager $0.93 to over $12 by the time the rally was done.
According to Santiment, these whales had increased their holdings to this level over the last week. This was when the prices of digital assets in the space were beginning their descent, triggering panic in the space.
Another factor that could signal a resumption of the bull trend for ETH is the fact that the digital asset is still dominant for fee distribution. There is more ETH spent than WETH and USDC combined, which shows that the cryptocurrency is still very much dominant and front of mind for investors.
But Could ETH Face Pressure From Shanghai?
It is no longer a secret that the Ethereum Shanghai upgrade is set to happen sometime in March and will reportedly enable withdraws for staked ETH. Given that there is currently over 17 million ETH worth more than $28 billion staked on the Beacon Contract, there are already expectations of a dump.
ETH price struggles to hold above $1,600 | Source: ETHUSD on TradingView.com
However, Ethereum developers have already assured the community that all of the ETH will not be available for withdrawal immediately. Perhaps a staggered withdrawal process will help to mitigate the effects of stakers who decide to sell their tokens.
It is still important to bear in mind that some of these investors have not had access to their tokens for over a year, which could lead to immediate selling once they get their hands on them. But with the price of the digital asset already down so much from its 2021 all-time high, it is possible that stakers will want to wait for better prices before selling.
Nevertheless, the Shanghai upgrade will no doubt have implications for the crypto market. But whether these implications will be good or bad remains to be seen. Right now, crypto investors are still neutral, dragging prices to a standstill.