OKX Wallet and Curve Join Forces to Boost Liquidity in DeFi Ecosystem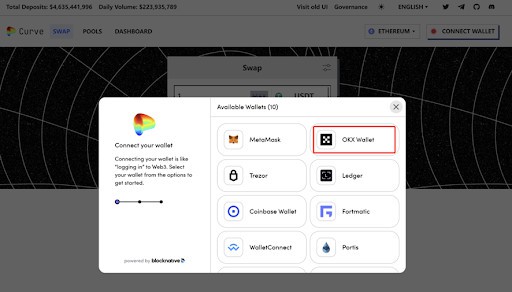 [PRESS RELEASE – Please Read Disclaimer]
The strategic cooperation is a significant step towards promoting the development of the Web3 realm.
February 28, 2023 – Curve, a leading decentralized stablecoin exchange on Ethereum, today announces a strategic cooperation with leading self-custodial solution OKX Wallet. The collaboration includes OKX DEX, OKX Wallet's built-in decentralized exchange, aggregating Curve's liquidity and OKX Discover, a one-stop platform for discovering decentralized applications, supporting Curve. Additionally, Curve has integrated the OKX Wallet web extension on their website and product, providing users with seamless access to both platforms.
The integration provides both OKX Wallet and Curve users with access to a larger liquidity pool and more investment opportunities, as well as the ability to participate in DeFi farming products and NFT trading opportunities. The cooperation between Curve and OKX is a significant step towards promoting the development of the Web3 ecosystem, as both platforms have a strong reputation and a large user base.
Curve and OKX are committed to providing their users with the best possible experience, and the integration of the OKX Wallet web extension on Curve's website and product is a testament to their commitment to this goal. Both firms see the integration as a crucial step to promoting the development of the Web3 ecosystem.
About OKX Wallet
OKX Wallet is a multi-platform, universal crypto wallet created by the world's namesake leading cryptocurrency exchange. Users can use the OKX Wallet to gain easy access to the Web3 ecosystem, including tokens, NFTs, and dApps in more than 40 chains and roll-ups. As a self-custodial, decentralized wallet product, users are in charge of their own private keys and crypto assets on both EVM and non-EVM chains. In addition, its built-in Yield module allows anyone to participate in DeFi easily, conveniently, and safely.
About Curve
Curve is an exchange liquidity pool on Ethereum and multi-chains designed for efficient stablecoin trading and low-risk supplemental fee income for liquidity providers. The platform achieves efficient stablecoin trades by implementing the StableSwap invariant, which has significantly lower slippage than many other prominent invariants. Curve also integrates with Synthetix to offer cross-asset swaps. Currently, there is a total of over $5 billion in total value amongst Curve's liquidity protocols.
The post OKX Wallet and Curve Join Forces to Boost Liquidity in DeFi Ecosystem appeared first on CryptoPotato.