Bitcoin Price Jumps 2% Due To Bids From Asia, Here's What's Going On
Over the past few months, the US market has been driving the Bitcoin price. During the US trading hours, the Bitcoin price showed much higher trading activity and volatility. This makes today's 2% jump for the Bitcoin price during Asian trading hours all the more surprising.
However, the reason for this seems quickly identified. As macro analyst Ted (@tedtalksmacro) wrote on Twitter, the Chinese manufacturing PMI released today confirmed a return to expansion, after six consecutive months of contraction.
The China Caixin Manufacturing Purchasing Managers' Index (PMI), which provides an independent snapshot of the country's manufacturing sector, was 51.6 in February (forecasted 50.7), up from 49.2 the previous month. The reading is the highest level since April 2012.
As a result of the positive news, which is also a reflection of the end of China's zero-covid strategy, the Hang Seng Index in Hong Kong rose 4.21%. The Hang Seng tech index climbed 6.64%.
"Chinese stocks are breaking out of a 3-week consolidation at resistance, Bitcoin could follow!!!" stated Ted with reference to the chart below, illustrating a correlation.
The National Bureau of Statistics of China said as a result of the positive figures, China's economy has recovered thanks to a covid turn and support measures. China's Finance Minister Liu commented that the country intends to moderately increase budget spending in 2023.
Moody's subsequently raised its forecast for China's real GDP growth in 2023 and 2024 to 5% from 4% previously. All of this comes amid the nascent theory that there is a liquidity battle between the United States and China, whose direction the Bitcoin price will follow, as the analyst explained recently:
Global liquidity – projected to rise in 2023, but recently has pulled back.

– China injected ~$450Bn into money markets during December + January
– US liquidity has flat lined, government liquidity has outpaced Fed QT recently.

Markets are a product of liquidity * risk appetite.
The liquidity battle continues… vs #Bitcoin follows. pic.twitter.com/uiARZQpjbN

— tedtalksmacro (@tedtalksmacro) February 28, 2023
Bitcoin Price Poised For More Upside?
Ted also provides signs that Bitcoin could continue the current upward trajectory, looking at the funding rates and open interest to determine the conditions in the future markets. "Bitcoin OI weighted funding was last negative on the 12th February … a +15% move higher followed. It's happening again now", the analyst claims and shared the chart below.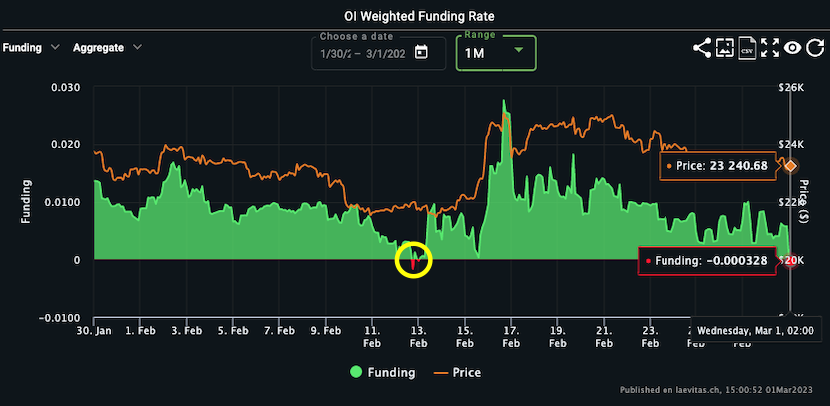 At press time, Bitcoin was trading at $23,810 and initially experienced a rejection at the key resistance at $23,880. If BTC manages to break through this price level, a renewed push to $25,200 might be conceivable.