SushiSwap Burns $5 Million Per Year, But Will It Rebrand In 2023?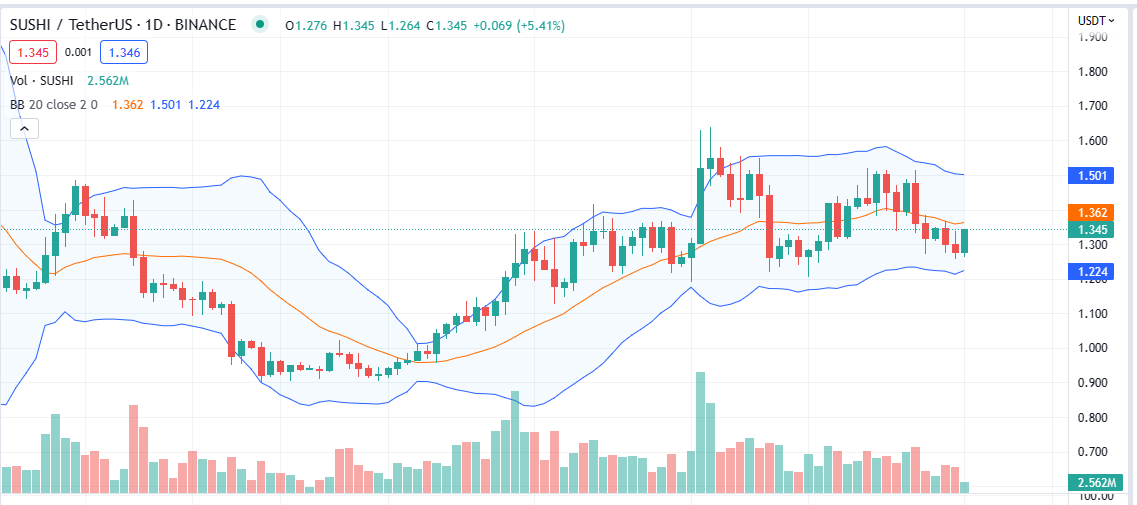 SushiSwap, a popular multichain decentralized exchange (DEX), burns approximately $5 million annually, its chief chef, Jared Grey, revealed on February 28.
SushiSwap Holds $30.6 Million Worth Of Digital Assets
In a tweet, Grey said the protocol holds $30.6 million worth of multiple assets, diversified across Ethereum, Wrapped BTC (WBTC), stablecoins, and more. A big chunk, roughly 33% of their treasury, is denominated in SUSHI, the native governance token of the DEX. 
Presently, Sushi holds ~30.6M USD in assets. Our burn rate is ~5M USD/yr. Also, we're on pace to earn an annualized return of ~14M USD in new fee revenue. As a result, we're positioned for high growth to become the premier cross-chain DEX with our 2023 roadmap. pic.twitter.com/tJBq6csPOE

— Jared Grey (@jaredgrey) February 28, 2023
SushiSwap expects to earn even more in the next nine months, increasing their annualized return to around $14 million. The increase, Grey explained, is because of the implementation of a new fee model following the approval of the Kanpai Treasury Allocation proposal. 
Related Reading: SushiSwap Head Chef Suggests Cooking Up New Token Model – Will The DEX Survive 2023?
The Kanpai proposal, floated by Jared Grey, returns 100% of xSUSHI revenue to the platform's treasury for 12 months from Q4 2022. 
Typically, holders of xSUSHI, a token SUSHI stakers receive when they lock their tokens, receive 0.05% of the trading fee, with 10% initially going to the DAO treasury. 
The decision to divert all trading fees to the DAO was to fortify the protocol against the extremes of last year's bear market, building its treasury. A bigger treasury will protect the DAO from a liquidity crunch. 
At the same time, as part of the Kanpai proposal, SushiSwap reduced its annual expenditure from $9 million to the current $5 million.
Because the Kanpai proposal reduces stakers' revenue, the protocol will encourage stakers to lock in for longer for higher rewards via the Vote Escrow (VE) model.
Building Will Continue, But Will They Rebrand?
Like other DeFi protocols, SushiSwap activity dropped during the crypto winter of 2022 when asset prices fell. The contraction also impacted the number of tokens traded across various exchanges. 
At peaks in late 2021, SushiSwap had over $8.26 billion in Total value locked (TVL), but this has since dropped to $536 million when writing on March 1, 2023, according to DeFiLlama.
SushiSwap remains a popular DEX facilitating the swapping of tokens in Ethereum, Arbitrum, BNB Smart Chain (BSC), Fantom, Boba Network, and more. Even so, a big chunk of SushiSwap's TVL is in Ethereum and Arbitrum, the Ethereum layer-2 platform.
SushiSwap continues to be operational, with some observers saying it has outgrown its past. The DEX forked from Uniswap and, through a "vampire attack," siphoned TVL from the Hayden Adams-led exchange. 
Even as they grow, a SushiSwap developer said they would continue launching updates but will remain curious to hear what kind of rebrand the community wants.
Feature image from Canva, Chart from TradingView