Why Litecoin Could Be On The Cusp Of Major Momentum Change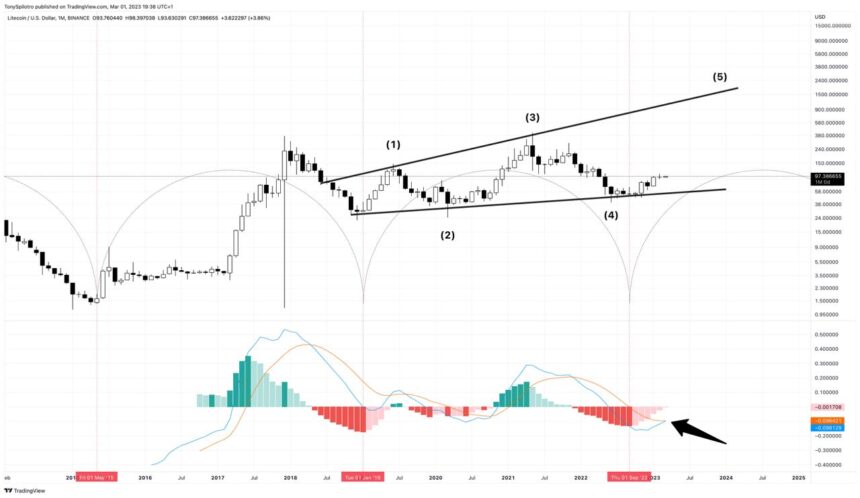 Litecoin, unlike other cryptocurrencies, put in a bottom long before the FTX collapse. Following a short period outperforming the rest of the market, the now ranked lucky number 13 by market cap has gone stagnant.
The state of boredom could soon come to an explosive end, with Litecoin potentially on the cusp of a major, monthly momentum change.
Litecoin Monthly Momentum Could Cross Bullish
Litecoin has spent the last month trading between $90 and $105. The tight, $15 range resulted in a long-legged doji on the monthly LTCUSD chart, suggesting there is indecision in the market.
Doji tend to form ahead of a reversal or strong continuation. Because the January monthly candle was up, the onus is on bulls to push higher and continue what they started, or risk being swatted back down by bears.
The pause takes place just as Litecoin is about to cross bullish on the monthly LMACD.  The LMACD is the logarithmic version of the Moving Average Convergence Divergence indicator, which is a lagging, momentum-following technical analysis tool. The log version provides a clearer comparison across longer periods of time.
In the past, the LMACD histogram turning from red to green was enough to provide fairly significant upside in LTCUSD.  With the signal about to fire again on the monthly timeframe, will Litecoin surge higher from here?
Factors Fueling Further Rally In LTCUSD
The chart above shows a large bullish divergence on the monthly LMACD and cyclical behavior pointing to a possible recovery. Beyond the positive technical analysis picture, Litecoin's block reward halving is this coming August, versus Bitcoin being a year away.
Litecoin halving events in the past have been front run by investors, leading to a selloff when the eventually arrive. In 2019, LTCUSD climbed 500% before the halving. The early recovery in LTC helped put an end to crypto winter.
Fundamentally, network health indicators such as hash rate have only improved throughout the crypto bear market. LTC blockchain transactions continue to grow and scale unfazed.
Litecoin sharing its code with Bitcoin could ultimately benefit the less-exciting cryptocurrency, compared to once-hyped coins being deemed securities by the SEC.